Real Cruise News? You Decide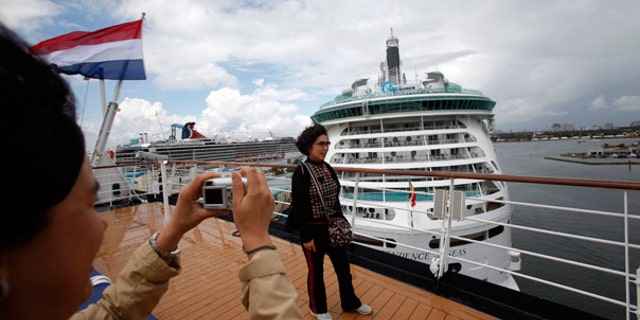 Cruise lines may have navigated their way out of the darkest days of the recession, but that doesn't mean they're enjoying smooth sailing.
Between presidential candidate Newt Gingrich's controversial voyage to the Greek islands and Carnival cutting its outlook, the cruise industry has been in the spotlight recently – and, in some cases, it hasn't been cast in the best light.
Tough Times Ahead for Cruise Lines?
Citing global political and Japan's disaster, Carnival Corp (NYSE:CCL) trimmed its earnings outlook earlier this week for the rest of 2011 by 20 cents a share.
Despite starting the year strong with better booking and revenue, Royal Caribbean (NYSE:RCL) made a 15-cent downward revision in its earnings forecast last April.
While the 2011 summer Mediterranean season is worse than expected, we have to wonder what will happen with the coming autumn season in the Caribbean, where most of the ships currently in Europe will eventually return -- including Norwegian Epic; Carnival Magic; Royal Caribbean's Mariner, Liberty, Adventure and Navigator of the Seas; Celebrity Solstice and Equinox; and several Holland America and Princess ships. They will add to the capacity of Oasis and Allure of the Seas as well as Disney Dream, already sailing out of Florida and scheduled to remain in the region.
If the economy continues to falter, we could see deep last-minute bargains in the Caribbean this fall, especially in early December after these Europe-based ships meander home in October and November.
There is a good chance the early autumn season in Europe will see similar discounts. I already see an 11-night cruise on Mariner of the Seas sailing Oct. 3 from Rome to Greece and Turkey starting at $999, or $1,329 for a balcony stateroom.
All of the NCL Norwegian Pearl 7-day Miami cruises from October through December are already priced at $399, $679 for a balcony.
Changes to Smoking Policies
Earlier this week, Carnival, Princess and Holland America Line announced changes to their onboard smoking policies. Princess and Holland America will soon ban smoking in staterooms and private verandas while Carnival will continue to allow smoking on balconies, but not in staterooms. The new policies mostly take effect on Jan. 15, 2012.
Carnival described its regular, mostly American cruisers as 90% non-smoking and Princess described its more international clientele as "mostly non-smoking". Smoking aboard ships is much more prevalent in Europe than it is in the U.S., and both Holland America and Princess put a much larger portion of their fleets in Europe every summer compared to Carnival.
Arguably, the worst disaster in the modern history of U.S.-based cruise lines was a fire aboard Star Princess in 2006 while sailing in the Caribbean, where one person perished from smoke inhalation. The likely cause was reportedly a smoker carelessly discarding a cigarette over a railing; the butt blew back onto another balcony and smoldered a plastic balcony window until it burst into flame hours later. Lifeboats were lowered but there was no evacuation and the fire was extinguished by the crew.
Gingrich in Hot Water Over Cruise
GOP presidential contender Newt Gingrich is taking a lot of heat for going on a cruise with his wife in June. As a cruise expert, I glanced over the coverage over the politics behind the move and focused on the many misconceptions the media was dishing out regarding cruising.
Some news outlets described the cruise as expensive and wondered why he wasn't taking a more American trip to the Grand Canyon or California. Statements like this undercut the industry and can hurt people's perceptions of what cruising is like.
Let's be clear: Gingrich was on the Seabourn Odyssey, a ship that belongs to Carnival Corp. a public-traded company on the New York Stock Exchange, and is headed by CEO Micky Arison, who also owns the basketball team Miami Heat. The line features cuisine by New York culinary icon Charlie Palmer.
While Seabourn is a high-quality cruise line, I am sure Gingrich met people from all walks of life and right now, Seabourn Cruises has never been a better bargain (he must have followed my advice to book a Mediterranean cruise early for the best deals this summer.)
Cruising 101
As always – if you need to know more about cruising we urge you to consult our Cruising101 FAQ.
I started writing about stock market investing for Motley Fool in 1995, but previously I worked aboard cruise ships. I co-founded the CruiseMates.com cruise travel guide on the Internet in New York City in 1999. CruiseMates was acquired by Internet Brands in 2006. Once CEO, I am now the editor of CruiseMates.