Kitschy Valentine getaways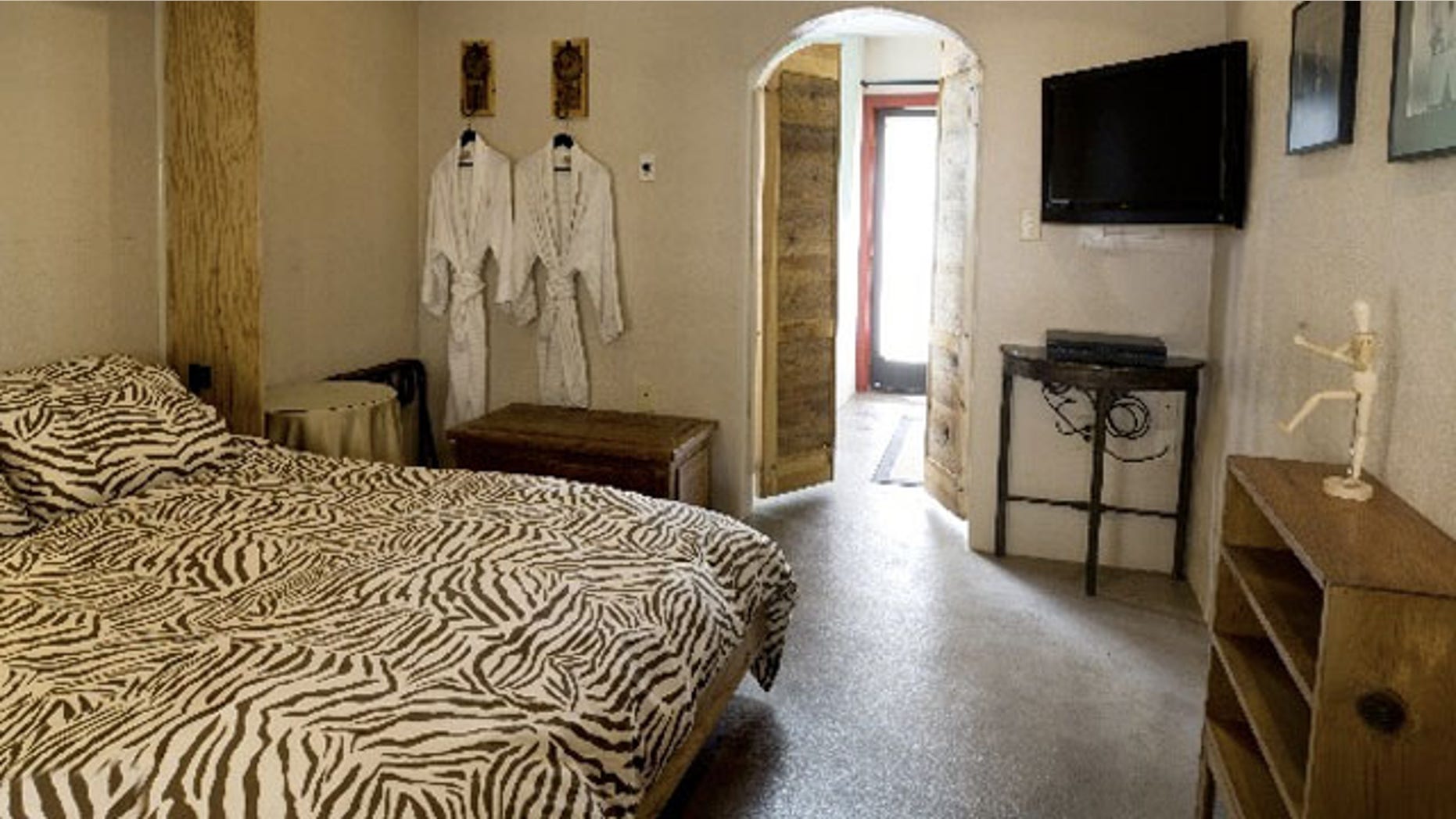 It's coming. Feb. 14, the day when celebrating love and romance comes down to trying to create the perfect experience.
Valentine's Day falls in midweek this year, and it is easy to get overlooked. If you haven't planned much beyond the endless array of high-calorie gifts, flowers or heart-shaped treats you may want to consider spicing things up with a little kitsch.

Kitschy heart-shaped tubs, beds and mirrors on the ceilings, with bordello black and red décor, add up to a list of swoon-worthy features that are silly and fun --and somehow always in fashion.
Here's a look at some of fun and funkiest hotels worth bringing a little bubbly and bubbles with you to enjoy in the bath.
Mount Airy Casino Resort, Mt Pocono, Pa.
A multi-generational favorite, Mt. Airy Lodge (now Mt. Airy Casino Resort) in Pennsylvania's Poconos Mountains is peppered with romance.
Once known as America's premier honeymoon hideaway, with its floor to ceiling mirrors, velvet- swagged canopy beds and heart-shaped tubs, today Mt. Airy's show stopper is its $400 million investment that has attracted Ice-T and Coco, and Teresa Guidice from the "Real Housewives of New Jersey." Not to be outdone by another "Housewife," Ramona Singer from the "Real Housewives of New York" will soon arrive to sign bottles of her Pinot Grigio wine. Patty Smyth and Scandal, Gin Blossoms, Blue Oyster Cult, the cast of Sopranos, Jerseylicious, and the cast of Pawn Stars to name a few.
The Heartbreak Hotel, Memphis, Tenn
The Heartbreak Hotel is now a very slick, boutique property just across the street from Elvis's former home Graceland.  Here themed suites keep the promises they make: the Graceland Suite mimics Elvis's own digs in a diminutive Graceland Mansion with room designs inspired by Elvis's billiard room and "jungle room" den; the art deco Hollywood and finally, The Burning Love Suite features a rich, romantic decor (lots of red). It is inspired by Elvis's 1972 hit record "Burning Love."
Chateau Avalon, Kansas City, Kan.
With its Adventure Rooms, the Chateau Avalon in Kansas City lays claim to being much more than a bed and breakfast, especially if you dig the Robinson Crusoe trip with the Castaway Isle suite or the Buckingham, a restrained "Masterpiece Theater" number or the New York Penthouse strung up with Warhol reproductions.
Cove Haven, Lakeville, Pa.
Cove Haven Entertainment Resorts boasts a seven-foot champagne glass whirlpool to spin the night away in, as well as dining experiences like "Strip Night." The menu of suites: the Roman Tower to Fantasy Apple, with de rigueur whirlpools for two and fireplaces.
Hotel Colorado, Glenwood Springs, Colo.
Combine Valentine's Day with some schussing when you stay in the Molly Brown Suite in the top bell tower of the Hotel Colorado in Glenwood Springs. Remember, "The Unsinkable Molly Brown," one tough lady as she survived the sinking of the Titanic? The multi-room suite is all camped up, or just stay in the steamy hot spring waters that surround the property all year round.
The Don Q Inn, Dodgeville, Wis.
If it's a fantasy you crave– slip into your tights, boys, and be Robin Hood in Sherwood Forest or the Sheik of Arabia, sprawled out in a tented room with a 10-sided, seven-foot, round bed and marble whirlpool -- look no further than the Don Q Inn, a theme-style hotel set in the rolling, glaciated hills of southwestern Wisconsin.
Ordinary rooms are special too, The Swinger's queen-sized bed swings from the rafters by chains, The Float features a bed set inside a Viking ship, or be bold and choose the Mid-Evil suite's shackles on the bed and chair. Farah Fawcett once signed the fuselage of the Boeing C-97 that is parked out back after filming a TV commercial there long ago.
Blackstone Hot Springs, Hot Springs, N.M.
The owners of Blackstone Hot Springs don't expect to see their guests once they check in, as each guest room has a hot-spring tub -- some as large as eight feet long by four feet wide, and bubbling with 50 gallons of hot spring water per minute.
Rooms are named for TV shows: As The World Turns, The Twilight Zone, The Jetsons, The Golden Girls. The downtown of Truth or Consequences "floats" on top of a hot aquifer, so the geothermal water rushes up from 10-15 feet below the surface directly into your en-suite tub.
Rainbow Pink Palace, Chicago, Ill.
Just 20 minutes outside the big, windy city of Chicago is the Rainbow Pink Palace with the ubiquitous heart-shaped and brass beds, but also a Roman empire-style suite, or for those looking for a truly out-of-body experience, Fly to the Moon inside a Space Capsule for two -- your private rocket ship will be surrounded by stars, planets, friendly space ships and hopefully friendly aliens, too.
Hotel Palomar, Philadelphia, Pa.
If Philly is your favorite town, then look no further than the Hotel Palomar with packages to suit the various stages of your relationship—from "The 'Getting Serious' this might just be THE one," to "It's Complicated" to "Married, Back Off!"
Radisson Hotel: Valley Forge, King of Prussia, Pa. 
Out in the 'burbs is the Radisson in Valley Forge if you need a fantasy suite: Hollywood's Golden Gates bedazzles with gold and more gold with purple, pink and more gold for sizzle and flash; or, Gilligan's Island with crates of wine bottles, shell lamps and fish nets as canopies for your bamboo bed. Toucan parrots, tropical flowers decorate your island getaway -- everything but Gilligan himself, so bring your own Ginger for the ultimate castaway.
Loop Inn Motel, Avenel, N.J.
Move over, Mount Airy Lodge. The Loop Inn Motel in Avenel, New Jersey struts in with its heart-shaped beds and tubs, not to mention the flickering fireplaces to spark your midweek Valentine, making it an even better day to have the place all to yourself.