Hunting for 'White Treasure' in Italy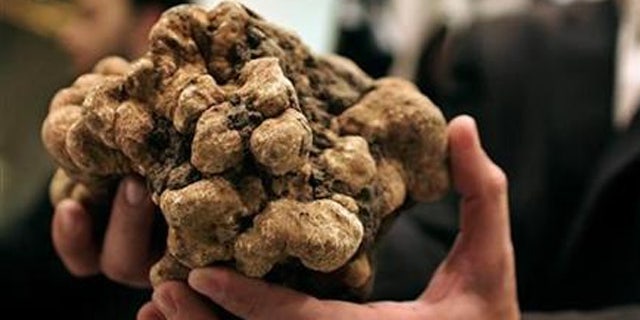 By 9 pm I had been dreaming about truffles for more than 12 hours, ever since a Google search revealed my friend's wedding in the Tuscan countryside was a mere 30 miles from the town of San Giovanni d'Asso, the self-proclaimed white truffle capital of Tuscany.
But 30 miles on the back mountain roads south of Siena and Florence, where a herd of wild boar behave like stoplights can take hours.
I frantically phoned La Locanda del Castello, the commune's well-known truffle center begging them not to close their kitchen before I could get my truffle fix. They laughed more with each call. Italians don't have bedtimes.
When my travel companions and I finally arrived just before 10 pm, a creamy truffle risotto with copious shavings of white truffle was placed front of us in less than 10 minutes. La Locanda, a restored 13th century castle, is the epicenter of San Giovanni d'Asso, a town of less than 70 in the Crete Senesi region.
September through November are the best months to visit San Giovanni d'Asso when the highly prized whites truffles are in high season and visitors can participate in the hunt for what the locals refer to as "the white treasure."
For $245 per person (based on double occupancy) La Locanda organizes a truffle hunting package for guests, which includes a two night reservation in one of the castle's well-appointed nine rooms.
In the morning you will be led deep into the woods with local truffle hunter Paolo Valdambrini and his truffle hunting dogs (in Italy dogs are used in lieu of pigs to hunt for the pricey mushrooms), Toppa, a lagotto Romagnolo and Spina, a mixed breed.
Once in the truffle area, Toppa becomes the "female chef in charge," and must be left to do her "job." She is a dog with a passion for search and reporting. When she senses the truffle in the ground she becomes visibly agitated, requesting the assistance of the Paolo, who with the use of a special spade instructs you on how to extract the truffle.
"Truffle hunting is a personal experience. Try it before judging. You never know who will like it and who won't. But the close contact with nature is a beautiful reality for those who are not town-noise-smog-chaos-crowd addicted," La Locanda owner Massimo Ravanelli explains.
In the afternoon you will visit the local truffle museum in the castle's basement, which takes takes visitors on a fantasia-like sensory tour of all things truffle that involves smelling and tasting and touching, and even a visit inside a human-sized re-creation of the tasty tuber.
While any good fisherman can tell you that you have to eat what you catch, any good truffle hunter will encourage you to snack on what you find. This is actually a must since within 24 hours the truffles will begin to lose some of their pungent smell and taste.
The chefs at La Locanda, Ernesto and Rino will prepare your daily booty in the kitchen in the risotto or on the homemade taglioni. The kitchen staff doesn't organize regular cooking lessons, but on most nights they are happy to welcome their truffle tourists back into the kitchen to watch them prepare the homemade dishes.
Ravanelli will likely join you with a bottle of chianti classico from his personal cellar for at least one drink. Fair warning, when he tells you he has 10 minutes to show you the beauty of the Tuscan countryside, prepare to buckle up for a two-hour ride through the golden hills where the Academy Award winning "The English Patient" was filmed.
San Giovanni hosts a white truffle festival the second and third weekend in November where local farmers and chefs from the nearby towns of Asciano, Buonconvento and Rapolano Terme, set up small stalls and prepare nearly everything under the Tuscan sun with local truffles for the local people and their guests.
This festival is unlike those often hosted in the larger cities like Siena and Florence, in that it rarely attracts an influx of tourists from outside Tuscany, much less outside of Italy due to its relatively remote location. Through the month of November, the restaurants in these towns (La Torre in Asciano, Osteria da Duccio in Buonconvento and Borgo Antico in Monteroni D'Arbia) all make white truffle dishes their specialty.
Much like Ravanelli, the chefs of the Crete Senesi are serious about the emotional effects of their truffles. Expect them to stare at you intently as you devour their dishes and then ask, in all seriousness and with the utmost of care: Come ti senti? Or How do you feel?
According to locals, the white truffle gives more immediate and strong feelings than the black truffle. That's why they recommend eating it raw and preferably on hot plates.
Among the dishes you're likely to taste are the peasant dish, pici, a home-made pasta, made from flour and water, seasoned with fried crumbs of stale bread sprinkled with white truffle shavings and a fried quail egg sprinkled with truffle.
None of these recipes are exact. Any time you ask how much truffle to use the response is always the same: "The more you have, the better!"