Dubai is trying to build the world's tallest building-again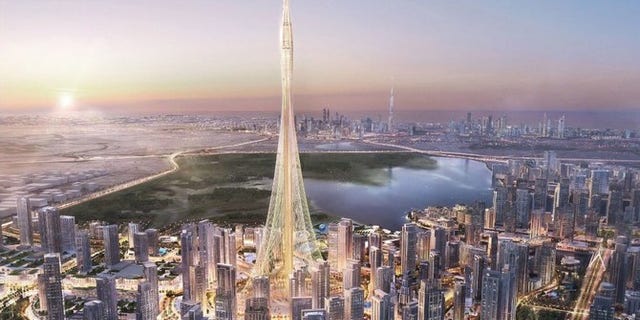 If you've ever been to Dubai, you know that there are architectural marvels around every corner. That includes the world's tallest building, known as the Burj Khalifa, which hovers a nosebleeding 154 stories—or 2,722 feet—above the desert floor.
To give you a different perspective, the structure—designed by Adrian Smith of Skidmore, Owings & Merrill, the firm responsible for another building that was once the world's tallest—is nearly 1,000 feet taller than the World Trade Center, the tallest building in the Western Hemisphere, which was designed by the same firm.
Apparently, though, it's not tall enough, because Dubai's next project is to create an even bigger skyscraper.

The city has just kicked off construction on the Santiago Calatrava–designed project, as Dubai's ruler Sheikh Mohammed bin Rashid Al Maktoum laid the foundation stone for what will be known as the Tower.
"Years ago, we launched Burj Khalifa, the tallest skyscraper in the world," said Sheikh Mohammed in a dispatch from the city's government office, as Bloomberg reports. "Today, we are celebrating the foundation of a new structure that represents another phase in our journey to be at the forefront of growth in various sectors."
More from Architectural Digest
Tour the World's Most Luxurious Submarine Superyacht
Go Inside a $53 Million Private Jet
Inside Jennifer Aniston's Gorgeous Beverly Hills Home
10 Awesome Hotels in California's Wine Country
10 Hotels with Unbelievably High-End Amenities
The city will have to hurry to claim the world record though, as the Dubai Creek Harbour building will be a mere "notch" taller than the Burj Khalifa, according to Bloomberg, and Saudi Arabia is at work on a 3,280-foot-tall building reportedly due shortly after the Tower is completed.
Hopefully by 2020, when the Tower is set to be finished, the city will be more filled in elsewhere—as those who've been to the top of the Burj Khalifa can attest that there's more sand than anything else to see when you're up there.