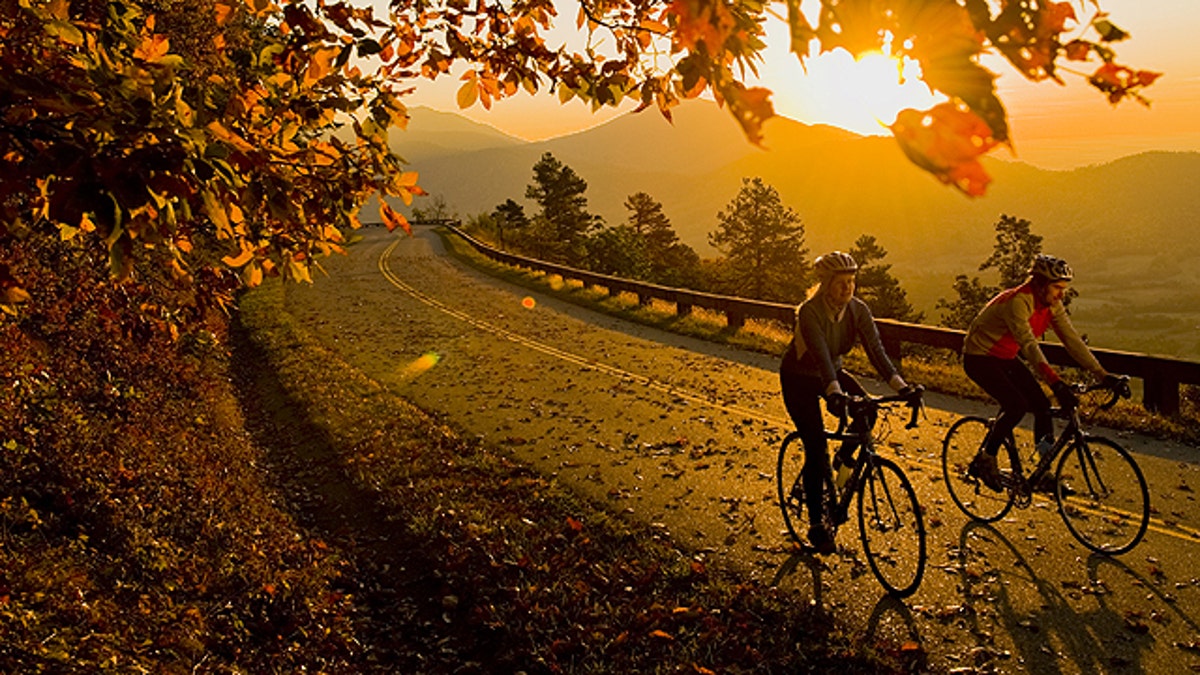 FLOYD, Va. - The construction of the Blue Ridge Parkway began as a project to put people back to work during the Depression.
But 75 years later, the winding roadway has evolved into one of the United States' most-visited national park sites, drawing about 17 million people annually and bringing about $2 billion to surrounding areas.
This year the National Park Service is celebrating the parkway's 75th anniversary with a variety of events, including a weekend festival in September. That makes this summer and fall a good time to enjoy hiking and camping, local arts, and small-town life along "America's Favorite Drive."
Since its groundbreaking on Sept. 11, 1935, at Cumberland Knob, N.C., on the Virginia border, the parkway has become an integral part of the mountains and the Appalachian communities that lie along its 469-mile route, as well as a gateway to the region's culture and history.
With a top speed of 45 mph along its curving roads, the parkway also offers a chance for visitors to slow down and enjoy the scenery. The 264 overlooks offer breathtaking views of the mountains and valleys, sunrises and sunsets, and on clear nights, the stars.
The 75th anniversary festival takes place Sept. 10-12 at venues around Cumberland Knob, featuring music, food, crafts and a vintage camper display, and at the Blue Ridge Parkway Music Center, where bluegrass legend Ralph Stanley & the Clinch Mountain Boys will play on Sept. 11.
The parkway connects Shenandoah National Park with the Great Smoky Mountains National Park. It starts at Rockfish Gap, Va., intersecting Skyline Drive, and winds southwest through Virginia into mountainous western North Carolina. Along the way, travelers will find campgrounds and hiking trails, glimpses of small-town Appalachian life in places like Floyd, Va., the small cities of Roanoke, Va., and Asheville, N.C., and many other treasures tucked away in the mountains.
A team led by landscape architect Stanley Abbott, a devotee of pioneering American parks designer Frederick Law Olmsted, conceived the parkway as a chain of recreational areas and scenic views that would integrate naturally with the mountainscape. Road builders used stonework for tunnel portals, bridges and guard walls, for example, to retain a rustic architectural style. Planners laid out the parkway's curves to match the mountainsides' contours, rather than remove parts of the mountain to make way for the road.
Twenty-six tunnels - 25 of them in North Carolina - were cut into mountain ridges, rather than blasting the slopes away to conform, and bridges were built over land that was removed, instead of backfilling natural drainage areas.
Planners also created roadside vistas that motorists could experience while driving, along with places to get out of their cars to take in the views, said Gary Johnson, the parkway's chief landscape architect. Abbott also suggested using easements as a tool to preserve the Appalachian scenery, he said.
Floyd, where Virginia's state route 8 and U.S. 221 intersect a few miles off parkway milepost 165, has become an outpost for artists and musicians, with an active barter economy and a bit of alternative culture, including a natural-foods store, Harvest Moon, and a shop called Republic of Floyd. It also lies along the Crooked Road Music Trail, and each Friday night musicians gather for impromptu sessions at the Floyd Country Store. Each July, thousands gather in a big field outside of town for FloydFest, an event that continues to grow each year. (This year it's July 22-25.)
"We found Floyd and loved Floyd," said Caroline Thomas, who moved here in 2003 with her husband and son from Chapel Hill, N.C., after visiting the area during vacations. They now run a bed-and-breakfast named Ambrosia Farm.
Other Virginia highlights include Humpback Rocks, which features hiking trails and a working farm; the Peaks of Otter, which were regarded in President Thomas Jefferson's time as the western frontier's highest mountains with elevations nearing 4,000 feet; and the Blue Ridge Music Center in Galax, which showcases the region's traditional musical heritage with displays and performances.
North Carolina sites include the 5,900-foot-high Grandfather Mountain and its Mile High Swinging Bridge; Linville Falls and Linville Gorge, dubbed the state's "Grand Canyon;" Little Switzerland, named for the mountain panoramas reminiscent of those in the Swiss Alps; the popular resort city of Asheville, which features the Biltmore Estate, the North Carolina Arboretum, the Folk Art Center and several galleries and shops.
At the parkway's southern end, the Museum of the Cherokee Indian, in Cherokee, N.C., houses tribal artifacts such as weapons and tools, and the nearby Oconaluftee Indian Village replicates a 1750 settlement.
The tribe's eastern contingent occupied southeastern states in large numbers until the U.S. government forced them to move to Oklahoma in 1838. A handful of Cherokees, however, instead fled into the mountains and their descendants won back their land. Some later traded their parcels to the U.S. government so the parkway could be built.
Cherokee elder Jerry Wolfe, 85, says the government took his late father's land in exchange for a plot closer to town, where Wolfe still lives. The parkway has been a welcome gateway into the Cherokee area, he said.
"Tourists sightseeing and enjoying the beauty of the mountains draw people to the Cherokee museum," he said. "The tribe has seen economic benefits; it's our livelihood."
In its 75th year, the parkway also faces challenges, including federal budget cuts that affect staffing, landscaping and maintenance, and air pollution from Midwestern coal-fired plants that can cloud mountain views.
Park officials and preservation groups also are concerned about encroaching development on "America's Favorite Drive" as much of the land along the parkway is privately owned.
"You get a sense of what was once farmland now is commercial developments and subdivisions viewable from the parkway," Johnson said. "The whole sense of land-use and quality of scenery has changed."
The National Park Service says the Conservation Trust for North Carolina is heading a coalition of land-preservation groups seeking federal funds to purchase land or conservation easements along the parkway. Recent surveys show visitors would be less likely to return to the parkway if scenic views are compromised, so preserving the viewsheds has become a priority.
---
If You Go:
BLUE RIDGE PARKWAY 75TH CELEBRATION: http://www.blueridgeparkway75.org . Events include anniversary festival Sept. 10-12.
VIRGINIA BLUE RIDGE PARKWAY GUIDE: http://www.virginia.org/brp/
NORTH CAROLINA BLUE RIDGE GUIDE: http://www.ncblueridge.com/
GETTING THERE: From Washington, D.C., drive about 70 miles to Front Royal, Va., then take Skyline Drive through Shenandoah National Park 105 miles to the Blue Ridge Parkway, Rockfish Gap entrance at Waynesboro, Va.
PEAKS OF OTTER: Off milepost 86 on the Blue Ridge Parkway near Bedford, Va.; http://www.peaksofotter.com/
BLUE RIDGE MUSIC CENTER: Off milepost 213 near Galax, Va., http://www.blueridgemusiccenter.org/ . Open daily Memorial Day-Nov. 1, 9 a.m.-5 p.m. (later on concert nights). Free admission to visitor's center. Weekend concert prices vary.
FLOYD, VA.: Off milepost 165. FloydFest, July 22-25, http://www.floydfest.com/ . Republic of Floyd store, http://www.republicoffloyd.com/ . Ambrosia Farm Bed and Breakfast, rates $90-$120, http://www.ambrosiafarm.net/
GRANDFATHER MOUNTAIN, N.C.: Off milepost 305 near Linville, N.C.; http://www.grandfather.com/ .
LITTLE SWITZERLAND, N.C.: Summer resort village off milepost 334, an hour from Asheville; http://www.littleswitzerlandnc.com/
ASHEVILLE, N.C.: http://www.exploreasheville.com/
MUSEUM OF THE CHEROKEE INDIAN: Cherokee, N.C.; http://www.cherokeemuseum.org/ . Open daily 9 a.m.-5 p.m. (until 7 p.m. in summer). Adults, $10; children 6-14, $6.