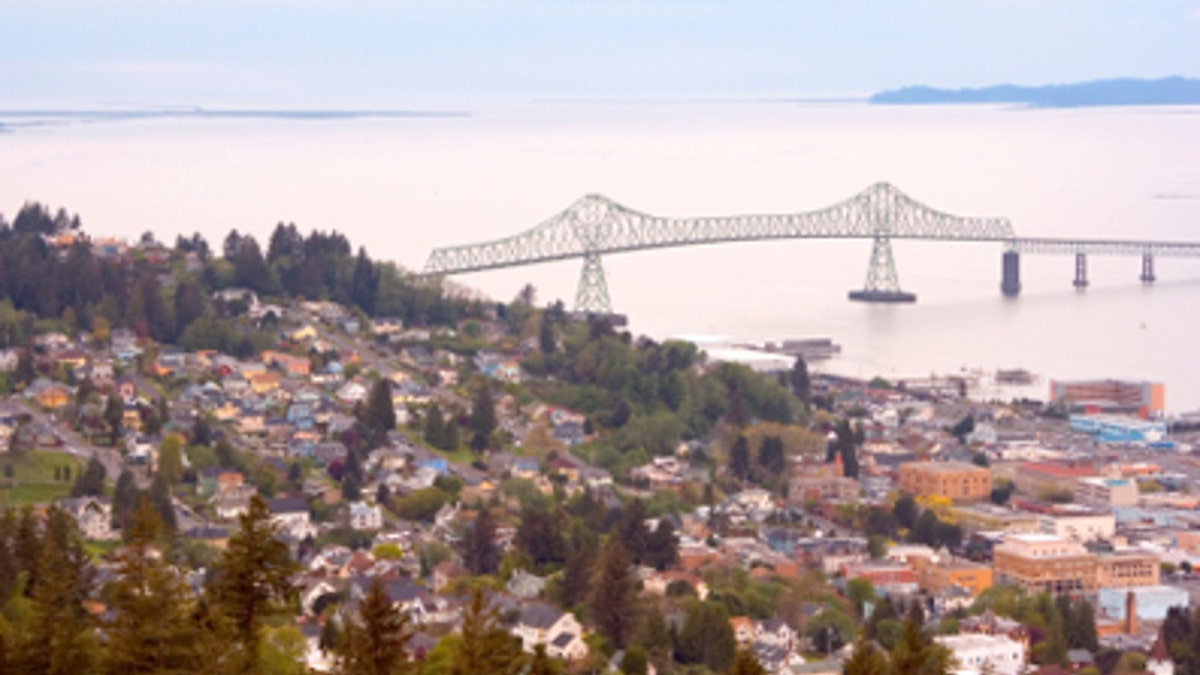 Once in a while, you discover a town that has everything—great coffee, food with character, shop owners with purpose. Each year, the Budget Travel team celebrates these places with our "Coolest Small Towns in America" competition. It starts with a call to you—our readers—to nominate the most interesting towns you know with populations of less than 10,000. From there, our editorial team whittles the selections down to the three most promising contenders. It's then up to you to vote on your favorite. This year's winner was Lewisburg—an irresistible small town in West Virginia. Each of the nine runners up has something special to offer, from the quiet, artistic enclave at La Pointe, Wisconsin to the scenic beaches of Astoria, Oregon. In honor of the sixth anniversary of our "Coolest Towns" franchise, we've also compiled a slideshow of all of the contenders from previous years. You won't find a more charming slice of small town Americana than you will right here.
#1 Lewisburg, W.Va (population 3,830)
Arts in Appalachia
A small town is usually lucky if there's a decent one-screen movie theater, maybe a community dance troupe. But a Carnegie Hall? This speck on the map in the Greenbrier River Valley lays claim to one of only four in the world (105 Church St., carnegiehallwv.com, ticket prices vary). The 1902 building now serves as Lewisburg's creative control tower, attracting an unlikely band of artistic characters, back-to-the-land types, and retirees.
Jeanne and Michael Christie embody Lewisburg's blend. The duo run the Davenport House B&B, where guests can bottle-feed one of the property's baby lambs after taking coffee and breakfast on their private patio (Tibbiwell Lane, off of Davis Stuart Rd.,thedavenporthouse.com, one-bedroom cottage from $120). Michael is a painter whose work has shown in New York City's Hoorn-Ashby gallery, and Jeanne is the former director of front-office operations at the Greenbrier hotel, 10 miles down the road. "You know, you always think of the ideal American town, where the kids are safe, the streets are clean. We have that, but we also have Wynton Marsalis coming through," says Jeanne, who'd just finished a morning of shearing sheep. While Michael is a seventh-generation West Virginian, many of their friends and neighbors are newer to the community, drawn in large part by the creative atmosphere anchored by Carnegie. For example, Hall Hitzig, who goes by the moniker the Crazy Baker, came in 1986 and "never looked back" (thecrazybaker.com). Now, he makes granola in the nearby mountains—and sells it everywhere from Puerto Rico to Arkansas. Hitzig's sticky toffee cake also wins raves at Lewisburg's sunny Stardust Café (102 E. Washington St., stardustcafewv.com, cake slice $8). At Stardust, co-run by Hitzig's twin sister, Destiny, and her daughter Sparrow, glasses are filled with "local spring water" (don't call it tap), and the greens are cultivated largely in local gardens.
Lewisburg's arts scene is hardly limited to traditional performers like Marsalis; next door to Stardust, for instance, Tamera Pence identifies the potter of each espresso mug at her year-old emporium, Bella the Corner Gourmet (100 E. Washington St., bellathecornergourmet.com, mugs from $14). "We're very locally driven here," she explains. "And we're also a central hub. I have clients bringing their coolers in all the way from Charleston, more than two and a half hours away." -Nina Willdorf
#2 Astoria, Ore. (population 9,477)
Pioneers on the Pacific
Astoria has always been on the frontier, both the Lewis and Clark variety (they set up camp here in 1805) and the geographic (it sits both at the mouth of the Columbia River and in a teeming temperate rain forest). Sure, the place has prettied itself up nicely since those pioneer days with the addition of aging Victorians and craftsman-style bungalows, but the folks in sleepy coastal Astoria have never lost touch with their rough-and-tumble side.
Take, for example, the surfers off of Astoria's scenic beaches, where ocean temperatures rarely break 60 degrees until midsummer. "You really have to suit up," says Mark Taylor, owner of Cold Water Surf (1001 Commercial St., coldwatersurf.com). "We're talking five-millimeter wet suits, gloves, and booties—but Astorians have always been a tough bunch!" Even the city's swankiest design hotel, the Commodore, embraces a decidedly masculine and nautical aesthetic (258 14th St., commodoreastoria.com, from $89). Reopened two years ago after being shuttered since 1966, the property pairs modern furnishings with sly nods to the city's history as a seaside cannery hub: thick braided ropes, nautical charts, and fishing floats.
As afternoon rolls around, locals gather at the four-year-old Fort George Brewery + Public House for burgers made from local beef, as well as pints of the hoppy Vortex IPA, the Belgian-style Quick Wit ale, and as of this year, the 1811 Pre-Prohibition Lager, created in honor of Astoria's bicentennial (1483 Duane St., fortgeorgebrewery.com, pints from $4.25). You didn't really think these former pioneers would celebrate with champagne, did you? -Beth Collins
#3 Clayton, N.Y. (population 1,978)
A River Runs to It
Some shore communities take their location for granted. Not so with Clayton. "I have lunch on the river every day," says Gregory Ingerson, a guide at the 320-ship Antique Boat Museum (750 Mary St., abm.org, admission $12). The curators are so proud of their nautical heritage that they use Q-tips to clean the exhibits, right down to the well-preserved heel marks in the floor of one turn-of-the-century houseboat.
Clayton sits on a peninsula that juts out into the St. Lawrence River, so far north that the fire department's boat flies the American and Canadian flags. One of the benefits of that isolation is that the river itself is like a neighbor. In the summer, the old ferry terminal, where wealthy visitors once caught rides to their cottages on the Thousand Islands (birthplace of Thousand Island salad dressing), now hosts concerts. Out on the water, the family-run Ferguson Fishing Charters offers morning fishing trips followed by picnics on a private island, where a guide cooks the day's catch over a fire for lunch (fergusonfishingcharters.com, half-day charters for a group of four $325). Back on dry land, K's Motel & Cottages' two-night "ship watch special" includes a room, a two-and-a-half-hour boat cruise, admission to the Antique Boat Museum, and two meals (1075 State St., thousandislands.com/k, $159 per person). -Ray Pagliarulo
#4 Eureka Springs, Ark. (population 2,073)
Honeymoons and More
Sure, you could sleep in one of the Queen Anne-style B&Bs, visit the monumental 67-foot-tall hilltop Christ of the Ozarks, catch a Branson-style show, or hunt for ghosts in the historic downtown. You could easily spend a week on the tourist circuit in this late-1800s Victorian spa retreat. But you'd never get to meet the real Eureka Springs.
Eureka Springs may be the honeymoon capital of the Ozarks, but don't let the kitschy, heart-shaped Jacuzzis fool you. "The guy on the street corner playing fiddle?" says local artist Cathy Harris. "He is a trained concert violinist." "And those men at the bar just may be geniuses," adds Harris's husband, J.D., a sculptor with beaded gray dreadlocks. "We had a team win the international Mensa competition two years in a row."
The current of creativity bubbles up just about everywhere, if you look hard enough. At the Eureka Thyme gallery, Marsha Havens skips the trinkets of other tourist traps in favor of works that draw on Ozark inspirations: wooden bowls made from found downed trees and clay bird whistles that warble like the real thing (19 Spring St., eurekathyme.com, wooden bowls from $50). You might even say that an artisan spirit is part of the recipe of Garden Bistro, where partners Lana Campbell and Robert Herrera draw from local ingredients for their Amish-style bread baked in flowerpots and unfussy plates of family-style veggies grown on her farm (119 N. Main St., 479/253-1281, pork chops $19).
The biggest surprise of all may be the 1886 Crescent Hotel and Spa, a palatial ivy-covered grand hotel with claw-foot tubs and manicured gardens (75 Prospect Ave., crescent-hotel.com, doubles from $129). From this perch, you'll be inclined to look back to see Eureka Springs, but the leafy Ozarks keep the valley all but hidden from view—an apt vista for a town dubbed Tree City USA. -Nicholas DeRenzo
#5 La Pointe, Wisc. (population 309)
A Superior Hamlet
It's called the Island Wave, and to the folks on Madeline Island—a quiet, North Woods enclave of artists on Lake Superior—it means you greet everyone, even when you're driving. It's a lovely idea, but in summer it can get, well, dangerous. That's when La Pointe, the island's only town, swells with visitors. "The line goes out the door for hours on July 4th," says Marie Noha, owner of the Mission Hill Coffee House (105-106 Lakeview Pl., on Middle Rd., 715/747-3100, coffee $1.45).
And then there's the winter, when the only way off Manhattan-size Madeline is by wind sled or ice road. Then the Island Wave becomes a way to connect to the outside world. "I don't mind the loneliness," says Amitty Romundstad, manager of the Inn on Madeline Island (641 Main St., madisland.com, doubles from $95). The literary and opera societies meet in the off-season, and occasionally there's a gorgeous show put on courtesy of the northern lights, when hearty La Pointe locals gather on the ice road to be dazzled together. "We're not a community," says novelist and boat captain Richard Coleman. "We're a tribe." -Debra Weiner
#6 Phoenicia, N.Y. (population 309)
A Riverside Retreat
The library in Phoenicia burned down this spring, and suddenly there were books everywhere. Not casualties of the fire, but boxes and boxes of donations to replace what was lost. Residents now check out books (and fishing poles) at the temporary library branch housed in the old medical building on Ava Maria Drive. Phoenicia may look like a one-street river town sandwiched between hills in New York's Catskills—it does a wicked tubing business in the summer—but it's got a bookish, cosmopolitan vibe in its soul. "It's not just crazy guys with cars in their yards," says Michael Koegel of Mama's Boy, a hip little cafe and smoothie bar (7 Church St., mamasboymarket.com, mac 'n' cheese $4.95). Like Koegel, many Phoenicians came from Manhattan, and they've brought a healthy dose of quirk with them. For instance, former New Yorker Alan Fliegel, who owns A Community Store, sells locally made clothing and underground comic books—and runs a well-stocked communal art gallery upstairs (60 Main St., 845/688-5395, comic books from $1). Yet like its library that loans fishing poles, Phoenicia hasn't lost touch with its down-home roots. If you spend the night at the cozy Phoenicia Lodge, you may feel like you've woken up in Mayberry (5987 Rte. 28, phoenicialodge.com, doubles from $70). You certainly will after breakfast at Sweet Sue's Restaurant (49 Main St., 845/688-7852, mixed-berry pancakes from $5.25). The pancakes (pumpkin, pineapple-coconut, and 20-plus other varieties) are legendary, as are the lines waiting to get inside. -R.P.
#7 Newtown Borough, Pa. (population 2,384)
Amish Country Charm
Newtown Borough isn't the kind of place where you'd expect to see millionaires tooling around in a fancy car. In fact, the rural Bucks County burg is close enough to Amish Country that most of the convertibles around these parts are horses-and-buggies. But when Rick Krotz and his brother-in-law Bill Kane hit an astounding sort of daily doubl—Krotz won $607,000 on the Cash 5 lottery in 2006, and Kane netted $3 million from a single scratch-off ticket in 2009—this is exactly the place they wanted to be. Both men grew up nearby and had always loved Newtown's well-worn charms. It's home to the nation's oldest movie theater, Newtown Theatre, a 375-seat, red-brick treasure that's been in operation since 1906 (120 N. State St., newtowntheatre.com, tickets $9). The Brick Hotel, built in 1764 and still looking sharp decked out in hunter green shutters and striped awnings, is one of the few places that can honestly claim that George Washington slept here (1 E. Washington Ave., brickhotel.com, doubles from $80). And director M. Night Shyamalan likes the look of Newtown so much, he filmed Signs here in 2002. So last year, the lottery brothers bought Ned's Cigar Store (4 S. State St., nedscigar.com, cigars from $3). It's now filled with mahogany chairs, cherrywood cabinets—and a steady stream of hopeful lotto-ticket buyers. "I guess they think our luck might rub off on them," Krotz says. "That would really be the dream come true—to sell someone else a big winner." -Andrea Minarcek
#8 Cedar Key, Fla. (population 896)
Unspoiled on the Gulf
If someone asked you where to get the best New England clam chowder, you might be inclined to say, "Duh, New England." You'd be wrong—by over 1,000 miles. For the past three years, the Great Chowder Cook-Off in Newport, R.I., has been won by Tony's Seafood Restaurant of Cedar Key (597 2nd St., tonyschowder.com, cup $4.65). In fact, the town is America's second-largest producer of farmed clams, one of many surprises in this two-square-mile hamlet 130 miles north of Tampa. Despite its prime location on the Gulf of Mexico, Cedar Key has escaped the pull of developers-its spit of beach isn't long enough to attract large-scale building projects. Instead, it still feels like a ramshackle, old fishing village straight out of Hemingway. "People always say it's like Key West 30 years ago," says innkeeper Ada Lang. Built in 1919 and restored in 2004, Ada's Wabi Sabi Cottage is a time-capsule example of a "Cracker" cottage, a style of wood-frame house popular in the 19th century (689 4th St., 352/543-5696, from $130).
The last time outside developers set their sights on Cedar Key was in the late 1880s, when pencil makers carted off the island's namesake cedars. (There's still a bit left in the worn wooden exteriors of tackle shops and clam shacks on Dock Street.) If you're looking to catch your own lunch, Kayak Cedar Keys offers boats specially equipped with rod holders and anchors, perfect for whiling away hours in search of redfish and trout (kayakcedarkeys.com, rentals $50 per day). Weary paddlers can rest up at Point Cottage, an octagonal stilt house overlooking Cedar Keys National Wildlife Refuge (12218 Franko Circle, pointcottage.com, $179 a night, sleeps six). And there's always dinner at Tony's. The menu is extensive, but don't you dare skip the chowder: The recipe has been entered into the Great Chowder Cook-Off Hall of Fame. -N.D.
#9 Ripon, Wis. (population 7,733)
College Town Perfection
They must have made odd neighbors: the Utopian Socialists on the prairie and the entrepreneurial abolitionists up on the hill. The socialists lived on a commune. The abolitionists later founded the Republican party. And yet, in the 1850s, they joined forces to found Ripon (the town) and then Ripon (the college). Town and gown have been intertwined ever since, proudly perched in the middle of the cornfields 85 miles northwest of Milwaukee.
In some college towns, the locals and students get along like rivals at the Michigan-Ohio State football game. Not in Ripon. The professors sit on the local school board. The students sing in the church choirs, and church folk welcome the school's 1,000 or so students with a potluck every fall. Friday evenings in summer, across from the college president's office in the old public library, townies and academics alike turn out for concerts on the Village Green. "My favorite is Tuba Dan's polka band," says Professor Mary Avery, who oversees a student group that helps local businesses, such as the Watson Street Sub Shop, create financial plans (314 Watson St., watsonstreetsubs.com, subs from $6.75). Watson Street in turn lets the students use its storefront for fund-raisers. "We are the quintessential college town," says David Joyce, president of Ripon. "Or maybe it should be the quintessential town with a college?" -D.W.
#10 Greensburg, Kans. (population 777)
The Real Emerald City
When you pull into Greensburg, you may well think you're not in Kansas anymore: Elegant wind turbines and LED streetlights have replaced cornfields and barns. After a 2007 tornado destroyed 95 percent of Greensburg, those who stayed vowed to build the ecofriendliest town ever. "Being green is such a part of our identity that people assume we changed our name after the storm," says Ruth Ann Wedel, site manager of GreenTown, the city's rebuilding campaign. (For the record, the "green" comes from stagecoach driver D.R. Green.) Like the name, the idea of going green dates back further than you'd expect. "These are not hippie-dippy concepts," says Stacy Barnes, director of the 5.4.7 Arts Center (204 W. Wisconsin Ave., 547artscenter.org, free). "These are the same tenets used in pioneer days—south-facing windows in chicken coops to increase sunlight, reusing everything like Mennonites do. We got lazy over the past century." The gallery, named for the day the storm hit, houses contemporary art from around the U.S.
Many businesses here pay tribute to the past. Green Bean Coffee Co. serves milkshakes to fill the void left by the destruction of the old soda fountain (105 E. Kansas Ave., notyourmommascoffee.com, shakes $3.50). Nearby, you'll find innovations both high-tech (solar panels) and low (banisters made from tractor parts) at the Silo Eco-Home B&B (402 S. Sycamore St., 620/723-2790, doubles from $110). Just goes to show: It's not so hard being green after all. -N.D.
SEE MORE POPULAR CONTENT:
12 Restaurants With Spectacular Views
10 Popular Travel Scams Around the World
10 Gorgeous Pools You Won't Believe are Public
Nonstop Caribbean: Fly Right to the Beach