The <i>Other</i> Football: If money talks, will Sepp Blatter be forced to walk?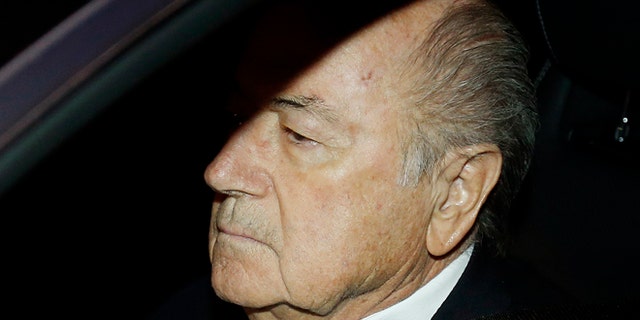 The call by four of FIFA's major sponsors for Sepp Blatter to step down as the soccer organization's chief may turn out to be far more damaging in the long run for the controversial FIFA president than the filing of a criminal case by Swiss prosecutors over alleged illegal activities related to a 2005 TV deal which prompted the sponsors into action.
FIFA has shown that it doesn't care what the general public thinks of Blatter – but now that big money's involved, well, that's another matter. The loss of hundreds of millions in sponsorship dollars could finally sink him.
Shortly after news broke about the criminal investigation, Coca-Cola, McDonald's, Visa and Budweiser released statements within hours of one another calling for Blatter's removal.
"The events of recent weeks have continued to diminish the reputation of FIFA and public confidence in its leadership," the McDonald's statement read. "We believe it would be in the best interest of the game for FIFA President Sepp Blatter to step down immediately so that the reform process can proceed with the credibility that is needed."
Coca-Cola issued a similar statement. "The Coca-Cola Company is calling for FIFA President Joseph Blatter to step down immediately, so that a credible and sustainable reform process can begin in earnest."
Visa's statement read, "It's clear it would be in the best interest of FIFA and the sport for Sepp Blatter to step down immediately."
Anheuser-Busch, the maker of Budweiser beer, said that it "would be appropriate for Mr. Blatter to step down."
Blatter's U.S.-based lawyer, Richard Cullen, responded that Blatter "believed leaving office would not be in FIFA's best interest or advance the needed reforms," according to Reuters.
It's estimated that altogether the four sponsors pump close to$100 million annually into FIFA's coffers, but it's not clear whether their words will be followed by actions.
"Will [the four] actually withdraw their sponsorship if Blatter continues to defy them?" BBC Sports editor Dan Roan wrote recently."With the threat of rival companies taking their place, many suspect they will not."
Roan was also skeptical that sponsorship calls for Blatter's resignation would go universal, saying it was"highly unlikely that FIFA's other non-US sponsors – Hyundai/Kia, Gazprom and Adidas – will join the demands for him to quit immediately."
Indeed the Associated Press reported over the weekend that Kia had no comment, Adidas' statement didn't mention Blatter specifically but called for transparency and reform, while Russia's Gazprom didn't offer any comment at all.
Even so, the sponsor's calls were a "game changer" to Greg Dyke, the influential Chairman of the England's Football Association.
"It doesn't matter what Mr. Blatter says now – if the people who pay for FIFA want a change, they will get a change," he told the UK's Press Association Sport.
FIFA and Blatter – and their secret ways – may have finally met their match in the form of cold hard sponsors' cash.
The question is, will FIFA turn the screw due to the sponsors' threats which could mean the loss of a significant revenue stream or will it be business as usual at Blatter's empire as other foreign corporations rush in to cover any sponsorship losses? Only time will tell.
Video of the week
Chelsea fans had something to cheer about Saturday when Willian scored yet another fantastic free-kick from distance as José Mourinho's team lost at home 3-1 to Southampton.
From the wires
Barcelona prosecutors are calling for the arrest of Lionel Messi's father in a tax fraud case.
Prosecutors have cleared Messi of wrongdoing but are seeking an 18-month prison sentence for his father, Jorge Horacio Messi, for allegedly defrauding Spain's tax office of 4 million euros ($4.5 million) in unpaid taxes from 2007-09.
The decision is considered a win for Lionel Messi, who also had been mentioned in the investigation. A Spanish judge had recently rejected an appeal filed by the player's lawyers to drop the Barcelona star from the case.
In the documents made public on Tuesday, prosecutors also called for a fine of 2 million euros ($2.2 million) for the father of the Argentina playmaker.
The Associated Press contributed to this report.