The next great Russian could be picked in June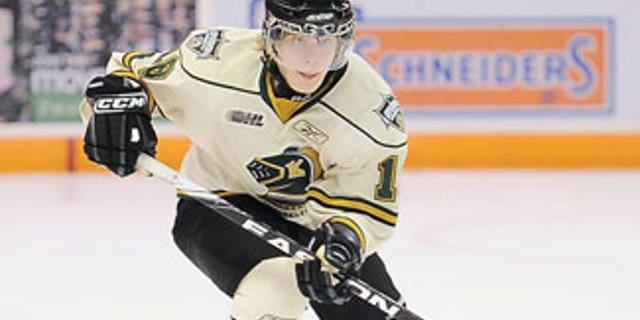 TORONTO -- It seems more and more Russian hockey players are deciding to give the North American game a shot these days in an effort to land a cushy contract with an NHL franchise sooner rather than later.
Last year, four of the eight Russian-born players selected in the 2010 Entry Draft at Staples Center in Los Angeles had spent some time in the Canadian Hockey League, including Alexander Burmistrov (Barrie, OHL), Ivan Telegin (Saginaw, OHL), Kirill Kabanov (Moncton, QMJHL) and Stanislav Galiev (Saint John, QMJHL).
It should be noted that Kabanov's draft status dipped considerably when he opted to return to Moscow late last season. A player first thought to be at least a second-round talent, fell into the third round (65th overall) for the New York Islanders.
Then there are the Russians who fall through the cracks, such as KHL goalie Sergei Bobrovsky, who signed a free-agent contract with the Philadelphia Flyers last May. Bobrovsky was the backup to Washington Capitals goalie Semyon Varlamov on the 2006 World Under-18 Championship team that placed fifth. In the 2007 Super Series, Bobrovsky eventually replaced Varlamov, the 23rd overall pick by the Capitals in 2006, at the Under-20 level.
All 22-year-old Bobrovsky has done in his first season in North America is give Philadelphia some added hope at a position traditionally considered an Achilles' heel come playoff time.
The point of all this: Like it or not, Russia continues to produce top-tier talent that cannot be ignored. While the infamous "Russian Factor" has certainly played a part in the number of Russians selected in recent years, the 2011 Draft could produce more picks than usual since quite a few eligible draftees decided to give the North American game a chance.
With all the excitement that Detroit's Pavel Datsyuk, Pittsburgh's Evgeni Malkin and, of course, Washington's Alex Ovechkin have generated over the years, it certainly wouldn't hurt to have some new blood in the mix.
NHL Central Scouting's Chris Edwards can appreciate the fact that more Russian players are deciding to give the North American game a try. Not only is it beneficial for the player, but crucial for those NHL general managers needing to make the big decisions.
"At some point, you have to show us what you have," Edwards said. "You can't base everything on reputation alone."
That being said, there appears to be as many as five Russian players eligible for the 2011 Draft in St. Paul, Minn., on June 24-25 who might be considered good bets in becoming stars down the road. Three of those players were starring in the CHL this season and two continued to hone their skills back home in the KHL.
In January, the two centers projected by Central Scouting to be either first or second-round picks were Vladislav Namestnikov of the Ontario Hockey League's London Knights and Alexander Khokhlachev of the OHL's Windsor Spitfires. Namestnikov, who had 30 goals, including 11 on the power-play, 68 points and a team-best plus-12 rating in 68 regular-season games this season, was rated the 17th-best player among domestic skaters on Central Scouting's mid-term report.
Khokhlachev (5-foot-10, 188 pounds), who produced 34 goals, including 12 with the man advantage, 76 points and a plus-9 rating in 67 regular-season games with Windsor, was No. 45 on the list. The other Russian on Central Scouting's North American radar is right wing Alexander Kuvaev of the Lethbridge Hurricanes in the Western Hockey League.
Kuvaev (6-1 1/4, 190), projected to be a late pick at No. 106 among North American skaters, had 11 goals, 24 points and a minus-3 rating in 58 games for the Hurricanes.
The top two Russians overseas are defenseman Zakhar Arzamastsev (6-2, 205) of Metallurg Novokuznetsk and right wing Nikita Kucherov (5-10, 163) of CSKA Moscow.
Here's a closer look at each of the five Russian skaters on Central Scouting's radar:
Vladislav Namestnikov, London Knights (OHL): What he lacks in size (5-11 1/2, 170), he compensates for in straight-ahead speed. At the World Under-17 Challenge, he produced 8 goals and 10 points in five games. He'd represent his country at the World Under-18 Championships, too, notching 7 points in seven games. Namestnikov would continue his rapid ascent up the Russian ladder playing against men in Russia's 2nd division with Khimik Voskresensk, scoring 11 goals and 17 points in 26 games in 2009-10.
"Vlad plays a high-energy, two-way game," Edwards told NHL.com. "He's very aggressive on the forecheck and backcheck and has the ability to beat defenders outside and cut back to the net. He has an excellent wrist shot that he can release with accuracy on the rush."
Alexander Khokhlachev, Windsor Spitfires (OHL): Khokhlachev is the most physical of the five Russians. He offers good hockey sense, a solid positional attack and some leadership to boot.
"He'll take a hit to make a play and he's not at all afraid," Edwards said. "I've seen him get hit hard a few times and he just bounces right back into the play. His energy level is always there, and he's always working hard. Down the stretch for Windsor, he's played well. He's a skilled forward."
Alexander Kuvaev, Lethbridge Hurricanes (WHL): He's a project for now, particularly since he was relegated to third or fourth line duty much of the season. Still, there is something there that could attract an NHL club.
"He has to be playing more on a consistent basis and I think he had tough time adjusting, but he had some games where he would stand out," WHL scout Peter Sullivan said. "In the second half, he was pretty average for my liking, but he's the type of kid who could maybe turn it around next year and be an impact player for them. We won't know until then, but certainly, skill wise, he's got it."
Zakhar Arzamastsev, Metallurg (KHL): The big defenseman completed his second year within Metallurg Novokuznetski's lineup, which included Washington Capitals prospect Dmitri Orlov (second round, 55th overall, 2009) and Los Angeles King prospect Maxim Kitsyn (sixth round, 158th overall, 2010). In 47 games, he had 3 goals, 8 points and 6 penalty minutes.
"Zakhar is a stay at home d-man," Director of European Scouting Goran Stubb told NHL.com. "He played with Novokuznetsk until he hurt his shoulder in February and he probably had surgery in Germany. He had good size, is cool and talented. He could improve his first-step quickness, but he's a good passer and plays his position well. He's not flashy, but very dependable."
Nikita Kucherov, CSKA (KHL): The speedy Kucherov began the 2010-11 campaign as captain of his junior team, CSKA Moskva in the Russian junior league. He'd finish with 25 goals, 53 points and 50 penalty minutes in just 35 games. The left-handed right wing notched 29 goals, 54 points in 53 games last season.
"Nikita is our top Russian winger," Stubb said. "He's a smallish player with an excellent skill level … a quick skater who can pass and score. He's a bit inconsistent, but did improve a lot during the season with the CSKA junior team. Nikita was the best Russian at the Under-18 Five Nations in the Czech Republic in February."
Follow Mike Morreale on Twitter at: @mike_morreale