Survive and advance: Gordon knows drill, must execute it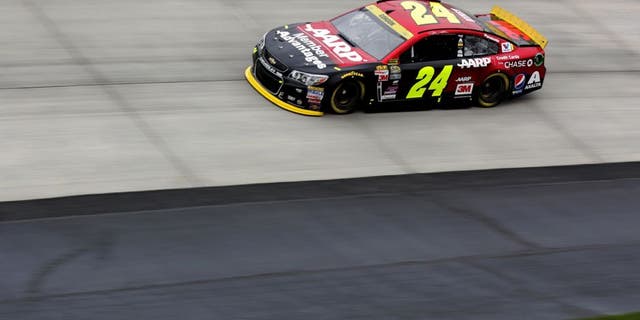 Survive and advance is the fundamental strategy for the Chase for the NASCAR Sprint Cup. And no one has more on the line in Sunday's AAA 400 at Dover International Speedway than Jeff Gordon does.
Through each round of the Chase, drivers want to stay high enough up in the standings that they can make it to the next round.
Sunday's event is the third and final race in the Challenger Round of the Chase. Once the checkered flag flies at the Monster Mile, four of the 16 drivers in the Chase will be eliminated from championship contention.
Heading into the Dover race, Gordon is 10th in points, just 12 points ahead of Kyle Busch in 13th place. Gordon was just 32nd-fastest in Saturday's opening practice at Dover and 27th in Happy Hour, not encouraging numbers. If he doesn't find speed on Sunday, Gordon could see his championship hopes dashed early in this, his final season before retirement.
As a rookie in 1993, Gordon finished 14th in points. Since then, he's won four championships and finished in the top five in points 10 times. His worst points finish after his rookie season was 11th in 2005.
But he will need a decent finish on Sunday at Dover to stay relevant in the title discussion. Gordon can guarantee that he'll move on to the Contender Round of the Chase by finishing 10th, 11th with at least one lap led or 12th with the most laps led. If fellow Chase drivers around him have trouble, that could help Gordon's chances.
Meanwhile, the four-time champion is trying to stick to business as usual and not worry about the hoopla surrounding his impending retirement.
"Right now we are in the thick of this championship," Gordon said Friday at Dover. "We are proud that we made it into the Chase. We are proud of the position that we are in, in this first round and we've got work to do this weekend to make sure we go on to the second round and then it starts all over again. Still the focus is very competitive-driven and that is where most of my thoughts and emotions are right now. Homestead, no matter what is happening there, whether we are going for a championship or not, it's going to be hard to hold that back, especially when that checkered flag waves."