Roberto Alomar's No. 12 Retired, Ubaldo Jimenez Traded, and Carlos Beltran Struggling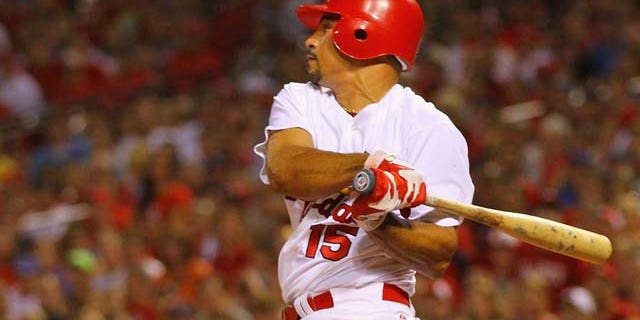 HALL OF FAMER, JUST HANGING OUT
It must be nice to be Roberto Alomar these days.
Alomar became the first Toronto Blue Jays player in the Hall of Fame when he was inducted last week. On Sunday, the Puerto Rican became the first player to have his number retired in the team's 35-year history.
A banner with a No.12 jersey, which also featured the team's logo from the 1990's and a logo for the Hall of Fame, was raised alongside the two banners from the 1992 and 1993 back-to-back World Series champs in the Rogers Centre's rafters.
The No. 12 was painted on the turf behind home plate.
Two Canadian Mounties accompanied Alomar as he walked down the steps in the stands and through the crowd, all the while exchanging high-fives with fans as we walked onto the field. A circled tarp with the No. 12 was placed on top of second base and a stage was set up a couple of feet away from the tarp.
"When I was a little boy I never expected to have my number to be retired," Alomar, accompanied by his parents, ex-teammates and former manager Cito Gaston, told the crowd. "I just played the game because I had God-given talents. And when I was traded to Toronto, I was blessed to come, to play for a great city. … Toronto, one more time, thank you. I love you."
READY FOR THE STRETCH RUN
Cleveland was clearly the biggest winner of the non-waiver trade deadline, swooping in and trading for Rockies ace Ubaldo Jiménez. The team also obtained outfielder Kosuke Fukudome from the Chicago Cubs.
In a separate move Saturday night, the Indians traded infielder Orlando Cabrera to the San Francisco Giants – who were in need of a shortstop with Miguel Tejada on the disabled list – for a minor leaguer.
The trade was announced on Saturday after Jiménez was pulled out of his start at San Diego following a first inning in which he walked four, allowed a pair of doubles and gave up four runs.
To get Jiménez, however, the Indians had to part ways with four prospects. Two of those prospects were pitchers Alex White and Drew Pomeranz, Cleveland's fifth overall pick in the 2010 draft. The other two players going to Colorado are right-handed pitcher Joe Gardner and first baseman Matt McBride.
Pomeranz will be a player to be named later in the trade since MLB rules prohibit players being traded until they are one year removed from signing their first professional contract.
Jiménez, 27, was third in the NL Cy Young award race last year after winning 19 games but has struggled this season, going 6-9 for the Rockies.
Boston and the New York Yankees were some of the teams mentioned to be in the running for the Dominican's services.
"We are happy to add a guy who can give us an opportunity to win every five days," Cleveland manager Manny Acta said on Sunday.
Jiménez is likely to start in Boston on Thursday or Friday in Texas. The Indians are in second place, 2 1/2 games behind the AL Central-leading Detroit Tigers.
The Indians got Fukudome for a pair of minor leaguers on Thursday.
Meanwhile, in a win-now move, St. Louis acquired shortstop Rafael Furcal from the Dodgers on Saturday for a player from the minors and joined the team on Sunday.
Both teams reached a deal Friday but because Furcal had 10-and-5 rights (10 years in the majors and five with the same team), the Dominican had 24 hours to accept the trade. He consulted with his wife, accepted Saturday and left to St. Louis early Sunday morning.
Over the last two years in Los Angeles, Furcal has dealt with multiple injuries and this season he's struggled, hitting .197 in 37 games. Lately he has picked it up, going 10 for 33 in his last nine games.
"I've been to the playoffs but never been to the World Series," Furcal told reporters. "That's part of my dream, to win a ring. I think it's time to do that."
He wasn't in the starting lineup on Sunday night against the Cubs but will be taking the everyday job at shortstop starting Monday night.
The Red Sox, for their part, acquired infielder Mike Aviles on Saturday from Kansas City for Yamaico Navarro and a minor league pitcher.
Players on both leagues can still be traded but will now have to go through waivers before August 31.
GIANT SLUMP?
After making his debut Thursday night as San Francisco beat Philadelphia, Carlos Beltrán and the Giants were swept this weekend by the Cincinnati Reds.
Beltrán has two hits in 17 at-bats since joining the Giants, who have a two game lead over Arizona in the NL West.
Adry Torres, who has covered MLB, NFL, NBA and NCAA basketball games and related events, is a regular contributor to Fox News Latino. He can be reached at elpiloto137@gmail.com or follow him on Twitter: @adrytorresnyc.
Follow us on twitter.com/foxnewslatino
Like us at facebook.com/foxnewslatino