Alomar Elected to the Hall of Fame; Palmeiro and González Strike Out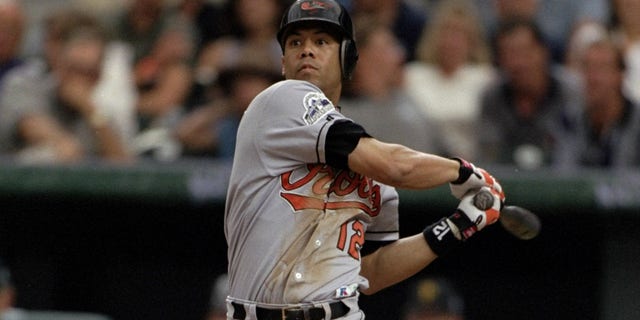 Roberto Alomar, the 12-time All-Star whose on-the-field brilliance was tainted by non-baseball matters, was elected to the Hall of Fame Wednesday.
The Puerto Rican second baseman received 90 percent of the votes from the Baseball Writers' Association of America. Bert Blyleven, the pitcher who won 287 games in his career, was also elected.
They will be inducted July 24 in Cooperstown, N.Y.
Not surprisingly, Rafael Palmeiro and Juan González – whose stellar careers were marred by steroid allegations – were left out. Palmeiro, the first baseman who played for five teams, received only 64 votes; González, who won the American League Most Valuable Player in 1996 and 1998, received 5.2 percent of the vote.
Palmeiro and González – who are from Cuba and Puerto Rico, respectively – had little shot of being elected. Both players came to symbolize the so-called Steroid Era, during which performing-enhancing drugs spread through the league and statistics and bodies exploded accordingly.
Palmeiro, for his part, has become notorious for his testimony during Congressional hearings on baseball and steroids.
"Let me start by telling you this," Palmeiro infamously told members of Congress, his finger wagging, while under oath. "I have never used steroids, period."
A short time later – after reaching the milestone of 3,000 hits in 2005 – he tested positive for using steroids and was suspended for 10 games.
Alomar, meanwhile, seemingly avoided the steroid cloud, but wasn't without controversy. In 1996, he spat in the face of umpire John Hirschbeck – instantly transforming him from two-time World Series champion to, for some baseball purists at the time, a pariah that represented everything that was wrong with the game.
Alomar, who was suspended for five games, later made peace with Hirschbeck. But his troubles were far from over.
In 2009, an ex-girlfriend filed a lawsuit claiming the baseball star had HIV and knowingly had unprotected sex with her; last year, Alomar's wife made similar claims in divorce papers.
Meanwhile, Cincinnati Reds shortstop Barry Larkin and Jack Morris, the right-handed pitcher who won 254 games for four different teams, just missed out.
Follow us on twitter.com/foxnewslatino
Like us at facebook.com/foxnewslatino