Quarterback injuries piling up for ACC teams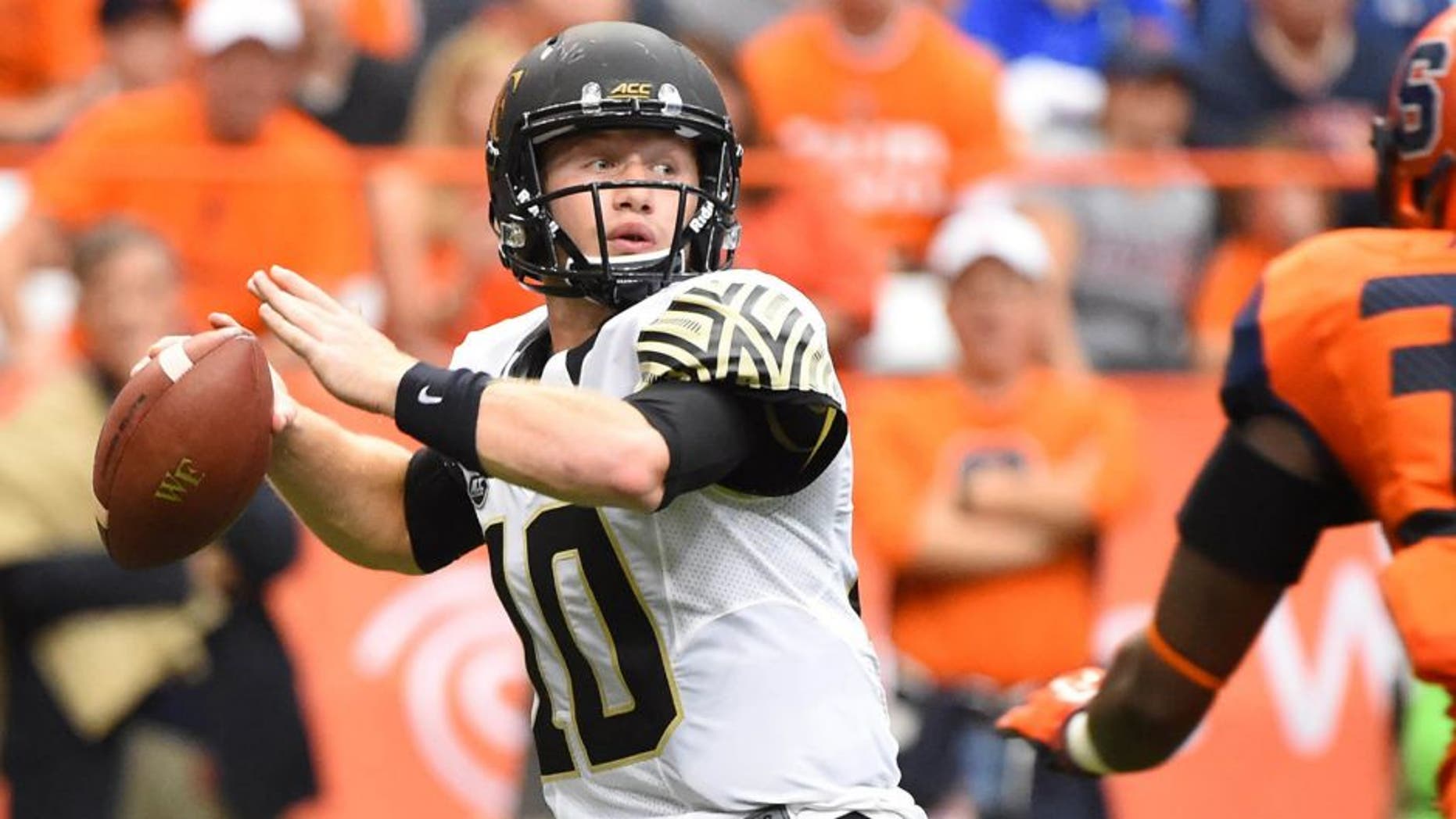 Wake Forest quarterback John Wolford left Saturday's game against Army after suffering an ankle injury on a designed run.
The sophomore is not expected to return to the game, according to the school, which only adds to the ACC's ongoing issues at the quarterback position.
Wolford's injury occurred hours after Boston College quarterback Darius Wade went down with his own ankle injury against Florida State, a fracture that will require surgery and cause the sophomore to miss the rest of the 2015 season.
The list continues: Virginia Tech's Michael Brewer broke his collarbone in the season opener against Ohio State while Syracuse's Terrel Hunt is out for the year (again) after suffering an Achilles injury. To make matters worse for Syracuse, Hunt's replacement, true freshman Eric Dungey, left Saturday's game against Central Michigan with a head injury after taking a vicious shot on a roll-out play.
If Notre Dame, a partial league member in football, is included -- meaning the best quarterback of the bunch, Malik Zaire, who also underwent season-ending surgery for a broken ankle, gets thrown into the injury foray -- that makes for five different ACC schools that have had to replace at least one starting quarterback at some point this season.
"We're kind of on the treadmill, right? We're just kind of running and we keep moving, and we don't stop to think about it, quite honestly. If we stopped to think about it, we'd probably be like most everybody else in the country, we'd be concerned about it," Notre Dame coach Brian Kelly said on the weekly ACC teleconference. "We just keep moving, and there's other guys in our program -- we have 85 scholarships, and you only have to play 11 guys on offense, so hopefully you've done a good job recruiting depth on your team, and the next guy steps up.
" ... Now, the quarterback position is a whole different animal."
With the conference's three ranked teams -- Clemson, Florida State and Georgia Tech -- either going through growing pains in the passing game or, in Georgia Tech's case, relying primarily on the run, very few ACC teams have lit it up through the air. Wolford's Wake Forest team entered the weekend ranked seventh nationally in passing yards per game, though there were some turnover issues, while Duke (14th nationally) had benefitted from a soft schedule. The next closest conference member? Virginia at No. 44.
The severity of Wolford's injury is not yet known, but injuries at the quarterback position have left multiple ACC teams in precarious situations moving forward.