NNS: Danica Doesn't Win But Making Strides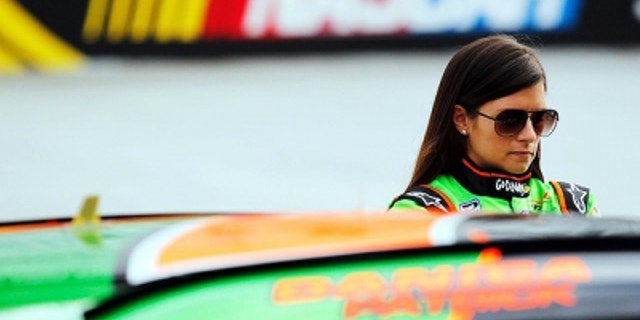 Danica Patrick held her own at Bristol Motor Speedway on Saturday.
But as she acknowledged, the luck of the Irish wasn't in her favor in the Ford Eco Boost 300. She finished 19th, two laps down.
"It was OK. The car wasn't perfect all day, but it wasn't terrible," Patrick said. "It was a little loose all day and hard to attack the corners. So I was good off (the corner) all day, which I think is what you need all day long.
"I would have liked to have been a little quicker. I would have liked to have passed more cars, but we made it to the end this time. Perhaps that's what the Irish gave us for luck today.
"I think that any of the short tracks that I (drive), if we can just get to the end and make some progress in the race, that's good."
In just her second start at Bristol, Patrick improved considerably over last year's 33rd-place finish when she crashed with 55 laps remaining.
Patrick started 27th, so she sought her team's advice to conquer the concrete half-mile affectionately called Thunder Valley. The messages were simple: Race the race track and don't over-drive the car.
Forty laps into the race, Patrick had climbed to 23rd, but eight laps later she would drop one lap down when polesitter and then-leader Joey Logano passing the St. Patrick's Day-inspired GoDaddy.com Chevrolet.
Over the next 100 laps, Patrick learned how to use the high and low lanes on the track. She learned to pit while one lap down on the short oval. And she learned to give as well as she got. Patrick had climbed to 20th place when Erik Darnell blocked the No. 7 car from running her line and passed for position on Lap 144.
"I can't get down," she exclaimed.
Patrick's spotter, Rick Carelli, insisted she run Darnell down, and eventually she did, on Lap 200. And when Jason Bowles attempted to get the best of Patrick on Lap 155, before the second caution, Carelli suggested she return the favor with "a love tap."
"Got it," Patrick said after nailing her target. "I was (expletive) aiming for his rear end."
Patrick was able to stay only one lap down until the leaders caught her on Lap 222. Trevor Bayne and Ricky Stenhouse were battling for the lead as Patrick was fighting a "loose and slippery" car. While running 19th, the Roush Fenway Ford drivers tried to pass her at the start-finish line and she nearly pushed Stenhouse into the wall on Lap 223.
"I didn't know the 6 was there," insisted Patrick, who lost her second lap two laps later.
By the fourth caution on Lap 264, crew chief Tony Eury Jr. made adjustments to tighten up the car for the final run. While Patrick was still a bit loose and compared the sensation to "driving on three tires" she was able to finish the race in one piece.
"It takes very consistent concentration to get through and not make mistakes," Patrick said. "But I feel like that comes a little more natural to me. I just have to work on getting faster and qualifying further up the grid, then getting a better race pace.
"I thought after first practice we were looking good. We lost our way just a little bit. But we got the GoDaddy.com car to the finish."