New York Jets Ponder Tim Tebow & Mark Sanchez Trade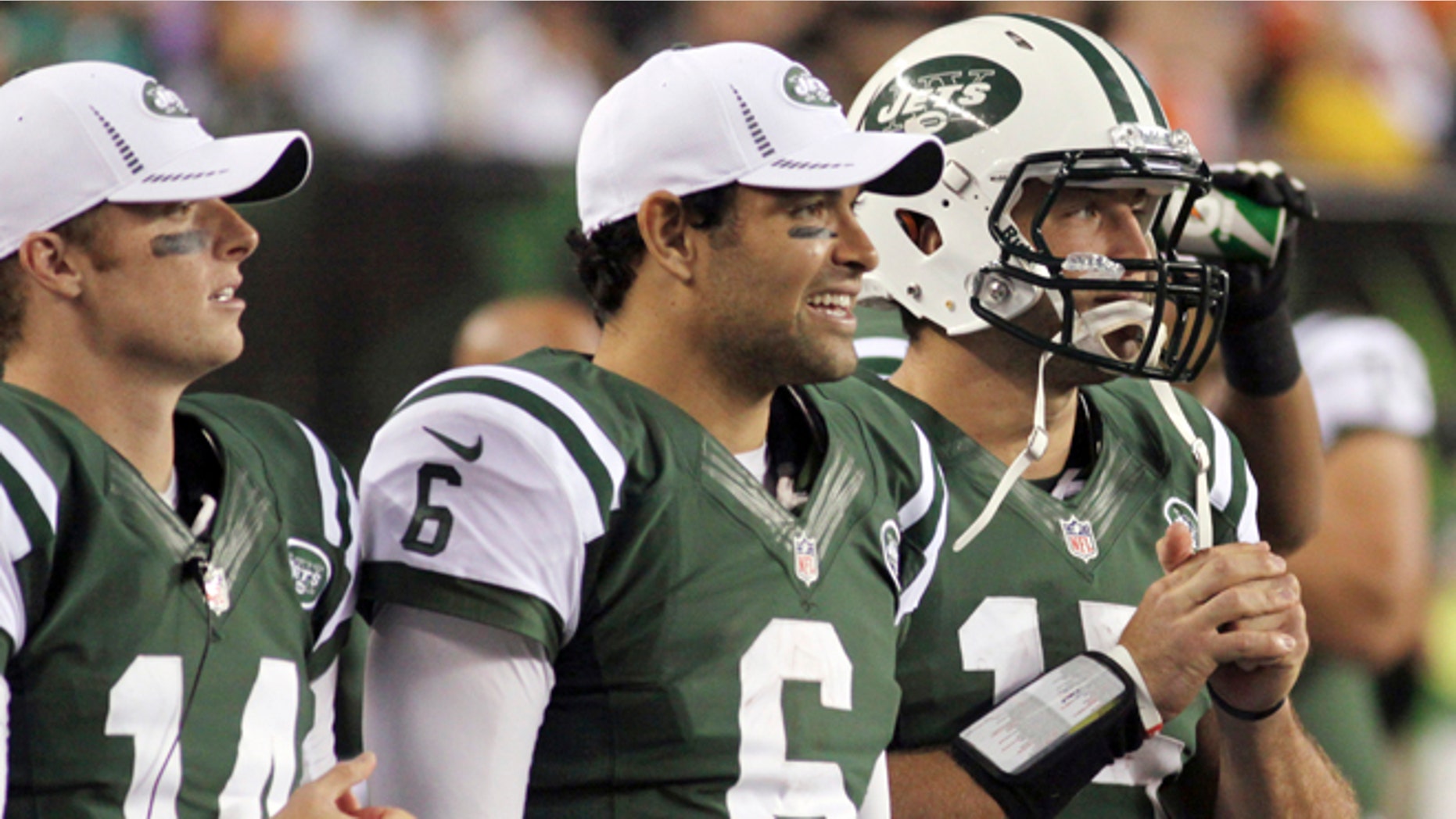 FLORHAM PARK, N.J. – A terrible season is only getting more difficult for the New York Jets' once-vaulted quarterback duo of Mark Sanchez and Tim Tebow look likely to be broken up.
Jets' coach Rex Ryan decided that instead of starting with Sanchez or the praised off-season pick-up Tebow, the New York squad will see Greg McElroy behind center this weekend.
The game against the San Diego Chargers will mark the first NFL start for McElroy, who is stepping in for the benched Mark Sanchez and leapfrogging backup Tim Tebow on the Jets' depth chart. Rex Ryan made the decision Tuesday to go with the team's seventh-round pick last year out of Alabama, and now McElroy gets a chance to show the Jets if he might be part of the franchise's future.
"I don't look at it like anything," McElroy said. "Obviously, it's one game at a time. Like I said a couple of weeks ago, your role changes every day and every minute. You never know what the situation is going to be. ... Just enjoy right now, live in the moment. That's what my Dad said when I talked to him, 'Live in the moment. Enjoy this. You've been dreaming about this your whole life.'"
McElroy, who led the Jets to a 7-6 win over Arizona when he replaced Sanchez late in that game three weeks ago, took the first-team snaps at practice Wednesday.
Ryan hasn't decided on who the No. 2 quarterback will be Sunday — Sanchez or Tebow. All that matters for now is that McElroy, in the coach's mind, is No. 1.
Mark is a Jet and he's going to support the Jets any way he can through the remainder of season
"I definitely think I want to see what Greg can do," Ryan said. "He's a winner. He's been a winner his whole life."
He certainly has. McElroy helped lead Carroll Senior High School in Southlake, Texas, to a state title in 2005. Four years later, the University of Alabama rolled all the way to the national championship with McElroy as the quarterback.
Still, there were knocks on his size — he's 6-foot-2 and a trim 225 pounds — and his arm strength. Draft "experts" projected McElroy as a decent system quarterback, a guy who could be a solid backup but probably couldn't be an NFL starter. So, McElroy slipped to the seventh round last year.
Ryan said McElroy's arm is "immensely" better than it was when he first joined the team, and since missing all of last season after dislocating a thumb in a preseason game. He made some news in the offseason, though, when he told an Alabama radio station that there was a "corrupt mindset" in the Jets' locker room that included some "extremely selfish individuals." He later apologized to his teammates for the comments.
"His whole resume speaks about him obviously being a very confident guy and a confident leader," Ryan said. "He understands that we have to protect the football. That's where we're at right now."
And that's because Sanchez failed miserably at that, turning the ball over 50 times since the start of last season. After McElroy's solid performance against the Cardinals — 5 of 7 for 29 yards and a touchdown — Ryan took a few days before deciding to stick with Sanchez.
That second chance lasted two games as Sanchez struggled mightily while McElroy wasn't even in uniform, listed as inactive. Despite the Jets being eliminated from postseason contention, Sunday's game couldn't be bigger for McElroy.
"I think it's a tremendous opportunity, a tremendous moment for me," McElroy said. "I can't emphasize enough that this is not a finish line.
"This is a starting point."
It could also signal an end point for Sanchez, once considered the face of the franchise who drew comparisons to Joe Namath after helping the Jets to consecutive AFC title games in his first two seasons.
Rumors abounded on Wednesday that Sanchez was on the trading block and that Tebow woulnd't be in the Jets' green and white come the 2013 season.
Sanchez's agent and older brother, Nick Sanchez, tried to put those rumors aside, but did not speculate about next season.
"Mark is a Jet and he's going to support the Jets any way he can through the remainder of season," he told ESPN.
Tebow, on the other hand, vented his frustration with the organization who acquired him from the Denver Broncos last off-season. The former Florida Gator said that he was still unsure why the Jets brought him to the team and that he will seek to play elsewhere next season.
"I'm not sure. It's something we'll talk about after the season," Tebow said of his future with the team. "I haven't asked for a trade yet."
The Associated Press contributed reporting to this article.
Follow us on twitter.com/foxnewslatino
Like us at facebook.com/foxnewslatino