Mark Sanchez's Embarrassing Fumble Leads to New York Jets Loss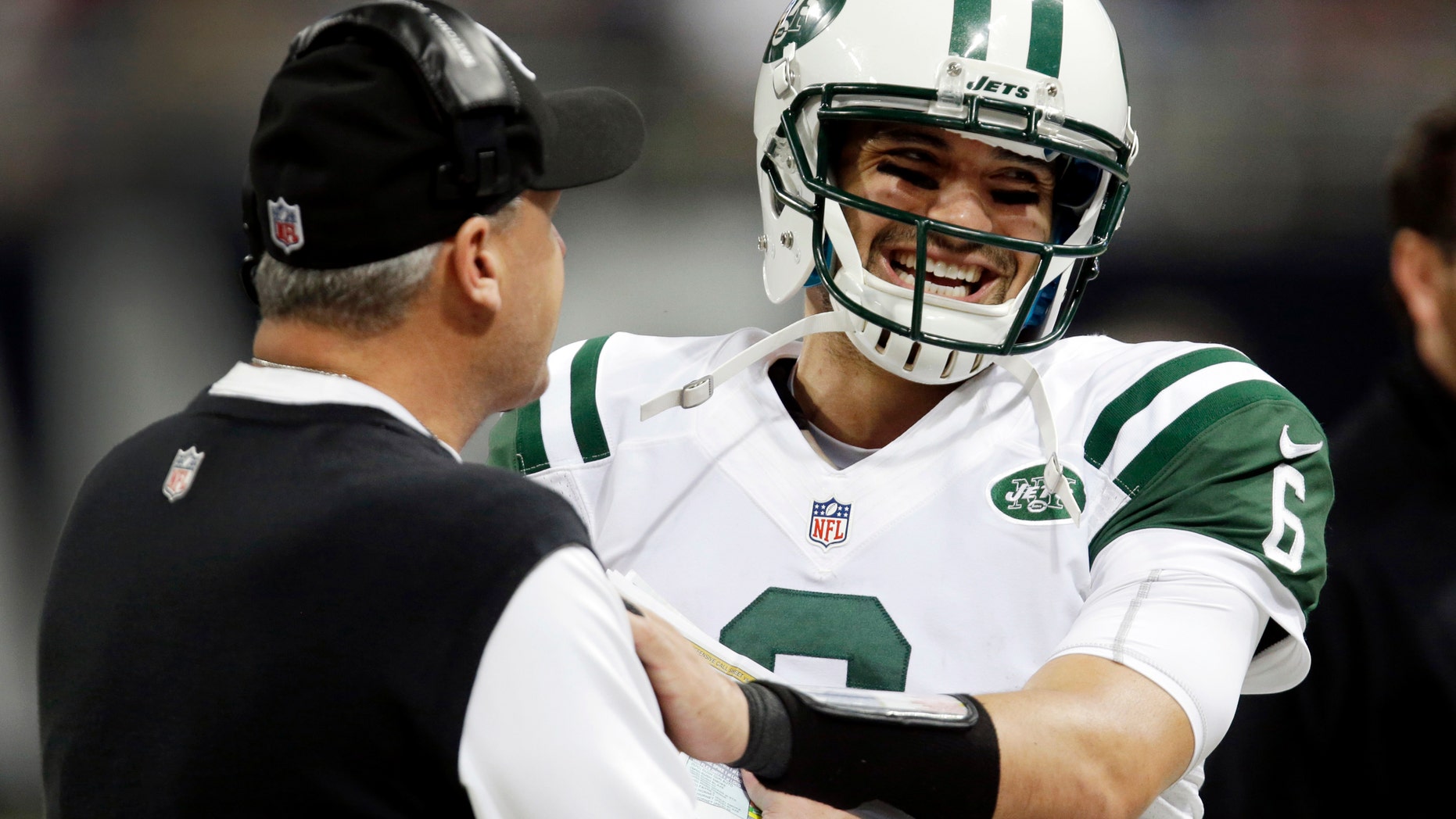 EAST RUTHERFORD, N.J – New York Jets Coach Rex Ryan had few words after a fumble and several mistakes by quarterback Mark Sanchez sent the New England Patriots to victory Thursday night.
"That," Ryan said, "was a nightmare of a game."
Sanchez's poor decision ruined a nice drive by keying in on Jeremy Kerley on second-and-6 from the 23. Steve Gregory read the play the whole way for an easy interception.
Patriots quarterback Tom Brady then led the Patriots on a 15-play, 84-yard drive that was capped by Wes Welker's 3-yard touchdown catch on the first play of the second quarter.
Things got out of hand in a hurry a few minutes later.
After New England recovered a fumble by Shonn Greene, Brady threw a swing pass on first down to Shane Vereen, who zipped down the left sideline untouched for an 83-yard touchdown that made it 14-0 with 9:43 remaining in the opening half.
The Patriots were back in the end zone moments later after Sanchez fumbled on second down as he fell when he slammed into right guard Brandon Moore's backside. Gregory picked up the ball and ran it 32 yards for a score to put New England up 21-0 with 9 minutes left.
And, the Patriots weren't done.
In the end, the Patriots clobbered the Jets, 49-19, in one of the worst losses in Jets history.
It was a humiliating loss for the Jets, and the plays made Sanchez the butt of many jokes.
He slipped during the game, running into another player's behind, causing a fumble that led to a 32-yard touchdown. Sanchez called the mistake a "mental error" and Ryan called it a "mental mistake."
Later in the game, Joe McKnight, one of the league's top returners, fumbled the ensuing kickoff on a hit by Devin McCourty. Julian Edelman grabbed the ball out of the air and scooted 22 yards for yet another score, making it 28-0 with 8:51 remaining in the half.
"That was crazy," Sanchez said. "I've never seen anything like that. This is a team you can't turn the ball over against because they make you pay. That was a great display of that today."
Disgusted Jets fans were chanting for Tim Tebow to play before the second quarter of this Thanksgiving showdown was over, and booing as the team left the MetLife Stadium field at halftime.
"Shoot, I don't blame them for booing," Jets coach Rex Ryan said.
For the Jets, it was the most points they had given up since 1995, when they gave up 52 points  to Miami in the 1995 season opener. They will likely have to win their remaining five games to even have an outside chance at the postseason.
"Discouraged? Of course," Ryan said. "I'll put it to you this way: We're about as wounded as you possibly can be, but we're not dead."
Sanchez was 26 of 36 for 301 yards with a touchdown and an interception. Tebow didn't play at all — revealing after the game that he has two broken ribs — and stood on the sideline with a cap on throughout despite the occasional chants for him to get some snaps.
It looked as though this one might be a close as both teams missed opportunities to score in the opening quarter, including Stephen Gostkowski going wide left on a 39-yard field goal attempt for New England. The Jets were hoping to boost their playoff hopes and keep some momentum going after a 27-13 victory at St. Louis on Sunday that snapped a three-game skid.
The Patriots had other plans, sweeping their AFC East rivals for the second straight season.
"We did a good job," Vereen said, "of putting the hammer down when they were down."
Based on reporting by The Associated Press. 
Follow us on twitter.com/foxnewslatino
Like us at facebook.com/foxnewslatino