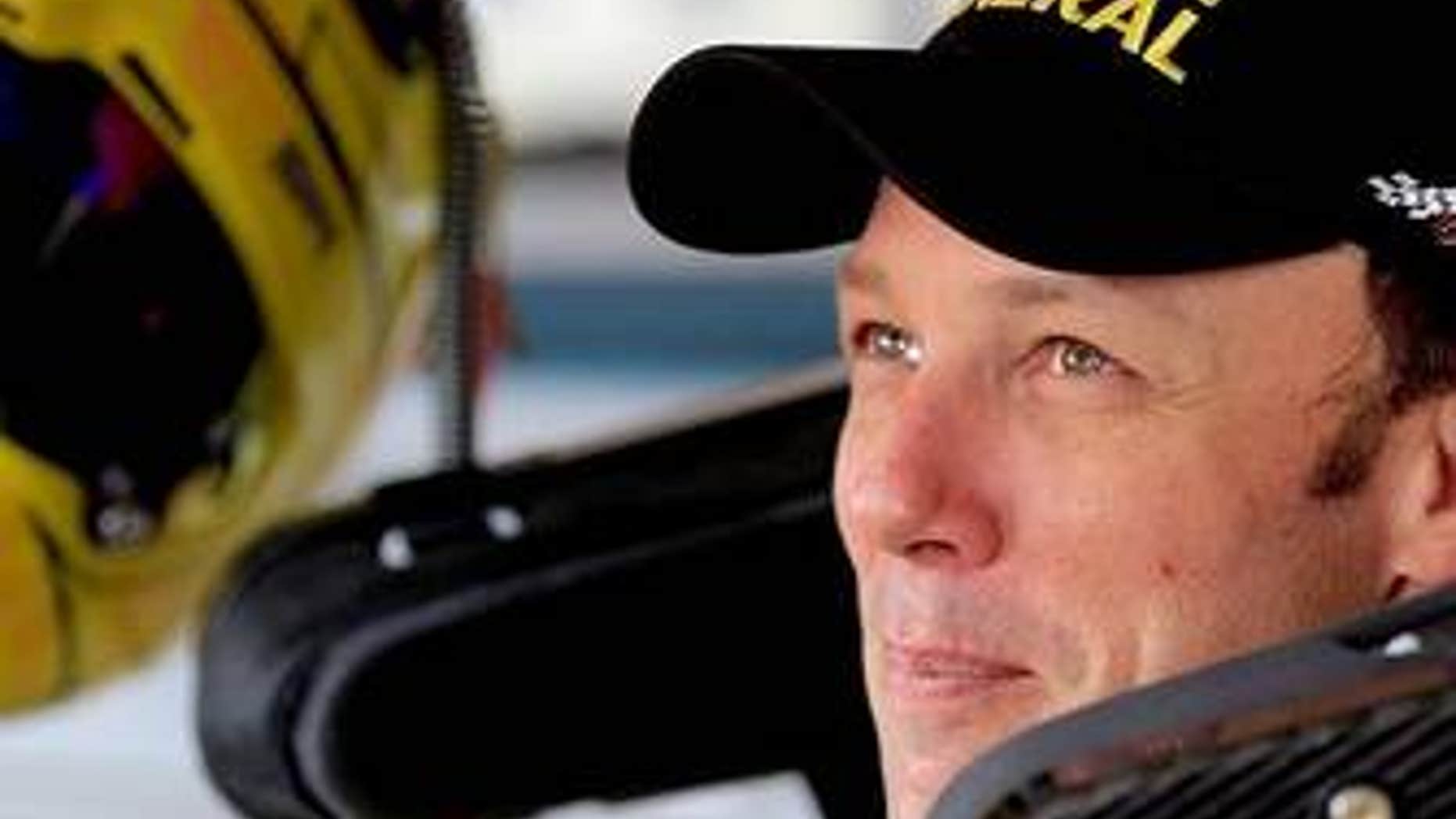 CAN KENSETH BE CAUGHT? -- The numbers for Matt Kenseth are imposing, at least to the competition: Two consecutive victories at Kansas Speedway, site of Sunday's Hollywood Casino 400. An average finish of 3.83 in his last six races here. Five victories in eight races at 1.5-mile tracks this season. The big question this weekend is can the NASCAR Sprint Cup points leader be slowed down at all, or is he about to blow the Chase for the Sprint Cup wide open, the same way he blew open the 2003 series championship, which led to the adaptation of the Chase format in 2004?
During Thursday's open test day at Kansas, Kenseth seemed unsure, after he was just 13th on the speed sheets. Surprisingly, Kenseth remained 13th in Friday's lone 90-minute Sprint Cup practice session.
"The weather's going to be a lot different on Sunday and I'm hoping that will help us," said Kenseth. "... So far, I feel like the car's been driving me instead of me driving the car."
To Kenseth's point, it was 88 degrees when qualifying began, but the high on Sunday is expected to be just 60 degrees. On top of that, a huge storm is expected Friday night, which likely will wash all the rubber from the track surface.
The good news for Kenseth was that he picked it up in qualifying, putting his Joe Gibbs Racing Toyota on the inside of Row 4 in the seventh starting spot.
Kenseth's teammate, Kyle Busch, who historically has struggled at Kansas Speedway, didn't have a good qualifying session, finishing just 18th of 43 drivers, which will not be helpful on Sunday.
GOING FOR A RIDE -- Five-time NASCAR Sprint Cup champion Jimmie Johnson spun out just 10 minutes into practice Friday at Kansas Speedway. Johnson was fastest during Thursday's test session at the 1.5-mile track, but was concentrating solely on long runs then. Friday morning, Johnson looped his No 48 Hendrick Motorsports Chevrolet SS in Turn 4 on his first mock qualifying run. But Johnson kept it off the wall and within 10 minutes, he was back on track.
"I just spun out trying real hard on that first sticker run and we got things back under control and the balance in the car," said Johnson. "It's really fast. I'm happy about that."
Then, with 10 minutes or so left in the 90-minute session, his Chevy had a big puff of smoke. "As I was coming in, I saw some smoke in the mirror and I could smell it," said Johnson, who ended up third in practice. "And it looks like we have an issue with a radiator or something up front. There's nothing wrong with the engine, but it's certainly a quick scare when you see that blue smoke and the smell that it has. I was pretty nervous."
The woes didn't slow Johnson a bit in qualifying, as he will start third behind Kevin Harvick and Ricky Stenhouse Jr. Penske Racing teammates Brad Keselowski and Joey Logano completed the top five qualifiers. Dale Earnhardt Jr. was sixth, followed by Kenseth, Paul Menard, Carl Edwards and Denny Hamlin.
HANGING IN, BARELY -- The 10 drivers chasing Matt Kenseth, Jimmie Johnson and Kyle Busch don't want to hear the Chase for the Sprint Cup is down to just the aforementioned three drivers. Greg Biffle, who is sixth in points, 41 back of Kenseth, is no exception. But The Biffle isn't ready to concede anything yet, despite being just 25th in Friday's lone practice round and qualifying 26th.
"It is all speculative. It is all based on what could happen," said Biffle. "We could finish third and they (Kenseth, et al) could finish fourth and fifth. We could go into next week only gaining two points on them. ... We can only control what we do and what happens for them and what they do is their own destiny. It depends on how they run and what happens and how we run as to if we are in or out of it."
Biffle knows one big wildcard remains, the upcoming race at Talladega Superspeedway.
"Who is going to get caught up in what at Talladega? Maybe nobody, maybe there is no accident," said Biffle. "We all put so much emphasis on one race and maybe nothing happens. You just don't know. If you are within 43 points going into Homestead then you have an opportunity to win the title if something happens to the leader early in the race and you win. I think that is the way you have to look at it."
STEPPING UP -- After posting just a single top-five finish in the first 25 races of the season, Jamie McMurray has wheeled the No. 1 Chip Ganassi Racing with Felix Sabates Chevrolet to two top fives in the last four races. Friday at Kansas Speedway, McMurray admitted to being baffled as to the reason.
"I just give the same effort every week and I don't know if there's some guys that get deflated when they don't make the Chase and it seems like maybe some of those teams start trying other off-the-wall ideas because they're not in the Chase," said McMurray, who qualified 24th. "... I think for the rest of the year you just do what works best, but I can't give you a reason. It sure does seem odd that we've been a really good car not in the Chase."
OPPOSITE DIRECTIONS -- Ricky Stenhouse Jr. and Danica Patrick had kind of a best-0f-times/worst-of-times Friday during qualifying for the Hollywood Casino 400 at Kansas Speedway. Stenhouse qualified behind Kevin Harvick on the outside of Row 1, the third time in the last five races that the Roush Fenway Racing driver has qualified in the top five.
"It was definitely a good start for us," said Stenhouse. "I think track position is going to be important. We were fast here last time and led laps and go caught by caution on pit road. Hopefully we can keep that fast car continuing on into tomorrow and Sunday. Track conditions will change a whole lot from what we tested yesterday so it will be good to see that tomorrow and see how our Ford EcoBoost Fusion reacts to the temperature changes. I think it will be better for us so that is what we are hoping for."
The news wasn't as good for Patrick, who qualified 29th, the 23rd time in 30 races she failed to qualify in the top 25.
"I feel like we've made improvements throught the year and I definitely learned a lot," said Patrick. "But we started off a little behind and made improvements during (and) through the summer. And I feel like we've fallen a little bit behind again. It's hard. The Sprint Cup Series is hard. Everybody is pushing really far and everybody works so much and so hard that it's just difficult."