Myles Garrett's DL coach speaks out about recent criticism of the projected No. 1 pick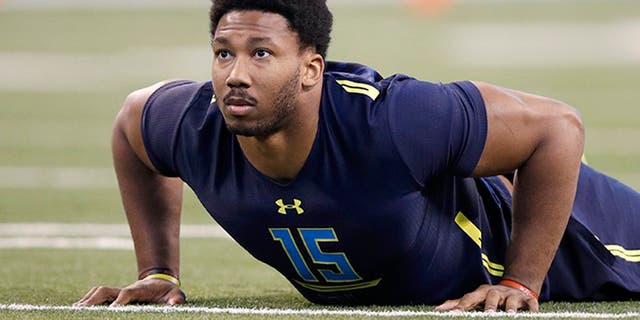 NEWYou can now listen to Fox News articles!
Terry Price admits he's a little pissed off when he hears some of the criticism that has surfaced in the past week about one of his proteges.
Price understands that when you're the projected first overall pick in the draft like Myles Garrett is, people are going to try and pick you apart. Still, Price, a former NFL D-lineman who has coached two decades in the SEC, shakes his head at some of this stuff.
Like when people say Garrett wasn't productive enough in SEC play. Price points out that Garrett suffered a high ankle sprain in late September against Arkansas last season.
"I said, 'If you can't go, I understand that,' He said, Coach, I'm not comin' out. I gotta help us win.'"
A&M ended up coming back to win that game, 45-24.
"He's an old-school kinda guy," Price told FOX Sports Monday. "This kid is out here knowing what his draft status (as a projected top pick) is, and he's out there with a high-ankle sprain and he's pushing through it. We hear a lot about guys not playing or skipping bowl games. He kept pushing through it and he was never 100 percent the rest of the season."
Garrett finished the season with 15 TFLs and 8.5 sacks. In his first two season at A&M, Garrett had 24 sacks. At the NFL Combine, the 6-4, 272-pounder put on an impressive display, clocking a 4.64 40, a 41-inch vertical jump and a 10-8 broad-jump. Price has coached many NFL players but said he's never worked with anyone with the kind of explosiveness and flexibility to bend and get as low coming off the edge like Garrett can.
As for the criticism from Hall of Famer Warren Sapp that Garrett isn't a No. 1 overall caliber pick and that he's "a lazy kid" that only "makes four plays a game," or takes plays off, Price said given the kind of tempo offenses that are prevalent in college football now, it's hard for any defensive player to go all out every snap. Usually Price tries to have his guys go no more than six plays at a time without a rest, but with tempo offenses as they are it's impossible to sub guys out unless there's a dead ball.
"I wished people would look at the film. He faced more double and triple-teams this season than anyone I've seen in 20-plus years of college football," Price says. "Come watch how hard this guy works. Watch him every day. He busts his ass in practice. He works at his craft. He is a low-maintenece, great player.
"I'll fight for this kid any day."