Jurgen Klinsmann has a Fabian Johnson problem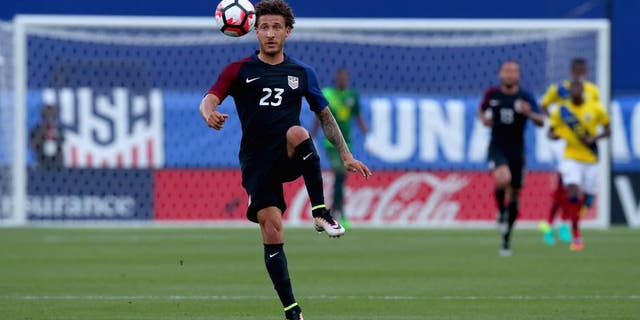 NEWYou can now listen to Fox News articles!
Jurgen Klinsmann has a Fabian Johnson problem. It's not a new problem either and it's one that some might see as a good problem to have, but it's definitely a problem.
Johnson is the United States' best left back. And best right back. And best left winger. And best right winger. In an ideal world, he'd be playing four positions for the Americans, but there's only one of him so barring some magical cloning advancement, Klinsmann can only put him in one place.
So where does he play Johnson?
The easy answer is left wing. That's where Johnson is best and putting one of your best players in his best position appears to be a simple decision.
But there's a catch: The Americans have other left wingers. They have a lot of them. And the same is true of the U.S. on the right wing. The other options aren't as good as Johnson, but they can get a job done. And the Americans have DeAndre Yedlin at right back, who is in the best form of his life after a terrific spring for Sunderland.
Klinsmann does not have another left back, though. Edgar Castillo, whose defensive work could charitably be called suspect, is the Americans' second choice at the position, while an out-of-position Michael Orozco or Matt Besler are the other options.
Simply by process of elimination and the giant hole on the U.S. roster – the left back hole might as well be a permanent one anyway, now being a two-decade-old problem – Johnson at left back makes the most sense.
The hazards of putting Johnson there are very real, though. As we saw against Colombia, it can remove him from the attack almost entirely. Taking arguably your best attacker out of the attack is a killer, especially for a U.S. team that struggles to generate chances as is.
While the Americans kept the ball against Los Cafeteros, they couldn't get many decent looks at goal. Johnson bombed forward to little effect from his left back spot, Bobby Wood was completely ineffective on one wing and Gyasi Zardes the same on the other. The U.S. looked slow and unimaginative. They lacked someone capable of exploiting small spaces and threatening a defense. You know, all of the things Johnson does when he gets forward.
The U.S. did look assured at the back, though. With the exception of a set piece and a bad giveaway by Michael Bradley that sprung a Colombia counterattack, the Americans generally defended well. That was especially true from the run of play and the dangerous Colombia wingers were often invisible, in part due to Johnson.
So what is Klinsmann to do?
His options are leave his weakest position without help and leave it to flounder or put the chains on Johnson. Either way he loses.
It's baffling that the Americans can't find a competent left back. While it's incredibly difficult to find good fullbacks – just look at the rosters of the best clubs and international teams from around the world – it's also the position that's easiest to adequately fill because it's the least important spot on the field, where mistakes hurt least.
Klinsmann probably hates this predicament as much as anyone and there's nothing he can do about it. When the U.S. meet Costa Rica, Johnson will probably be at left back, and Klinsmann will have to suffer going forward. He may push him to the wing, trying to take advantage of a team that doesn't pose the same threat Colombia did, but then he'll suffer at the back. It's the same as it has ever been, with no good option. Or maybe that cloning thing can come good and Klinsmann can put four Fabian Johnsons out there.