Injuries ended ultimate goal, but Baylor demands everybody's attention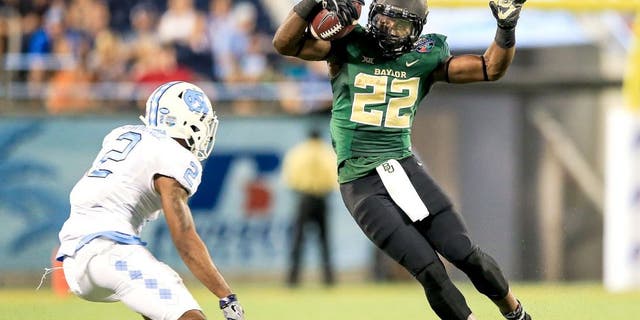 In preparation to play the banged-up Baylor Bears in the Russell Athletic Bowl, North Carolina Tar Heels coach Larry Fedora said what easily could have been dismissed as textbook coachspeak, if not a subtle dig at ACC rival and national semifinalist Clemson.
Baylor, he said, even missing its biggest stars, will be his team's toughest test. Clemson, he said, is "really good," but what the Bears do offensively "will really test you."
Give Fedora and the Tar Heels, who were seeking the program's first 12-win season, a big, fat F. No. 17 Baylor demolished No. 10 North Carolina, 49-38, a margin that was closer than the actual game. How the Bears accomplished the victory should automatically funnel every coach of the year award into Baylor coach Art Briles' plotting hands.
Briles continues to defy logic with a program that was once, and seemingly forever, the doormat of the Big 12. He took this team missing its top two quarterbacks, its 1,300-yard rusher (Shock Linwood) and its Biletnikoff Award-winning receiver (Corey Coleman) and never let it feel sorry for itself when injuries crushed its playoff dreams.
Instead the Bears swallowed hard after consecutive losses to TCU and Texas to end the season, and went to work. Briles transformed his spread attack into a mind-blowing rushing machine. He molded his offense around his available players, and not the other way around as other coaches might have done.
Five players took snaps, and four threw at least one pass. Third-string quarterback Chris Johnson was the official starter, but he shared the shotgun with running backs Johnny Jefferson, Devin Chafin and Terence Williams, and wide receiver and kick returner Lynx Hawthorne.
Behind a powerful offensive line that flattened North Carolina's defensive front, Baylor set the Russell Athletic Bowl rushing record -- in the first half -- with 358 yards on their way to 645 rushing yards on 84 soul-crushing carries. The Bears finished with 759 total yards.
Jefferson rushed for 299 yards and three touchdowns, including an 80-yard touchdown run off a direct snap. He averaged 13.0 yards on his 23 carries, and finished the season with exactly 1,000 yards. For the first time in Baylor history, it has a pair of 1,000-yard rushers. Chafin gained 156 yards on 27 carries. Williams finished three yards shy of 100 and with two touchdowns. Hawthorne picked up 63 yards on seven carries with a TD. For good measure, Johnson had 36 yards on nine carries, and completed 7-of-12 passes for 82 yards.
The box score resembled that of an old-school, ground-and-pound Texas high school football game in the days before Briles revolutionized offenses in the Lone Star State with a vertical passing game at Stephenville High that now makes up practically every playbook from El Paso to Houston.
Tuesday's victory once again pounds home that the once-unthinkable is reality. The victory gave Briles and the Bears a 10th win in 13 games. That's now three consecutive seasons, and four in five, with double-digit victories.
The last time Baylor had a 10-win season before the start of this run in 2011? 1980. The time before that? Never.
Baylor's quest for a Big 12 championship three-peat and a playoff berth was wrecked by injuries to starting quarterback Seth Russell in late October and then to backup Jarrett Stidham a few weeks later in the midst of a daunting Novemeber schedule.
Briles actually began this offensive reconfiguration on the fly in the 23-17 loss to Texas in the season finale. Johnson was lost early to a concussion, forcing quasi-fourth-stringer Hawthorne, and a bevy of running backs, into the fray. Texas jumped out to a big lead, but the Bears battled back behind this concoction, and had chances to win on their final two possessions.
When Baylor reconvenes in the spring, Russell will be back from neck surgery. And Stidham will be back, too.
As for this crazy wildcat offense that bludgeoned the shell-shocked Tar Heels, it will be but a memory, one that every single player will probably one day show to their grandchildren.
That's how impressive this performance truly was from a team whose biggest dreams were dashed weeks ago, and whose biggest stars on this night never even donned a helmet.