Hahn takes loss as Vargas hits first career home run to lead Hughes, Twins past Padres 3-1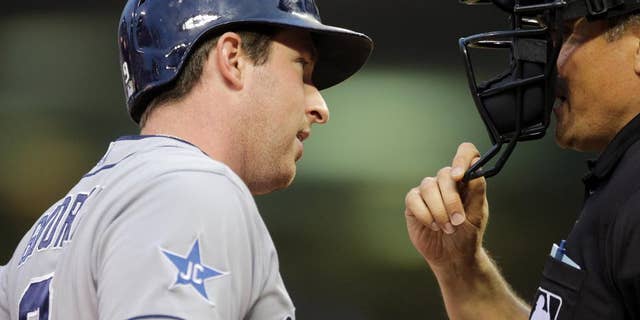 MINNEAPOLIS – Jesse Hahn was well on his way to another stellar start for San Diego.
Kennys Vargas was waiting for the ambush.
Vargas hit a three-run homer in his first home game for Minnesota, powering the Twins past Hahn and the Padres 3-1 on Tuesday night.
The Padres have traded four key players this year, but their pitching staff has stayed strong all summer, and Hahn has been an integral part. He was removed after 5 2-3 innings after matching his career high with four walks, an outlier in an otherwise-stellar stretch since joining the rotation two months ago.
"You can't get behind hitters and expect to have success," Hahn said.
In the sixth, Vargas made his first major league home run a memorable one, a two-out drive that was the first to leave the ballpark against Hahn (7-3) since his debut on June 3. He had gone eight straight starts without allowing a homer.
"That just shows how good he's thrown the ball," manager Bud Black said, adding: "It's a tribute to Jesse that he's broken through, given the opportunity, grabbed it by the neck and has run with it."
Hahn had some slick defense behind him, particularly from shortstop Everth Cabrera, and he was rolling until that inning.
Vargas, recalled from Triple-A Rochester on Thursday, told Twins manager Ron Gardenhire before the game he thought the ball carried well at Target Field. The 24-year-old Puerto Rican, who looks and swings like former Twins slugger David Ortiz, sure backed up that statement.
Hahn's ERA jumped to 2.28.
"He had a two-hit shutout going and probably without his best stuff we've seen all year, so that's a good sign," Black said.
Phil Hughes (11-8) had a season-high nine strikeouts in six innings to snap a three-start losing streak. Glen Perkins earned his 28th save in 31 attempts despite giving up a pair of singles in the ninth.
Yonder Alonso hit his first home run in almost two months, but his drive to the upper deck in right field in the fifth inning was all the Padres put together against Hughes. They left 11 men on base.
"You're going to have some games where it's like that, but we have to continue to put pressure on guys and make sure we're getting guys on base," Alonso said.
The Twins, who won their third straight game, improved to 12-3 against the Padres.
TRAINER'S ROOM
Padres right-hander Andrew Cashner, on the disabled list with soreness in his right shoulder, will start a rehab assignment on Friday with Class A Lake Elsinore. Cashner, after a breakthrough 2013 season, has been limited by injuries to 12 starts this year.
The Twins had their two highest-paid players, Joe Mauer and Ricky Nolasco who will make a combined $35 million this season, at Class A Cedar Rapids on Tuesday for rehab work. Mauer, out for more than a month with a strained muscle in his right side, went 1 for 3 as the designated hitter. Nolasco, on a pitch count, threw 3 2-3 scoreless innings. Nolasco, coming back from a sore right elbow, will start again on Sunday. Mauer will play there all week and likely rejoin the Twins at Houston next week.
The Twins considered sending Hughes out for the seventh, but he had a cracked nail on his right index finger that worsened throughout the game.
UP NEXT
The Padres will give Odrisamer Despaigne (2-3, 2.68 ERA) his eighth career start in the finale of this two-game, 20-or-so-hour series. They are off on Thursday for the second time in four days, and Ian Kennedy will pitch the opener in Pittsburgh on Friday, followed by Eric Stults and Tyson Ross.
The Twins will send Kevin Correia, who beat the Padres in San Diego in May, to the mound against his former team. They have yet to announce their starter for Saturday in Oakland, but recent acquisition Tommy Milone, who started on Tuesday for Triple-A Rochester, is a strong candidate for the spot.