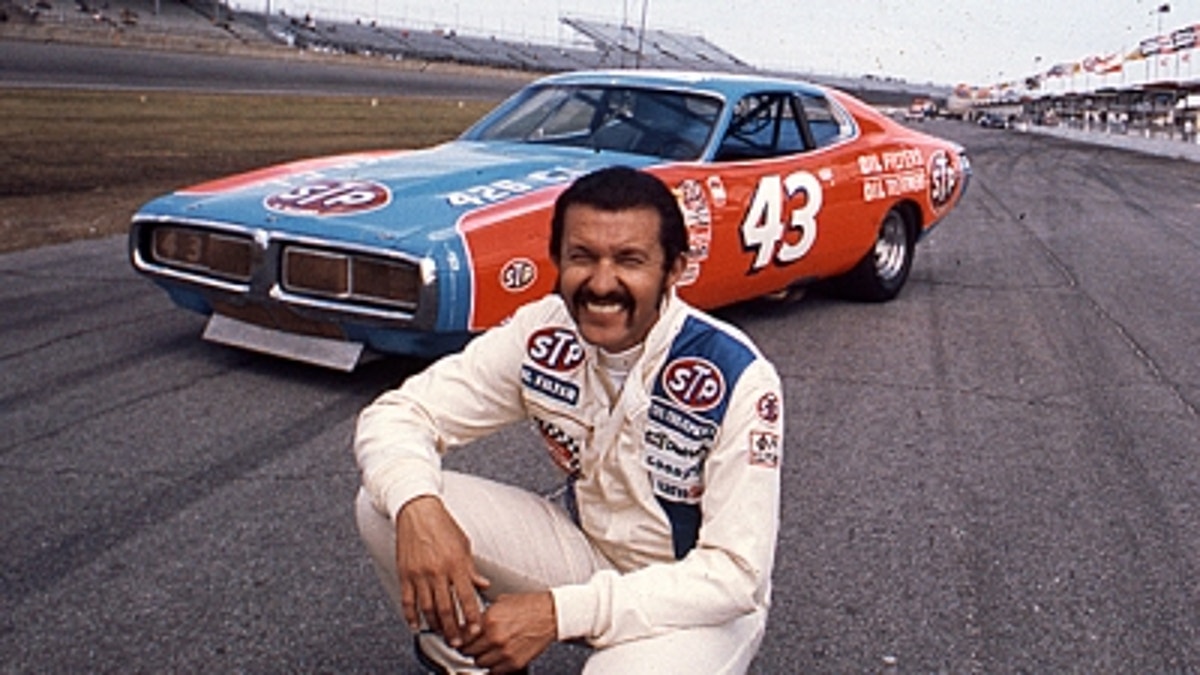 Editor's Note: SPEED will air a 1-hour special, "Richard Petty: A Racer's Life," Monday at 8:30 p.m. ET.
Hemis, Fu Manchus, fast tires, flat tires, fights and six-second pit stops.
All are part of Richard Petty's remarkable record in the Daytona 500. NASCAR's biggest race and its biggest driver grew up together, and Petty drove on to post numbers in the Great American Race that came to define the event – and a significant chunk of his career.
The Petty and Daytona names became synonymous, a movement that began developing in the first 500 in 1959, an event won by Lee Petty, Richard's father. Lee made his own impact on Daytona, but it was his son who built the place's reputation.
Petty won seven 500s – in 1964, '66, '71, '73, '74, '79 and '81. Although other drivers have mastered the Daytona track – Dale Earnhardt Sr. won 34 races here, for example, no one has come close to Petty in dominating the 500. Cale Yarborough won four 500s. Bobby Allison, Dale Jarrett and Jeff Gordon own three wins, and Bill Elliott, Sterling Marlin, Michael Waltrip and Matt Kenseth are the only other multiple winners, with two each.
Petty also holds Daytona 500 records for most races led (20), most career laps led (780), most race laps led (184) and longest span between a first and last victory (17 years).
Clearly, the familiar Petty No. 43, first blue and later brilliant red and blue, has been the car of choice across much of the Daytona timeline.
Petty won the sixth 500, in 1964, when the track was still young and drivers still held the place in a certain awe.
"The first time (1959) we came here, no one could believe it," Petty said. "You came through the tunnel (under turn four), and it went on forever. There was nothing in the infield then – maybe a couple of small inspection buildings, but no garages or anything like that. You could barely seen down to the other end of the track. The perspective was all different then."
Although the speeds were unlike anything drivers had experienced (they had raced mainly on half-milers), the on-track adjustment happened fairly quickly.
"Johnny Bruner Sr. (NASCAR official) told us to run four or five laps on the bottom (and flatter) part of the track to get used to it," Petty said of his first time on the track. "But it was so easy getting around that I drifted up on the first part of the banking on the second lap, and he black-flagged me."
Petty typically wasn't slow at Daytona after that experience.
His first win came in 1964 when, not coincidentally, Plymouth fielded a sleeker race car and brought a new, powerful Hemi engine to NASCAR. Petty was super-fast. He had qualified 23rd for the previous year's race. In '64, he was second only to Paul Goldsmith, also in a Hemi-powered Plymouth.
The victory came easily for Petty, whose handsome looks, fan-friendly personality and winning ways (he had 28 career victories entering the '64 season) were bringing in fans from all over the country and expanding NASCAR's scope from a curiosity to a more mainline sport.
The Petty Plymouth was loud and proud at Daytona in '64. The next year it was silent. Very silent. Chrysler boycotted NASCAR because of new restrictions on the Hemi engine, but Petty was back in 1966 with another strong car. The issue that year was tires, as increasing speeds (Petty won the pole at 175.163) outran the tire technology, sending drivers to the pits repeatedly for fresh rubber. Petty lost two laps at one point, but other drivers were having the same issues. He eventually won the race by a lap over Yarborough.
Restrictor plates became a part of the Daytona landscape in 1971 because speeds that were still accelerating (A.J. Foyt won the pole at 182.744) were stressing tires. One of the most competitive races in the track's history ended with Petty outrunning Buddy Baker and Foyt for the win, making him the first driver to win three 500s.
In 1973, for no apparent reason, Petty, whose iconic cowboy-hat-and-sunglasses look arrived much later, showed up in Daytona for the 500 with a Fu Manchu mustache. Buddy Baker (who didn't have a mustache) had the hot car that year, but Petty took the lead late with a superb pit stop, and Baker blew the engine in his Dodge trying to catch Petty, who won by two laps.
The next year, Petty was in a hot duel with Donnie Allison for the win. With 19 laps to go, it looked like Allison was on Easy Street when Petty blew a tire in turn three. But Petty was close to the entrance of pit road and was able to get new tires and return to the track still within sight of Allison. With 11 to go, Allison ran over debris from another car and blew a tire, but his distance to pit road was much longer, giving Petty a lead he kept.
Petty scored his most heavily publicized 500 victory in 1979 in an event in which he should have finished third, at best. He, Darrell Waltrip and Foyt were racing in a group seconds behind Donnie Allison and Yarborough as the two Oldsmobile drivers fought for the lead. Allison and Yarborough famously crashed in turn three on the last lap, opening the door to Petty's sixth 500 victory. On the third-turn apron, Yarborough and the Allison brothers – Donnie and Bobby – engaged in a brief fight.
"I didn't know what had happened," Petty said. "I didn't drive any differently. I was already going as fast as I could. I saw the cars off the track in turn three and just kept going."
He opened the door in the press box for the post-race winner's interview and asked, "Where's the fight?"
Petty scored his final 500 win in 1981 on one of the most emotional days in the race's history. After the other leaders pitted for fuel and tires on their final pit stops, Dale Inman, Petty's long-time crew chief, chose to go with a fuel-only stop, putting Petty back on the track in only 6.8 seconds. He won easily, by 3.5 seconds.
"We've out-run them before," Petty said. "This time, we 'out-thunk' them."
In victory lane, Inman, as tough a guy as the sport has ever produced, was unusually emotional, crying as Petty and the crew celebrated. It was soon revealed that Inman, Petty's first cousin, would be leaving the team for other employment.
In the midst of the celebration, Petty lifted his seven-month-old grandson, Adam, over his head for photographs. Much later, Adam would become the Petty family's fourth-generation driver before losing his life in a crash in 2000.
"That year (1981) was one of the few times I can ever remember that putting new tires on didn't help the handling or anything, and the track wasn't wearing tires," Inman said. "I had told Richard (via radio) that we weren't wearing tires. I told him to bear with me at the end, whatever I did.
"When he got on pit road and we told him, 'Gas only,' his only comment was 'We just won the race.' We had figured the fuel mileage too close, though. He ran out of gas coming into the trioval on the last lap but made it across. He said he almost broke his leg when he hit the clutch so it would coast."
Ironically, Petty's race-winning Buick that year was a second choice.
"We had come down here and tested a Dodge," Inman said. "It wouldn't run a lick. We tested half a day and left because it ran so bad. We went home, cut the body off and put the Buick body on."
In victory lane, the car had the regal Petty look. For decades, that had been the case.
"We always threw a lot into Daytona," Inman said. "Always built a new car for here, even back when we had only two cars, one short track and one superspeedway. Richard made sure we worked hard on the car. He wanted it to look good, too. We were one of the first to paint the car inside something besides flat black."
The Petty Enterprises team celebrated that Sunday evening with a dinner beach bash hosted by STP, the team's long-time sponsor. However, one of the day's principals – the King himself – was missing.
Some investigation revealed that Petty and the team's truck driver, Horst Fischer, a long-time Petty employee, were in the team hauler, headed back to North Carolina to begin the process of reworking the Daytona victory car for the race the next weekend at Richmond, Va.
Those were the days when teams didn't build dozens of cars. After winning one race, thoughts immediately turned to the next.
Petty conceded that some of his 500 victories involved luck, but he noted that that outlook goes both ways.
"We sometimes won when we probably shouldn't have, but we didn't win a few that we should have gotten, too," he said. "And it always meant so much. If you won the Daytona 500, it didn't matter a lot if you didn't win another race all year."
Richard Petty has enjoyed that singular status more than any other driver.
Mike Hembree is NASCAR Editor for SPEED.com and has been covering motorsports for 31 years. He is a six-time winner of the National Motorsports Press Association Writer of the Year Award.