Coyotes fall to No. 7 in NHL draft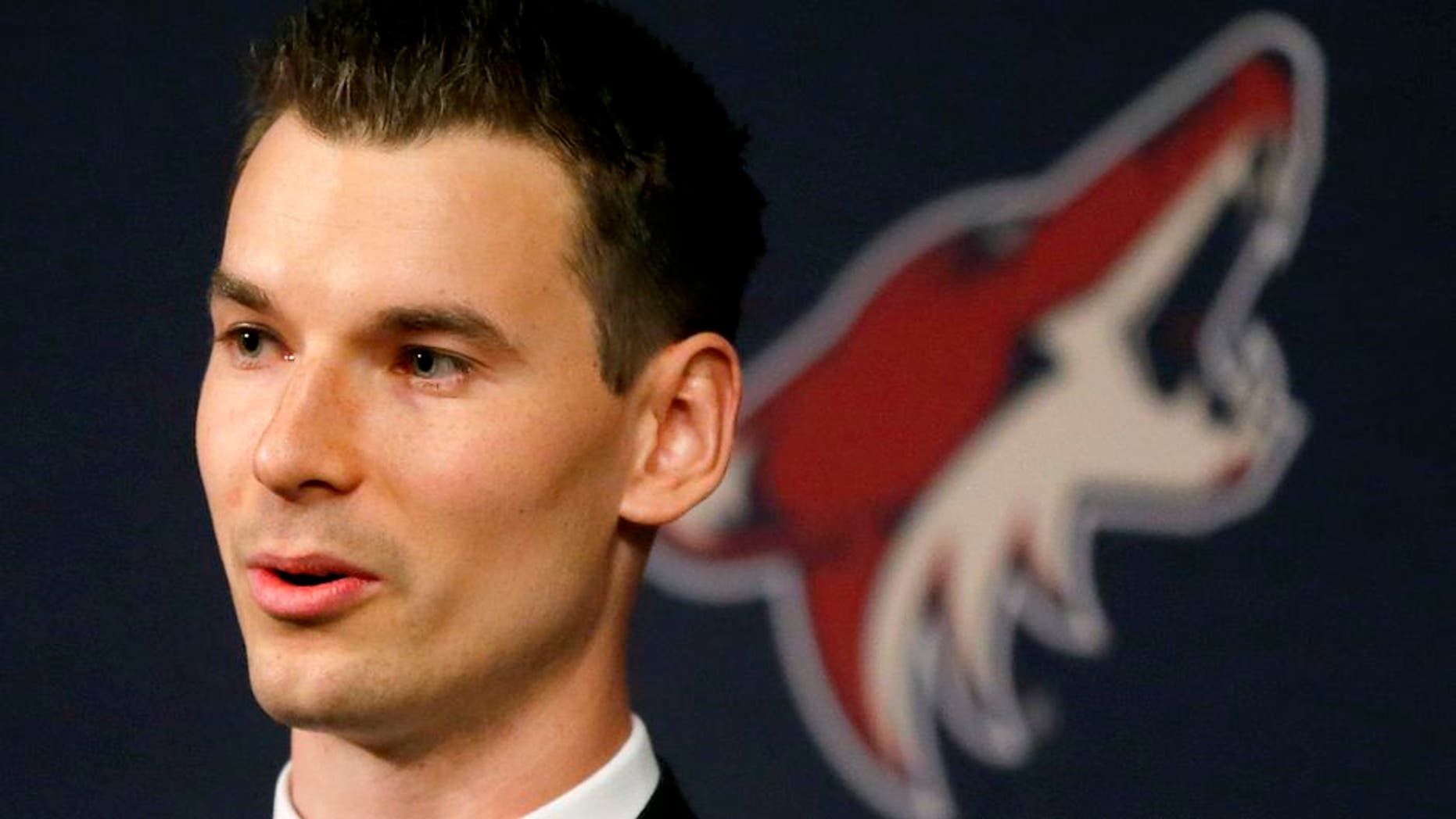 The Arizona Coyotes, who had the third worst record in the NHL this season, continued their run of draft lottery misfortune on Saturday and will pick seventh in the 2017 Draft.
The New Jersey Devils bucked the odds and were awarded the first pick in the lottery, vaulting past the Coyotes and three other teams despite only an 8.5 percent chance of winning the first pick.
New Jersey wasn't the only team happily stunned by a lottery that essentially scrambled the bottom half order of the NHL standings.
The Philadelphia Flyers and Dallas Stars made huge jumps in winning the second and third spots. Given just a 2.2 percent chance of winning, the Flyers went from 13th to second. The Stars moved from the eighth spot to third.
Colorado, which had the league's worst record, will pick fourth, followed by Vancouver and the expansion Las Vegas team.
The Coyotes, who had a 10.3 percent chance at winning the first pick, instead will pick seventh for the second consecutive year. They drafted Clayton Keller with the No. 7 pick last year.
"I'm disappointed because you want to win," Coyotes general manager John Chayka said. "That's why you come here. But at the same time you understand that of all the years to drop like we did, this one's probably a little less meaningful. After the first few picks there's kind of a large grouping of (comparable) players, so we expect we're going to get a really good player in that range and add him to a great group of young players that we have."
"We got Clayton Keller at No. 7. I'll take another Clayton Keller. That's not a problem for me whatsoever … Whether it's forwards or defense, there's a little more flexibility in that No. 7 range, I'd say, where you can look either way. It's a good grouping of players. Some of these guys are going to come out and play right away if not soon … We expect to get an impact player."
The Coyotes will also have a second first-round pick -- acquired from Minnesota in the Martin Hanzal trade.
The seven-round draft will be held in Chicago on June 23 and 24.
NHL Central Scouting ranks Brandon Wheat Kings forward Nolan Patrick as its top draft-eligible prospect even though he missed 35 regular-season and four playoff games due to injuries. Listed at 6-foot-2 and 200 pounds, Patrick finished with 20 goals and 46 points in 33 games.
A year earlier, Nolan was named the Western Hockey League playoff MVP in leading Brandon to win its first title in 20 years.
Swiss-born forward Nico Hischier is ranked second after earning Quebec Major Junior Hockey League rookie-of-the-year honors playing for Halifax.
This year's crop of prospects lacks both the buzz of the previous two year's draft classes and is also short of top-end defensive depth.
The top-five ranked North American skaters are all centers, including Minnesota-born high-schooler Casey Mittelstadt. The top-two ranked international skaters are both forwards: Russian-born Klim Kostin and Swede Elias Pettersson.