Cowboys owner backs Hardy after photos of his alleged victim surface
Dallas Cowboys owner Jerry Jones backed defensive lineman Greg Hardy on Friday after photos of Hardy's bruised ex-girlfriend from a domestic violence incident surfaced on the sports-oriented website Deadspin.
Jones said in a statement the team didn't see the photos before signing Hardy to an incentive-laded $13 million contract in the offseason, but the Cowboys "were and are aware of the serious nature of the incident."
"We do not condone domestic violence," Jones said. "We entered into the agreement with Greg fully understanding that there would be scrutiny and criticism."
Deadspin obtained the photos of Hardy's ex-girlfriend, Nicole Holder, showing extensive bruising to her face and body. The site also published a police report in which the woman described being manhandled by the NFL star, who was suspended most of last year and for four games this season. Hardy was punished under the league's domestic violence policy, but didn't face criminal punishment.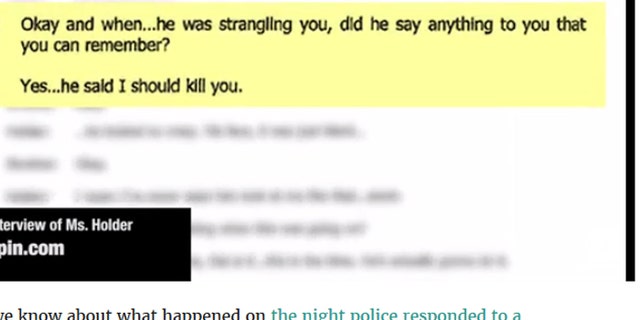 Before Hardy went on trial in North Carolina he reportedly reached a civil settlement with the woman, who then declined to testify.
The 2014 incident, in which Hardy was accused of slamming Holder, choking her, and throwing her onto a sofa with assault rifles, occurred while Hardy played for the Carolina Panthers. In the police report, the woman describes a night of drinking and doing cocaine at several bars before returning to Hardy's apartment with the player, who snapped at some point. When the woman tried to defend herself, Hardy allegedly beat her, threw her into a bathtub and then slammed her onto the couch.
The woman fled the apartment and was found by police on a nearby street, prompting an investigation of the incident.
Hardy ignored questions on the matter as he left the Cowboys locker room Friday.
Hardy has also been in some hot water during this season. Before his debut with the Cowboys against the New England Patriots, he made headlines when he commented on Tom Brady's wife. He also caused a stir with an inappropriate tweet about the Sept. 11 attacks during this year's draft.
When the Cowboys gave up a decisive kickoff return in a loss to the New York Giants two weeks ago, Hardy barged into special teams coach Rich Bisaccia's huddle before the next kickoff and had a physical confrontation with the assistant coach.
Through it all, Jones has supported Hardy.
"We have given Greg a second chance," Jones said in his statement. "He is a member of our team and someone who is grateful for the opportunity he has been given to move forward with his life and his career."
The Associated Press contributed to this report.