Chad Mendes: I don't see anywhere that Frankie Edgar is better than me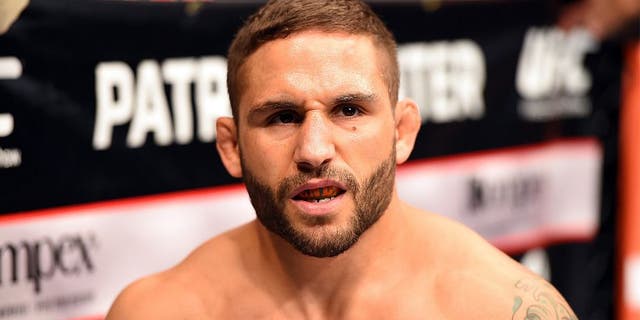 NEWYou can now listen to Fox News articles!
Following a loss to Conor McGregor at UFC 189, Chad Mendes wanted nothing more than to get the highest-ranked opponent possible so he could get right back into the title race at 145 pounds.
Mendes pushed for a fight with former lightweight champion Frankie Edgar and the UFC thought it was a great idea, so the matchup was booked as the main event for "The Ultimate Fighter" Finale on Friday, Dec. 11.
With a win, Mendes hopes to either earn a third fight with Jose Aldo or a rematch with Conor McGregor, and considering where Edgar sits in the division as well as his own ranking, he doesn't see a third direction the UFC could go.
"In my mind, I think so, but I've seen weirder stuff happen," Mendes told FOX Sports about earning a title shot with a win. "The UFC is in complete control of that stuff. One of the main reasons I've been pushing for this fight, coming off a title fight I didn't want to drop back down and have to fight guys that are low top 10 to work my way back up. When I lost to Aldo the second time, I pushed for a guy like (Ricardo) Lamas, who was top four at the time and that's a fight in my mind if I beat that guy it puts me right back in line for the title. Frankie is in that same spot and that's why I was pushing for it so bad.
"The winner of this fight should be fighting for the title. People will say 'Oh, you fought for the title three times,' but I don't really count that last one. I don't really count the first one or the last one. I feel like my second fight with Aldo was the real me. That was my true title shot. Hopefully we can get in there and get it done this time."
Mendes knows that Edgar is no pushover, but he also sees a lot of advantages he'll have in the fight.
In many ways, Mendes and Edgar are mirror images in terms of what they do well and how they beat opponents.
Mendes is a former NCAA runner up in wrestling with some of the most powerful takedowns in the sport, but he mixes in a devastating boxing game with serious one-punch knockout power. Edgar also comes from a Division I wrestling background and has worked tirelessly to become one of the best technical boxers in the entire sport.
As similar as they are on paper, Mendes still believes he trumps Edgar in both of those categories, and that will be the difference when they face off on Friday night.
"Honestly, not trying to sound cocky, but I don't see anywhere that Frankie's better than me," Mendes said. "He's good at getting out and getting in, fast without getting hit. He's got good output with his hands. I feel like my wrestling's just as good if not better. Obviously my striking, I feel like I have more power, I feel like I'm faster than he is and obviously wrestling and boxing mixing it up, I feel like we both do it well.
"I don't see anywhere that Frankie is completely better than me as far as the fight game goes."
Mendes is hungry to compete again after taking his last fight on two weeks' notice and then fighting with a broken foot and thumb. Given the chance, Mendes believes he's the toughest possible matchup for anyone in the division and that includes Aldo, McGregor and Edgar.
He looks to make a strong statement with his performance at "The Ultimate Fighter" Finale and send a message to the two main event fighters competing just 24 hours later at UFC 194.
"I know I can beat both of those guys," Mendes said about Aldo and McGregor. "I feel like I can beat anyone in the division if I'm there and I'm ready for it.
"Of course, you've got to have just a little bit of luck on your side but if everything falls into place, that title is mine."