As Steve Sarkisian takes leave, USC supporters take aim at Pat Haden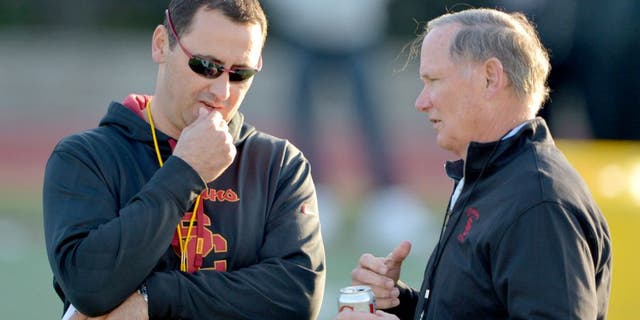 NEWYou can now listen to Fox News articles!
Less than a week before a trip to play arch-rival Notre Dame in South Bend, USC is reeling.
On Sunday, Steve Sarkisian was in no condition to lead the team in practice, at which point multiple sources told FOX Sports that USC brass realized the embattled Trojans head coach "needs serious help." Following afternoon practice, Sarkisian's boss, AD Pat Haden, told reporters the coach will take a leave of absence and that offensive coordinator Clay Helton will become the interim head coach.
"I got a call that Coach Sarkisian was at practice. I learned this at about 1 o'clock," Haden said. "I called Steve and talked to him. It was clear to me he's not healthy. I asked him to take an indefinite leave of absence.
"I think it's the right thing for our team. I always want to do what's right for our team and school. I then spoke with the coaches and team. It's clear the team had a great deal of concern about the health of Coach Sarkisian. So did the staff."
Sources say Sarkisian is expected to get treatment for alcohol and substance issues. A few days before the season kicked off, Sarkisian's off-field issues, which had already been a major concern for some inside the USC program, gained national attention when he was drunk at the school's Aug. 22 Salute to Troy booster event. Sarkisian apologized for his behavior the next day and then later in the week, held a news conference before a morning practice and explained the incident was due to him mixing alcohol with "meds."
At the time Sarkisian was asked if he thought he had a drinking problem, and he said he didn't believe he did. He mentioned that he was going to take part in some treatment. "I don't know if I even need rehab, but it's sort of the process," he said.
However, given the demands on a college head coach at a major program on the eve of the season, it was a stretch to think there would have been ample time for him to be involved in any sustained significant treatment program without taking a leave of absence.
USC, the Pac-12 media's preseason pick to win the conference, has started the season 3-2 and 0-2 in league play. The Trojans' two losses, both at home, came against double-digit underdogs. Last Thursday night, USC lost to Washington, Sarkisian's old team, 17-12.
On Sunday, FOX Sports spoke to several folks inside the USC program, including a few key boosters, who all felt sad about Sarkisian's situation but were also angry about how Haden has handled things. Some were uncomfortable with hiring Sarkisian two years ago due to concerns over his drinking, and they also were skeptical whether he was ready to handle the USC job. He had spent five seasons at Washington and never had a better conference record than 5-4.

To some inside USC, Sarkisian's Salute to Troy incident wasn't taken seriously enough by Haden. (Sarkisian reportedly apologized to his players and did up-downs as punishment, according to quarterback Cody Kessler.) "They run it like a damn country club," one USC booster said in late August. "It's an embarrassment."
Sources tell FOX Sports that there have been times where his players had smelled alcohol on Sarkisian's breath at practice in the past. Sunday morning's incident perhaps marks the last time Sarkisian will be coaching the Trojans. It would seem a long shot that he would return to lead the program after he comes back from his leave of absence -- especially given the circumstances of the past seven weeks.
"The truth is USC is a storied program, and since this whole debacle with Reggie (Bush) the school has floundered," one USC source said Sunday afternoon. "Hiring (Lane) Kiffin was a mistake, and then you follow up that mistake by hiring Sark, who is not that much different than Kiffin? All of the former players are so mad. I don't know how it could get to this point. This stuff never happens at other schools, but it keeps happening at USC because of the people in charge don't seem to take anything seriously.
"What has Pat Haden done since he's been there? You have all these unbelievable resources and history, and it's a group of people in charge that doesn't know what they're doing. They're grasping to have some attachment to Pete (Carroll), and they keep screwing it up. Instead of (Haden and Sarkisian) addressing the issue appropriately (in August), they let him skirt the issue. Obviously, he does have a problem. He should've stood there and said, 'I have a real problem. I'm getting real help.' It's just a bad situation for him, and bad for everyone at USC."