Second debate between Trump, Clinton turns into a bloodbath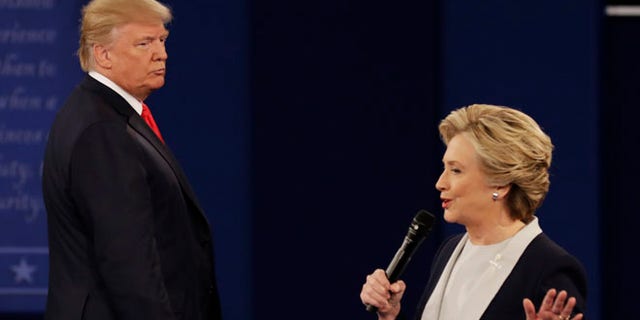 Politico called it the "ugliest debate ever."
And it was.
From the moment they walked into the debate stage on Sunday, the mood was tense. Neither GOP presidential candidate Donald Trump nor his rival Hillary Clinton shook hands. Immediately, they unleashed a barrage of attacks and insults.
Clinton declared Trump's aggressively vulgar comments about women revealed "exactly who he is" and clearly demonstrated his unsuitability to be president. Firing back, Trump accused Clinton of attacking women involved in her husband's extramarital affairs and declared she would "be in jail" if he were president.
Trump entered Sunday night's debate desperate to steady his floundering campaign. He repeatedly called Clinton a "liar," labeled her the "devil" and contended she had "tremendous hate in her heart."
Trump acknowledged for the first time that he had paid no federal income taxes for many years.
The debate was the culmination of a stunning stretch in the race for the White House, which began with the release of a new video in which Trump is heard bragging about how his fame allowed him to "do anything" to women. Many Republicans rushed to revoke their support, with some calling for him to drop out of the race.
Answering for his words for the first time, Trump denied that he had ever kissed and grabbed women without their consent. He said repeatedly that his words in 2005 were merely "locker room talk" and paled in comparison to what he called Bill Clinton's abuse of women.
"She should be ashamed of herself," Trump declared. Ahead of the debate, the businessman met with three women who accused the former president of sexual harassment and even rape, then invited them to sit in the debate hall.
Bill Clinton never faced any criminal charges in relation to the allegations, and a lawsuit over an alleged rape was dismissed. He did settle a lawsuit with one of the women who claimed harassment.
On the debate stage, Clinton did not respond directly to Trump's accusations about her husband or her own role, but was blistering in her condemnation of his predatory comments about women in the tape released Friday.
"I think it's clear to anyone who heard him that it represents exactly who he is," she said, adding that she did not believe Trump had the "fitness to serve" as commander in chief.
The second debate was a town hall format, with several undecided voters sitting on stage with the candidates. The voters, all from the St. Louis area, were selected by Gallup.
The tension between Trump and Clinton was palpable from the start of their 90-minute debate, the second time they have faced off in the presidential campaign.
This debate was a town hall format, with several undecided voters sitting on stage with the candidates. The voters, all from the St. Louis area, were selected by Gallup.
At one point during the heated debate, while discussing the Syrian refugee crisis, Trump slammed Clinton's foreign policy stance that allows for "many criminal illegal aliens" to enter the country via the United States' southern border.
"When we want to send them back to their country, their country says we don't want them. In some cases, they're murderers, drug lords, drug problems. And they don't want them," he said. "She has really bad judgment, because we are letting people into this country that are going to cause problems and crime like you've never seen. We're also letting drugs pour through our southern border at a record clip. At a record clip. And it shouldn't be allowed to happen."
He alluded to his hard-line immigration policy, saying it was the reason why the union representing the U.S. border agents endorsed him.
"They've never endorsed a presidential candidate. The Border Patrol agents, 16,500, just recently endorsed me, and they endorsed me because I understand the border. She doesn't. She wants amnesty for everybody," he said.
A defiant Trump came into the debate with immense pressure following the video's leak, which even prompted some members of his own party to revoke their support for him.
The billionaire businessman called those pulling their support "self-righteous hypocrites" and then appeared to try to reignite the allegations made against Clinton's husband's treatment of women.
In a stunningly brazen move, Trump also met with several women who have accused former President Bill Clinton of rape and unwanted sexual advances.
He did not take questions as he appeared with Paula Jones, Juanita Broaddrick and Kathleen Willey.
Jones is a former Arkansas state worker who filed a sexual harassment lawsuit against Bill Clinton in 1994 for allegedly exposing himself to her in a Little Rock hotel room.
Clinton's campaign said Trump is continuing a "destructive race to the bottom" by appearing with the women.
The Associated Press contributed to this report.