Georgia lawmakers unveil new 'religious freedom' bill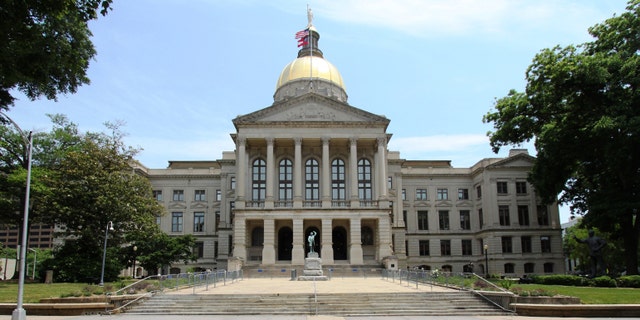 Georgia state lawmakers introduced a "religious liberty" bill that mirrors and shares the name as the "Religious Freedom Restoration Act" signed into law by President Bill Clinton in 1993 -- sparking a debate about LGBTQ discrimination and religious freedom.
Supporters are hopeful the RFRA bill will pass now that Brian Kemp is governor. A similar bill -- with more far-reaching measures -- was vetoed in 2016 by Republican Gov. Nathan Deal amid threats by major companies to boycott the Peach state if the measure became law.
GROUP WANTS TO BAN WWII POW'S BIBLE FROM VETERANS MEMORIAL
"Georgians need to be fully protected under the First Amendment from not only federal law, but also state and local law," Republican State Sen. Marty Harbin of Tyrone said in a press conference Thursday.
The religious freedom bills follow years of legal battles on both sides of the issue surrounding same-sex ceremonies with ministers, venues, wedding cakes, and bathrooms. Many Christians fear getting sued for discrimination for not wanting to participate in something that runs counter to their deeply held religious beliefs.
CHRISTIAN GROUP WINS RELIGIOUS FREEDOM CASE AGAINST UNIVERSITY OF IOWA: 'RULING IS A WIN FOR BASIC FAIRNESS'
The Supreme Court held that federal RFRA did not apply to the state and local level, one of the reasons at least 31 states have passed some form of legislation protecting religious beliefs.
Harbin thinks it's time for Georgia to do the same.
Harbin's bill would require a "compelling governmental interest" before the state interferes with someone's religious practices and, when interference is necessary, the state do so with the "least restrictive means."
ARKANSAS CHURCH INSISTS SIGN SAYING 'HEAVEN HAS STRICT IMMIGRATION LAWS' WAS NOT POLITICAL
Harbin noted that Virginia, the site of Amazon's new headquarters, has similar legislation on the books, pushing back against criticism that such legislation will spark boycotts by major companies.
Republican Gov. Kemp pledged during his election campaign last year to sign "nothing more, nothing less" than a mirror image of the federal law, but his office said he will not comment on pending legislation.
Stacey Abrams, the former Georgia Democratic gubernatorial candidate against Kemp, blasted the proposed legislation Thursday in a Tweet.
"Discrimination has no place in GA," Abrams said. "Our LGBTQ community, film industry, and state would suffer if RFRA is signed into law. Some folks at the Capitol want to take us back to '93. There's no RFRA lite. I stand with LGBTQ Georgians and the 500+ GA employers who want to move us forward."
CLICK HERE TO GET THE FOX NEWS APP
The Human Rights Campaign, along with Georgia Equality, LGBTQ advocacy groups, came out against the bill.
GROWING NUMBER OF STATES PUSHING 'BIBLE LITERACY' CLASSES IN PUBLIC SCHOOLS
"These measures will not only discriminate against Georgians, but open the state to extensive litigation and force taxpayers to pay the cost of discrimination," HRC state legislative team consultant, Elisabeth Rutledge, wrote in a statement.
ARIZONA DEMOCRAT WANTS TO BAN 'IN GOD WE TRUST' LICENSE PLATES BECAUSE IT FUNDS RELIGIOUS LIBERTY GROUP
Georgia Equality's executive director, Jeff Graham, said it would "put us in a negative national spotlight yet again" and risk Georgia's reputation for having a favorable business climate.
The Associated Press contributed to this report.