Poll: Majority says Obama 'not tough enough'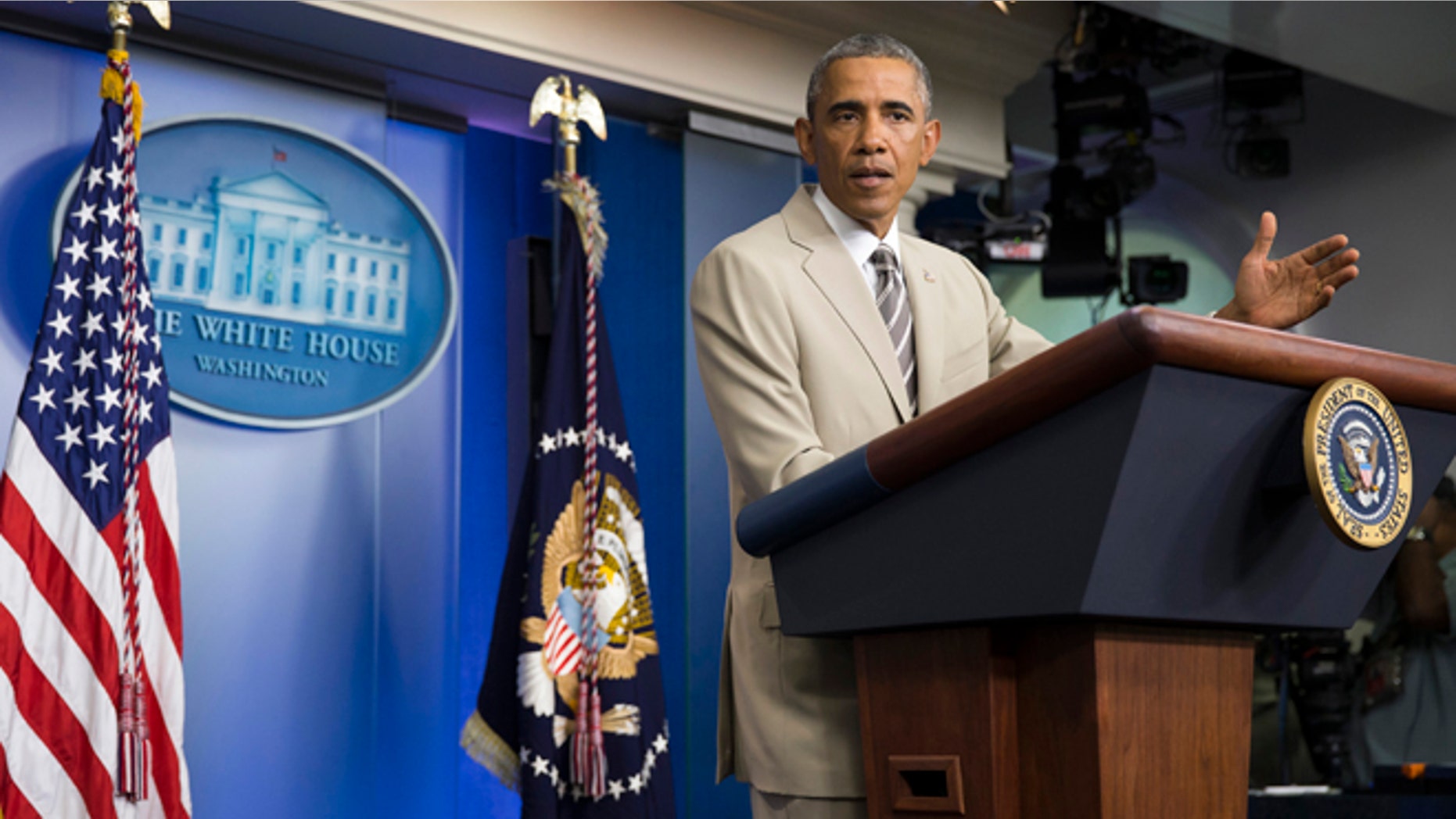 Want FOX News First in your inbox every day? Sign up here.
Buzz Cut:
• Poll: Majority says Obama 'not tough enough'
• ObamaCare employee mandate won't be delayed
• Pick Six: West Virginia moves up the mountain
• Cruz staffing up ahead of 2016
• The bagless defender
POLL: MAJORITY SAYS OBAMA 'NOT TOUGH ENOUGH'
President Obama and his team are working hard to lower public expectations for the U.S. response to both Islamist militants in the Middle East and the advance of Russian forces in Eastern Europe, but a new poll suggests expectations could hardly be any lower. In the latest survey from USA Today and the Pew Research Center, 54 percent of respondents said Obama is not tough enough on foreign policy and just 35 percent of respondents approved of his handling of Iraq, with an equally low number approving of his Russia response. Obama's broadly panned remarks Thursday seemed designed to throw cold water on the dire warnings issued by his military team last week. Obama also ducked a question about whether Russian troops fighting in Ukraine constitutes "an invasion." But the line that will certainly define this chaotic era of U.S. foreign policy – "we don't have a strategy yet" – was the most obvious effort to demonstrate the president's go slow approach.
[The Daily Beast reveals the depths of the divisions within Team Obama on the issue.]
Exactly -The Hill: "President Obama was referring only 'to military options for striking' Islamist militants in Syria when he said the White House did not 'have a strategy yet,' press secretary Josh Earnest insisted Thursday. "
["#mediabuzz"host Howard Kurtz and his panelists will look at the pundits pounding President Obama over ISIS. Watch "#mediabuzz" Sunday at 11 a.m. ET, with a second airing at 5 p.m.]
Shuttle diplomacy -The president is interrupting a weekend trip to return to D.C., tonight. The AP reports, "The White House says Obama has changed his plans for Friday and will return to Washington late in the evening after fundraisers in Rhode Island and New York. He had planned to spend the night in New York. Presidential aides say the change in plans was not related to any current events and was the president's personal choice."
Down on the farm - On Saturday, the president will attend the super swank wedding of a White House aide and an MSNBC host dubbed by Vogue as Washington's "'it-couple'" of 2014. If you want to know what a truffle-stuffed cornucopia bursting with Obama insiders it will be, read the piece that launched a thousand eye rolls, complete with Clooney quotes and a self-flattering disclosure by the author: "(I've been a guest several times; on good days, the conversation just clicks.)" On his vacation from his vacation earlier this month, Obama enjoyed a five-hour dinner at their home.
Then out on the trail - President Obama will headline a union rally in Wisconsin on Labor Day. It is unclear if he will appear with Gov. Scott Walker's, R-Wis., rival Democrat Mary Burke, but the move certainly shows the president's interest in Democrats' top gubernatorial target this year.
'Your Addams Family tie blends awkwardly with your nursing home security guard jacket' - Esquire, a men's fashion magazine that certainly dresses to the left, was horrified by the president's taupe suit, chiding the commander in chief: "You are not the president of Sears." The Tampa Bay Times even called it a flip flop: [For Michael Lewis' 2012 profile of Obama in Vanity Fair magazine, the] venerable writer had almost unfettered access to the president for the pre-election story that provided many anecdotes from the inner workings of Obama's White House and Air Force One, as well as his philosophies and habits. That included how Obama dresses.  'You'll see I wear only gray or blue suits,' he said. 'I'm trying to pare down decisions. I don't want to make decisions about what I'm eating or wearing. Because I have too many other decisions to make.'"
[Ed. note: Ahem, perhaps that summer suit might have looked better with a brightly colored tie. Like one in a lustrous Mountaineer gold (such as the one seen here at about the 1:30 mark).]
OBAMACARE EMPLOYEE MANDATE WON'T BE DELAYED
The Hill: "The Obama administration released guidance for businesses that must comply with the employer mandate Thursday after a long wait that raised questions about a possible third delay in the policy. The Internal Revenue Service posted draft instructions on its website related to the mandate's reporting requirements, a final step before businesses can construct the databases they need in order to comply."
WITH YOUR SECOND CUP OF COFFEE...
It was nine years ago today that Hurricane Katrina made landfall in New Orleans. The storm itself was not unprecedented, but its path, subsequent storm surge and the city's shoddy civil engineering and poor organization created a disaster of proportions unseen in modern America. Aside from the human cost, the storm caused more than $100 billion in damage. Following the devastation, many people stepped up to help, including over 70 countries. Kuwait made the largest pledge of $500 million, while Qatar and the United Arab Emirates each made donations of $100 million. Israel Defense Forces even traveled to the Gulf to deliver food, diapers, beds and blankets. A small team of Israeli divers and physicians also provided assistance by discovering victims, administering first aid and rescuing abandoned pets.
Got a TIP from the RIGHT or LEFT? Email FoxNewsFirst@FOXNEWS.COM
POLL CHECK
Real Clear Politics Averages
Obama Job Approval: Approve – 41.8 percent//Disapprove – 52.4 percent
Direction of Country: Right Direction – 26 percent//Wrong Track – 66 percent 
Generic Congressional Ballot:  Democrats – 42.4 percent// Republicans – 41 percent
-- 67 days until Nov. 4 –
POWER PLAY: GLOBAL WARMING MAY HEAT UP SENATE RACES
In the latest installment of "Power Play with Chris Stirewalt" Chris talks with politico pros Emily Tisch Sussman and Lisa Marie Boothe about President Obama's latest plan to bypass Congress on climate change and what it means for vulnerable Dems in coal states.  Why are some members of the president's own party abandoning him on the issue and how much could the president's pen power cost Dems? Find out here.
LANDRIEU LISTS PARENTS' HOME AS LOUISIANA ADDRESS
Washington Free Beacon: "Records indicate that Sen. Mary Landrieu (D., La.) does not even have a home in Louisiana anymore and is using the primary residence of her parents in New Orleans to qualify for the Louisiana senate election… Landrieu lives primarily in a $2.5 million Capitol Hill home built by her and her husband in Washington, D.C. She used her D.C. address on her initial statement of candidacy filings, but used the address for the house her parents currently reside in for later filings… Landrieu has made clear that her life now is in Washington, D.C., stating in 2012 that she 'really can appreciate the life that we live on the Hill,' and adding, 'Of course, I still have a residence in Louisiana, but we've raised our kids here.' Neighbors of the New Orleans house where Landrieu grew up say that it is clear that Landrieu no longer lives there."
Drill, baby, drill - In her latest ad Sen. Mary Landrieu, D-La., takes credit for helping to lift the Obama administration's moratorium on Gulf of Mexico oil drilling that followed the 2010 Deepwater Horizon disaster.
GRIMES CONTROVERSIAL CAMPAIGN BUS MAY NOT BE STREET LEGAL
Louisville (Ky.) Courier-Journal: "The company owned by Jerry Lundergan that is leasing a tour bus to the U.S. Senate campaign of his daughter,  [Democrat] Alison Lundergan Grimes, does not appear to have the proper permits required to operate the charter bus… The revelation that the bus itself could be operating outside the law keeps alive a story that has some focused more on Grimes' mode of transportation than on the issues upon which she has been attacking Sen. Mitch McConnell [R-Ky.] in her bid to unseat him…"
AIR WARS
Tillis responds on teacher pay - Following attacks from opponent Sen. Kay Hagan, D-N.C., that Republican Thom Tillis has slashed education funding as the Tar Heel State's Speaker of the House, Team Tillis is hitting back in ad heralding a 7 percent increase in teacher pay passed by the state legislature this year. Tillis appears in the ad saying "math is lost on Sen. Kay Hagan. She is misleading you about me to hide her own partisan record."
Dems slam Sullivan over mining permit - Democratic group VoteVets Action Fund is putting $675,000 towards an ad hitting Alaska Republican Senate nominee Dan Sullivan over his support of a local mining project that critics charge could be damaging the state's commercial fishing industry.  The ad features Port Heiden resident John Christensen, saying, "In the Navy, I repaired boats to serve my country. Now, I fish off them to earn a living, but Dan Sullivan would put my job and thousands of others at risk." The ad concludes with a mine explosion and Christensen saying "even a small leak could kill thousands of Alaskan jobs."
Franken on defense - Sen. Al Franken, D-Minn., is responding to attacks from opponent Republican Mike McFadden by underscoring his bipartisan efforts on job creation and Wall Street reform in a new ad.
Big bucks from left to try to stop Ernst - As polls continue to tighten in Iowa's Senate race, Republican Joni Ernst is taking hits from MoveOn.org in a new ad over a recent meeting she had with conservative financiers the Koch brothers. She is also being attacked in an ad from liberal Democratic donor Tom Steyer's NexGen Climate PAC for taking "thousands from Big Oil" and pushing their agenda.
Arkansas back and forth - The Democratic Senatorial Campaign Committee is up with a new ad featuring a senior citizen ripping Arkansas Republican Senate contender Rep. Tom Cotton over cuts to social security benefits. Cotton released an ad highlighting his military service.  
FOX NEWS SUNDAY IS OFF TO THE RACES
In addition to full coverage of foreign policy challenges, Host Chris Wallace also welcomes leading GOP pollster Bill McInturff and Democratic survey guru Mark Mellman to discuss the battle for control of the U.S. Senate "Fox News Sunday with Chris Wallace" airs at 2 p.m. and 6 p.m. ET on Fox News. Check local listings for air times in your area.
PICK SIX:  WEST VIRGINIA MOVES UP THE MOUNTAIN
West Virginia has just overtaken Louisiana for the third spot in your Pick Six rankings, and Political Pros Emily Tisch Sussman and Lisa Boothe agree that Democrats face increasingly log odds in the Mountain State. But what else do they see? Watch "Power Play with Chris Stirewalt" to find out what else is on the horizon.
[Republicans need a net gain of six Senate seats to flip control of the Senate. Which six Democrat-held seats are the most vulnerable? The current consensus among Fox News First readers: Arkansas (13.5%), Montana (12.4%), West Virginia (11.6%), Louisiana (11.5%), South Dakota (10.7%) and North Carolina (9.6%).]
Down ballot boost - Reader Paul Mangan of Des Moines, Iowa adds, "While I agree with most of the current consensus, I think [Republican] Joni Ernst should be moved into a shared number six position.  Not only because of the campaign's focus and management, as well as the candidate herself, but also because of the top of the Iowa ticket.  Republican Governor Terry Branstad is trouncing his opponent."
Share your top six picks. Email them – just your top six, please – to FOXNEWSFIRST@FOXNEWS.COM or tweet @cstirewalt.
CORBETT CUTS A DEAL ON OBAMACARE
Amid a dire re-election campaign, Pennsylvania's Republican governor is hoping an ObamaCare expansion may resuscitate his hopes for a second term.  Pittsburgh Post-Gazette: "Federal regulators approved much of Gov. Tom Corbett's [R-Pa.,] 'Healthy PA' plan, the state and federal governments confirmed Thursday, ending months of negotiations between the two parties. Enrollment in what's being called the 'Healthy PA Private Coverage Option' will begin Dec. 1. Mr. Corbett's plan, unveiled last year and formally submitted to the federal government for review in February, would not directly expand the state's Medicaid program, but would instead offer federal subsidies to low-income Pennsylvanians to purchase private insurance. As many as 600,000 uninsured Pennsylvanians could be eligible, according to the state's latest estimates."
CRUZ STAFFING UP AHEAD OF 2016
David Drucker looks at how Sen. Ted Cruz, R-Texas, is staffing up to play on the national stage: "In recent weeks, the Cruz team signed contracts with three Republican consultants with national experience and ties to some of the early presidential primary states… To help the Tea Party-affiliated Senator manage his role as a national leader and prepare for a possible White House run, his political shop has added Jason Miller as a digital and communications advisor, Jeff Roe to offer organizational guidance and help run Cruz' more nationally focused operation and Lauren Lofstrom to handle national fundraising. The Cruz team is talking to other Republican operatives about signing on, but agreements have not been finalized. Meanwhile, the existing key players in Cruz world, including pollster WPA Opinion Research, and chief political advisor Jason Johnson, who is based in Texas, remain in place."
PENCE RAISES PROFILE IN IOWA
WaPo: "Indiana Gov. Mike Pence (R), a conservative favorite, will soon visit Iowa to support the re-election campaign of the state's governor. Pence's trip, set for Sept. 8, is the latest sign that he is considering a 2016 presidential bid. Pence will be the keynote speaker at a Des Moines luncheon for Gov. Terry Branstad [R-Iowa.]"
HILLARY DENOUNCES 'INEQUITIES' IN JUSTICE SYSTEM
Washington Examiner: "Hillary Clinton spoke out on Ferguson Thursday, 19 days after the police shooting of an unarmed black teenager sparked unrest in the Missouri community. At a keynote speech at the invitation-only OpenSDx Summit in San Francisco, the likely 2016 Democratic presidential candidate opened her remarks by saying the shooting raised questions about U.S. policing. 'We cannot ignore the inequities that exist in our justice system,' the former Secretary of State said. 'We can do better. We can work to rebuild the bonds of trust from the ground up.'"
Gowdy says Benghazi probe will be done before 2016 - The Hill: "Rep. Trey Gowdy (R-S.C.), the chairman of the House select committee on the Benghazi attacks, says the panel's work should be done by the end of 2015, according to a report. 'Assuming cooperation from agencies, witnesses and the administration,' Gowdy told the New York Times, the committee should have concluded its investigation before 2016.The timeline is relevant because Democrats say the committee is looking to tarnish Hillary Clinton, who was secretary of state during the attacks, and the closer the investigation gets to the presidential election, the more damage it could do."
[Rep. Paul Ryan's, R-Wis., "The Way Forward" debuts this week at number 5 on the NYT best-seller list, one spot ahead of Hillary Clinton's "Hard Choices."]
THE BAGLESS DEFENDER
CBC: "A four-legged visitor got a little too close for comfort to a Calgary [Alberta, Canada] family earlier this week. The coyote wandered into the Easthope family's home in the northwest community of Arbour Lake on Tuesday night. It came in through a back door and decided to poke its head around the kitchen before heading to the living room. David Easthope discovered the coyote and sprang into action, locking his baby daughter and the family cat in the bathroom and facing down the animal armed with only a vacuum. 'He grabbed our Dyson vacuum, turned it on with the knowledge knowing that dogs and animals don't like the sound of the vacuum, and he chased it out the door,' said Meaghan Easthope, David's wife."
AND NOW, A WORD FROM CHARLES…
"I thought that the President could no longer surprise me. I was wrong…[President Obama] shocked me today… the president gets in front of the world and says, 'I don't have a strategy.' If that is true, don't say anything.  Why do you announce you don't have a strategy?" –Charles Krauthammer, on "Special Report with Bret Baier." Watch here.
Chris Stirewalt is digital politics editor for Fox News.  Want FOX News First in your inbox every day? Sign up here.