Obama Says Signs Point to "Historic" Hurricane Irene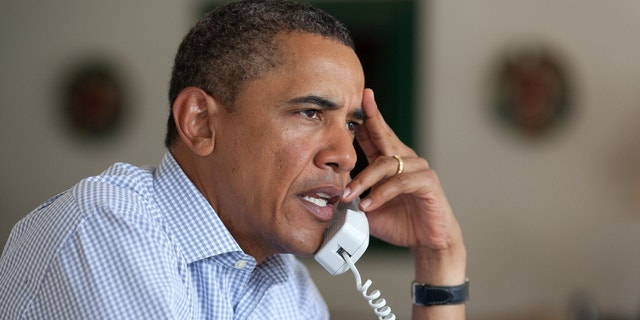 NEWYou can now listen to Fox News articles!
President Obama said Friday that Americans threatened by Hurricane Irene should prepare now for the storm's arrival.
"If you are in the projected path of this hurricane, take precautions now," the president said. "Do not delay. All indications point to this being a historic hurricane."
The first family has been winding down its vacation on the Massachusetts island as the hurricane bears down on the U.S. east coast.
The president is expected to travel back to Washington on Saturday where a tropical storm warning is in effect. Hurricane Irene is expected to make landfall in North Carolina Saturday as a category two or three storm with winds of at least 110 miles per hour and then travel up the Mid Atlantic and New England coastline bringing heavy wind and rain to the northeast U.S.
"The President convened a conference call and was briefed once again this morning by DHS Secretary Janet Napolitano, FEMA Administrator Craig Fugate, White House Chief of Staff Bill Daley and other senior White House officials about preparations being made for Hurricane Irene," Deputy White House Press Secretary said in a statement.