North Korea sends infamous ex-spy chief to US in bid to revive peace summit
North Korean dictator Kim Jong Un has dispatched his infamous right-hand man on a rare mission to the U.S. amid a diplomatic flurry aimed at salvaging a stalled peace summit.
Kim Yong Chol, Pyongyang's longtime spy chief and a vice chairman of the ruling Workers' Party, was spotted at Beijing Capital International Airport, where he boarded a flight to New York after first meeting with Chinese officials. As the Hermit Kingdom's black operations chief, Kim has had a bloody hand in some of the rogue nation's most notorious attacks on South Korea and even U.S. cyber targets.
President Trump, who abruptly canceled the June 12 summit in Singapore last week after hostile rhetoric from North Korea, has since opened the door for putting the meeting back on track. In a Tuesday morning tweet, Trump confirmed Kim's pending visit.
"We have put a great team together for our talks with North Korea. Meetings are currently taking place concerning Summit, and more. Kim Young Chol, the Vice Chairman of North Korea, heading now to New York. Solid response to my letter, thank you!" Trump tweeted.
Choe Kang Il, a North Korean foreign ministry official involved with North America issues, was also spotted at the airport and could be accompanying the former spymaster, according to Yonhap.
NORTH KOREA SPY CHIEF, ACCUSED IN DEADLY ATTACKS ON SOUTH KOREA, TO LEAD OLYMPIC DELEGATION AT CLOSING CEREMONY
Kim, who is believed to be 72, will meet with Secretary of State Mike Pompeo this week in New York, the White House said. Their talks will largely focus on rescheduling the summit between the North Korean despot and Trump.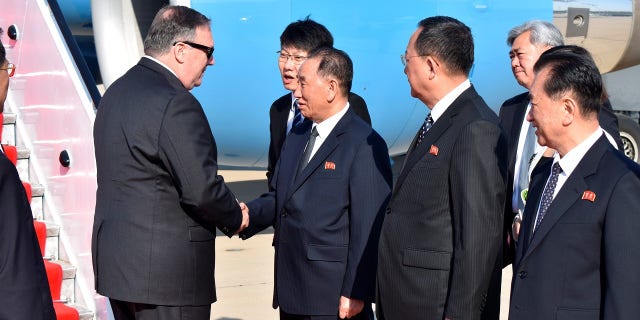 Kim was thrust into the spotlight during the Pyeongchang Winter Olympics in February, when he was sent to attend the closing ceremony. Kim was pictured sitting a row behind Trump's daughter, Ivanka Trump, during the ceremony, but the two did not interact.
He was also spotted by Kim Jong Un's side during the May summit between the North and the South.
The U.S.-bound official is believed to have plotted the attack on Cheonan, a South Korean warship, and shelling of Yeonpyeong Island in 2010 that left 46 sailors dead. He's also accused of planting landmines across the Demilitarized Zone, according to Yonhap News Agency. Two South Korean soldiers have been severely wounded by landmines, though North Korea vehemently denied any involvement.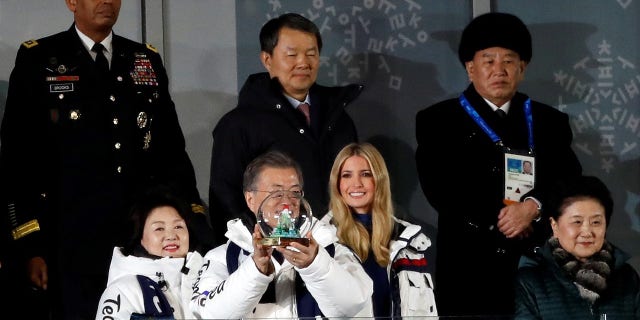 During Kim's time in the intelligence agency, which is called the Reconnaissance General Bureau, North Korea was suspected of carrying out the 2014 cyber-attack on Sony Pictures Entertainment. The department is tasked with carrying out cyber warfare and intelligence operations against other countries.
TRUMP: US TEAM IN NORTH KOREA ARRANGING 'FOR THE SUMMIT BETWEEN KIM JONG UN AND MYSELF'
The North Korean official was also blacklisted by the U.S. and South Korea for supporting the regime's nuclear and missile programs in 2010 and 2016, Reuters reported. His visit this week would indicate a waiver was granted to Kim to come to the U.S.
Kim's visit to New York comes as officials from the U.S. and both Koreas head to Singapore for advance work on the possible meeting. Kim Jong Un's de facto chief of staff, Kim Chang Son, flew to Singapore via Beijing late on Monday, Japanese public broadcaster NHK reported.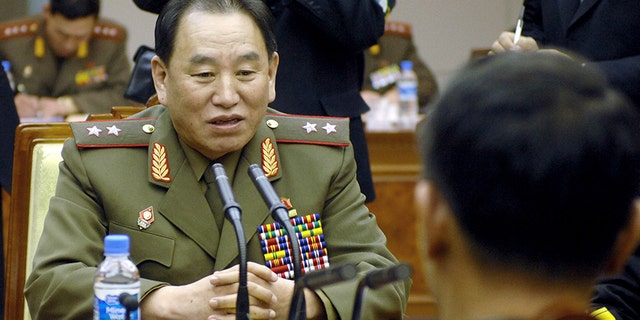 At the same time, a "pre-advance" U.S. team was traveling to Singapore to meet North Koreans, the White House said.
U.S. government officials, including the White House deputy chief of staff for operations, Joe Hagin, left U.S. Yokota Air Base in Japan for Singapore on Monday, NHK said.
US HALTS NEW NORTH KOREA SANCTIONS AS TALKS FOR POTENTIAL TRUMP, KIM SUMMIT CONTINUE: REPORT
In Singapore, a team of U.S. officials, with a fleet of idling vehicles on standby, was at a hotel on the resort island of Sentosa but declined to comment.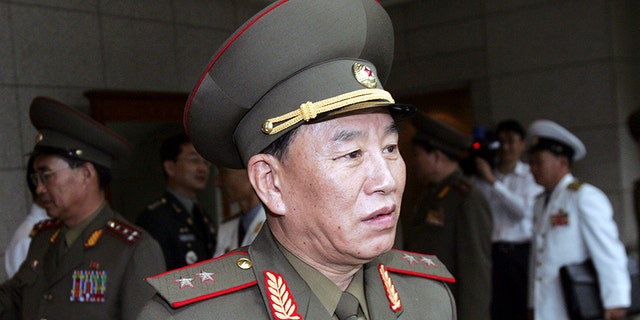 While Kim's visit to the U.S. could prompt both sides to resume plans to meet in Singapore in June, history shows that things could still crumble at the last minute.
Former North Korean leader Kim Jong Il sent Vice Marshal Jo Myong Rok to Washington in October 2000 for a goodwill mission. Jo, who was the highest-level North Korea official to visit the U.S. since the end of the Korean War, met with then-U.S. President Bill Clinton, Secretary of State Madeleine Albright and Defense Secretary William Cohen.
Albright then headed to Pyongyang three weeks later, where Kim Jong Un's father promised a medium-range ballistic missile the North fired over Japan two years earlier would be their "last missile."
However, the warming ties between North Korea and U.S. appeared to be short-lived.
The Associated Press contributed to this report.