Maxine Waters, Schiff among high-profile Dems poised to control committees if House flips
A hard-charging New York congressman who forced his way into a federal immigration detention facility.
An intensely private Baltimore representative who says he just wants to cut through the "unnecessary BS" and get to "the facts."
A take-no-prisoners Los Angeles Democrat who has called on supporters to "push back" on Trump administration officials in public -- as many progressive activists took to restaurants and university events to do just that.
They're all part of the cast of prominent and lesser-known Democrats who have spent the past two years openly sparring with President Trump, and who are now poised to assume control of key committees if Republicans lose control of the House of Representatives in Tuesday's midterm elections.
Trump, for his part, has vowed to fight back, saying in an interview with The Washington Times that House Minority Leader Nancy Pelosi, D-Calif, was breaking the law by threatening last week that Democrats would use subpoena power as a "negotiating" tool. As Pelosi eyes reclaiming the speakership if her party takes power, numerous ranking members are lining up for influential jobs below her.
TRUMP MAY TAKE PELOSI SUBPOENA THREAT TO SUPREME COURT
Maxine Waters - Financial Services Committee
Rep. Maxine Waters, D-Calif. -- who has repeatedly called for Trump's impeachment and whom, in turn, Trump has called a "low-IQ individual" -- is one of the best-known Democrats who could soon wield the power of the committee gavel, and with it, the potential to subpoena and control the fate of legislation before it comes to a floor vote.
If Democrats retake the lower chamber, Waters, 80, would likely be elevated to chairwoman of the House Financial Services Committee, where she currently serves as ranking member. The committee oversees the housing, banking, insurance, and securities industries, and in the past year, Waters has offered some clues about her regulatory agenda.
Last August, Waters moved unsuccessfully to subpoena Deutsche Bank AG for records concerning "internal reviews of the personal accounts of the President and his family," as well as more information about fees levied against the bank concerning lax money-laundering detection policies that could have allowed Russian operatives to funnel cash without a paper trail.
And in May, Waters opposed a contested bill, which was ultimately backed by several other blue-state Democrats and signed into law by Trump, that rolled back some 2010 Obama-era Dodd-Frank regulations on virtually all of the nation's banks. (The 2010 legislation also created the Consumer Financial Protection Bureau, which is facing a potential Supreme Court challenge for affording its director unilateral czar-like authorities; Trump has dulled the CFPB's influence, and now-Associate Justice Brett Kavanaugh has previously ruled that the CFPB's structure is unconstitutional.)
The rollback of the Dodd-Frank package was supported by Hillary Clinton's former running mate, Sen. Tim Kaine, D-Va., as well as another Virginia Democrat, Mark Warner, who sponsored the 2010 legislation.
WATERS ENCOURAGES SUPPORTERS TO 'PUSH BACK' ON TRUMP STAFFERS IN PUBLIC, SAYS PEOPLE WILL 'ABSOLUTELY HARASS' THEM
Waters' aggressive tack appears to have alarmed the financial industry. According to the nonprofit, nonpartisan Center for Responsive Politics, corporations, individuals, and affiliated entities within the securities and investment industry have spent more than $56.8 million to support Democratic candidates for Congress this election cycle, compared to only $33.4 million for Republicans. But a large portion of that money was going to moderate Democrats, not more left-leaning firebrands like Waters -- a sign that the industry may feel a Democratic takeover of the House is inevitable, and that supporting more temperate liberal candidates might be the safest bet.
LIZ PEEK: DEM HOUSE TAKEOVER WOULD ONLY DEEPEN PARTISAN DIVIDE, WITH 'JUST WIN, BABY' ATTITUDE
On Wednesday, Fox Business Network's Charles Gasparino exclusively reported that people close to Waters say she would have a "constructive relationship" with banks and would prioritize her focus instead on the Department of Housing and Urban Development, which is currently run by Ben Carson.
Adam Schiff - Intelligence Committee
Another top California Democratic representative, Adam Schiff, would likely rise to chair the House Intelligence Committee, where he is now the ranking member.
Schiff, 58, said in an interview with CNN last week that Russia-related matters would be front-and-center as soon as he became the committee's helmsman. In particular, he has suggested he would parallel Waters' focus on potential money-laundering schemes involving the Trump team and Russia, because he said he was unsure whether Special Counsel Robert Mueller had the legal mandate to pursue those leads.
"The question, though, that I don't know whether Mueller has been able to answer -- because I don't know whether he's been given the license to look into it -- is were the Russians laundering money through the Trump Organization?" Schiff said. "And that will be a very high priority to get an answer to -- for the reason that, if they were doing this, it's not only a crime, but it's something provable."
Mueller is authorized to probe "any links and/or coordination between the Russian government and individuals associated" with Trump's team, as well as "any matters that arose or may arise directly" during the investigation.
"We will be able to get answers the Republicans were unwilling to pursue -- records that the Republicans wouldn't ask for," Schiff added.
In April, Republicans on the Intelligence Committee said they had found "no evidence" of any unlawful collusion between the Russian government and Trump campaign, and in September, the committee voted unanimously to release transcripts from that investigation.
There are indications Schiff wouldn't hesitate to push aggressively for more testimony and documents. In a tense closed-door session earlier this year, Schiff demanded contempt charges against former White House chief strategist Steve Bannon after he repeatedly asserted executive privilege and refused to answer questions related to the administration's interactions with Russia.
FORMER TRUMP AIDE CARTER PAGE SUES DNC FOR DEFAMATION AFTER HE'S ACCUSED OF RUSSIA TIES
Jerry Nadler - Judiciary Committee
Schiff would be aided by New York Democratic Rep. Jerry Nadler, who is currently the top Democrat on the House Judiciary Committee -- the committee that would oversee any attempt to impeach Trump.
The 71-year-old congressman was on the Judiciary Committee when it voted to impeach former President Bill Clinton, which Nadler said at the time was tantamount to an attempted coup and a gross abuse of the impeachment power. In September, Nadler said at a forum that "impeachment should not be partisan," and he insisted that even some criminal offenses would not merit impeachment unless they implicate the institutions of government.
"If the president perjured himself about colluding with Russians, that would be worthy of impeachment," Nadler said. "Perjury about some real estate deal that happened 10 years ago that the Trump Organization took, that would not be an impeachable offense. It would be a crime."
Nadler has made Trump's immigration policies one of his foremost priorities this year, especially in the wake of the administration's zero-tolerance policy on prosecuting illegal immigrants caught crossing the U.S.-Mexico border. That policy led to the separations of some children from their parents, causing an intense public backlash that prompted Trump to issue an executive order to end the separations.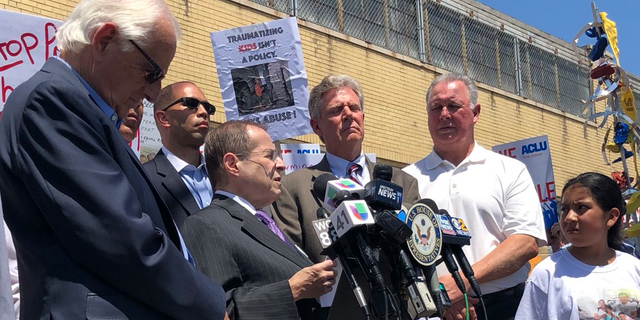 Nadler would have the authority as Judiciary Committee chairman to demand documents related to that episode, as well as the administration's crackdown on what it has called fraudulent asylum claims. Nadler was one of seven Democratic lawmakers who gained entry to an immigration detention center in New Jersey this summer after "arguing" with the police and "literally banging on the door," one of the congressmen posted on Twitter.
At one point, Nadler declared that he was apparently making forcible entry to the facility: "We have gotten the door open at the Elizabeth, NJ ICE detention center and refusing to let it close until we are given access to the detainees," he tweeted.
Separately, Nadler has vowed that the Judiciary Committee would take a closer look at the Senate testimony of Kavanaugh. Then a nominee to the Supreme Court, Kavanaugh strenuously denied sexually assaulting anyone, and he insisted that he had never gotten so drunk that he had blacked out.
Lawmakers "would have to investigate any credible allegations ... of perjury and other things that haven't been properly looked into before," Nadler told ABC News last month.
Elijah Cummings - Oversight Committee
Another key Democratic lawmaker, Rep. Elijah Cummings, D-Md., is poised to become chairman of the House Oversight Committee, which has sweeping investigative jurisdiction and is considered one of the most influential committees in all of Congress. As chairman, Cummings would effectively have unilateral authority to issue subpoenas.
He has promised to probe how former Environmental Protection Agency (EPA) administrator Scott Pruitt kept his job for months despite mounting ethics scandals, as well as whether and how Trump son-in-law Jared Kushner used a private email account to conduct official government business.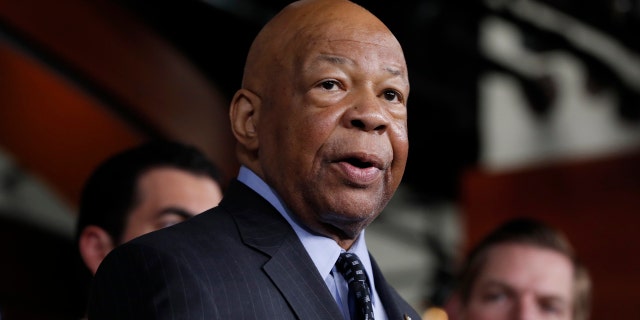 Cummings has also called for investigations into Federal Communications Commission (FCC) Chairman Ajit Pai, and is expected to doggedly pursue former Trump officials like fired National Security Adviser Mike Flynn, who has since pleaded guilty to lying to the FBI.
"Let's cut through the unnecessary BS and let's get to the facts — and I do not want anybody wasting my time," Cummings told Politico in October. "Nor do I want to waste the time of my committee members or my family members. And I damn sure don't want to waste my time."
"Let's cut through the unnecessary BS and let's get to the facts."
But former GOP Judiciary Committee Chairman Jason Chaffetz, who is now a Fox News contributor, told the magazine that Cummings shouldn't get his hopes up.
"If [North Carolina Rep.] Mark Meadows and [Ohio Rep.] Jim Jordan can't get documents out of the White House, I don't know why Elijah Cummings and the Democrats think they'll do any better," Chaffetz said.
And despite the potentially imminent shakeup of key House committees -- and dire warnings from Trump that Democrats would enact change "quickly and violently" if they seize power -- some conservative analysts took a more sanguine view.
"I don't think that Democrats taking over the House would change much," Douglas Holtz-Eakin, who previously directed the Congressional Budget Office and now serves as president of a conservative think tank, told Fox News. "The only legislative initiative that appears to be at stake is tax reform 2.0. Other than that, the same things happen, with Democrats doing a lot more oversight."