Sessions limits asylum claims, citing federal law, widespread fraud, 'unacceptable' backlog of cases
NEWYou can now listen to Fox News articles!
Crimes such as domestic violence and gang-related attacks, as "vile and reprehensible" as they are, don't automatically ensure their victims can obtain asylum in the United States, Attorney General Jeff Sessions told immigration judges Monday.
Sessions' announcement, which came after he exercised his authority to intervene and issue a binding ruling in a 2016 Board of Immigration Appeals (BIA) case, provoked immediate backlash from politicians and activists who say that the U.S. must do more to protect vulnerable members of other nations.
But Sessions made clear in his ruling that he did not believe the responsibility fell on the U.S. immigration system, echoing the White House's long-standing complaints that the asylum process is overburdened and prone to abuse.
"The mere fact that a country may have problems effectively policing certain crimes — such as domestic violence or gang violence — or that certain populations are more likely to be victims of crime, cannot itself establish an asylum claim," Sessions wrote.
"In reaching these conclusions, I do not minimize the vile abuse that the respondent reported she suffered at the hands of her ex-husband or the harrowing experiences of many other victims of domestic violence around the world," Sessions added. He said his ruling would be binding on immigration judges.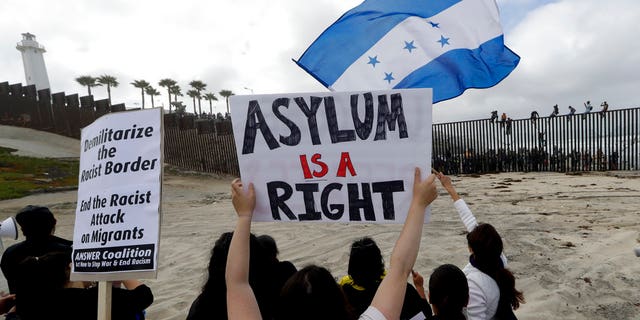 SESSIONS SENDS MORE IMMIGRATION JUDGES, PROSECUTORS TO THE BORDER
The legal standard for obtaining asylum in the U.S. is strict, and ordinarily requires that people from foreign countries demonstrate they face serious, legitimate risks of persecution by their government if they remain in their homeland.
But, not all forms of persecution are relevant for asylum consideration. Under federal law, applicants must demonstrate that their risk for persecution is based on their national origin, race, religion, political views or membership in a particularly vulnerable social class -- a category that was expanded in 2014, when the BIA ruled that domestic abuse could form the basis for an asylum claim.
Declaring that his decision "restores sound principles of asylum and long-standing principles of immigration law," Sessions indicated that the move would help reduce the backlog of asylum claims that has risen sharply in recent years -- with many of the claims illegitimate.
"The vast majority of the current asylum claims are not valid," Sessions said in remarks Monday. "For the last five years, only 20 percent of claims have been found to be meritorious after a hearing before an immigration judge."
Sessions added that the system is simply overwhelmed with claims, and that bogus applications are crowding out legitimate ones.
"In 2009, DHS conducted more than 5,000 credible fear reviews," he said. "By 2016, only seven years later, that number had increased to 94,000. The number of these aliens placed in immigration court proceedings went from fewer than 4,000 to more than 73,000 by 2016."
1,000 ILLEGAL IMMIGRANTS SENT TO CALIFORNIA FEDERAL PRISON FOR DETENTION
But Manhattan District Attorney Cyrus Vance, Jr. sharply rebuked Sessions in a statement Monday, saying his decision to "block tens of thousands of asylees from seeking refuge in our nation represents another triumph of ideology over morality – one that sets back the global fight against domestic violence and sex trafficking, and America's standing in the world."
Sessions' move was widely expected after he announced his decision to intervene in the case three months ago. He and other top White House officials have said repeatedly in recent months that the asylum process has been dysfunctional.
Senior White House adviser Stephen Miller charged in May that the immigration system, including the asylum process, has been "completely shattered" in recent years, and that finding legitimate asylum cases is like spotting "a needle in a haystack."
Later Monday evening, U.S. Citizenship and Immigration Services (USCIS) Director L. Francis Cissna told The Associated Press that his office was preparing to look into immigrants who were ordered deported, but later may have cheated the system by obtaining green cards and becoming citizens using fake identities.
USCIS is hiring dozens of lawyers and officials to assist in the effort, Cissna said, adding that cases would be referred to the Justice Department and could result in immigrants losing their citizenship or even facing criminal charges.
"We finally have a process in place to get to the bottom of all these bad cases and start denaturalizing people who should not have been naturalized in the first place," Cissna said. "What we're looking at, when you boil it all down, is potentially a few thousand cases."
The Associated Press contributed to this report.