Schiff threatens contempt against Steve Bannon after tense closed-door session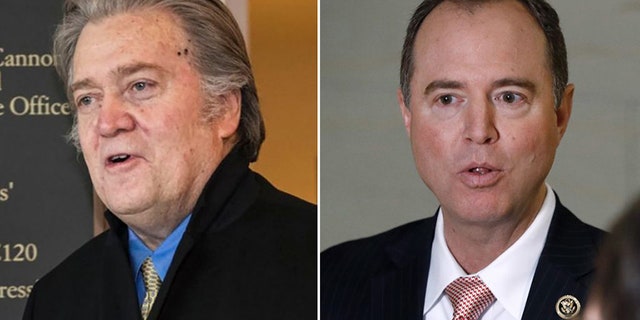 House Democrats said Thursday they are looking at initiating contempt proceedings against former White House chief strategist Steve Bannon, complaining that he cited "executive privilege" to brush off a host of questions during a tense closed-door interview with the House Intelligence Committee.
Rep. Adam Schiff, D-Calif., told reporters that Bannon stonewalled "almost all of the questions," with the exception of a series of 25 scripted questions from the White House -- all of which he answered "no." Schiff added that Bannon said he had been instructed to invoke executive privilege by the White House.
"That claim of executive privilege is breathtaking and insupportable and, indeed at times, it was laughable," Schiff said.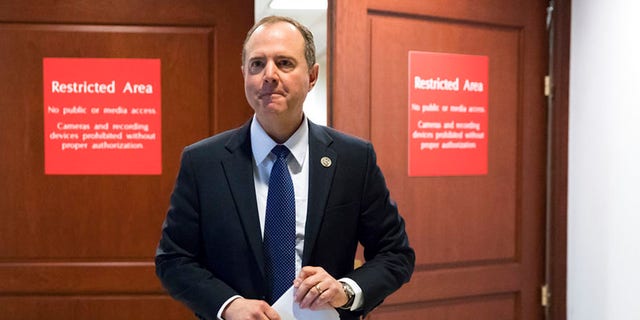 Schiff said that Democrats will push for initiating contempt charges against Bannon, a move that would require support from Republicans on the committee. Schiff said Republicans appeared supportive and will confer with their leadership on the next step.
"He's brought our committee together," he said.
Rep. Mike Quigley, D-Ill., said the environment in the room was "surreal" and agreed with Schiff that Bannon should be held in contempt.
Republican Mike Conaway, of Texas, described that step as a "big deal," but said the meeting was frustrating.
Bannon arrived on Capitol Hill for the session after being subpoenaed last month upon refusing to answer questions about alleged meddling by Russia in the 2016 election.
Rep. Trey Gowdy, a senior Republican on the panel and one of the Republicans who supported the subpoena, said before the meeting that he wouldn't be satisfied with yes or no answers. But Gowdy wouldn't say whether Republicans would move to hold Bannon in contempt, saying that was a question for House Speaker Paul Ryan, R-Wis.
The dispute surrounded whether Bannon could talk about the presidential transition and also communications with President Trump since he departed the White House in the summer.
SCHIFF: INTEL COMMITTEE TO 'ENFORCE' BANNON SUBPOENA, 'COMPEL' LEWANDOWSKI TO TESTIFY
In January, Bannon sat for an hourslong interview with investigators at the committee. At the meeting, Bannon's attorney told lawmakers that the White House had directed his client not to answer questions about his time in the White House or during the transition.
Bannon also was interviewed by Special Counsel Robert Mueller this week as part of the FBI's probe into alleged Russian interference, a source close to the matter told Fox News. NBC News reported multiple interviews took place.
Fox News' Catherine Herridge and The Associated Press contributed to this report.