Liz Peek: Democrat-led House with Pelosi, Waters and Schiff in charge would only deepen the partisan divide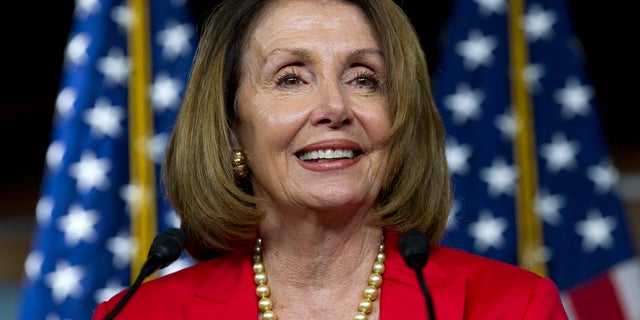 How bad would it be if Democrats take back the House of Representatives? Imagine Nancy Pelosi as Speaker, Maxine Waters as head of Financial Services and Adam Schiff running the House Intelligence Committee, all clinging to their life-raft of the Trump-Russia collusion narrative. A more ferociously partisan and dishonest leadership group is hard to imagine. Republicans need to pull out all stops to prevent this from happening.
Democrats appear increasingly likely to regain control of the House of Representatives on November 6. Nate Silver's 538 forecasting outfit rates their chances of doing so at 85 percent, or 6 in 7, predicting a pickup of 39 seats. They only need 23 seats to take back the Speaker's gavel.
Almost certainly a Democrat-led House will reelect Nancy Pelosi, D-Calif., as Speaker. About a month ago two representatives, Ed Perlmutter of Colorado and Kathleen Rice of New York, attempted to change party rules in a way that would have made it harder for Pelosi to win back her leadership role. The two renegades withdrew their proposal after it attracted only 11 backers. The fix was in, especially if Democrats win by a sizeable margin: Pelosi will be back.
LIZ PEEK: HOW ABOUT TRUMP-HALEY IN 2020?
She herself has no doubt. Pelosi is, as she calls herself, a "master legislator and a dazzling fundraiser." She is also ruthlessly competitive. Her mantra for operatives: "Do whatever you have to do. Just win, baby."
Which includes, of course, lying about the GOP, the tax cuts, the economy, President Trump, and whatever else can further her ambitions. She said that the president called illegal immigrants "animals," knowing full well that he was describing the vicious gang members of MS-13. About the GOP tax bill, she had this to say: "They sell it as middle class tax cuts, 86 million American middle class families will be paying more in taxes as a result of this bill." She knows that is false.
Politifact assesses Pelosi's various statements this way: 47 percent are false, mostly false or downright "pants on fire" untrue, while only 25 percent are true or mostly true. The balance are "half true," not a resounding vote of confidence.
Along with reincarnating Nancy Pelosi, voters would also put Rep. Maxine Waters, D-Calif., in charge of the powerful Financial Services Committee. Yes, that's the same Maxine Waters who urged fellow Dems to attack GOP leaders saying, "If you see anybody from that Cabinet in a restaurant, in a department store, at a gasoline station, you get out and you create a crowd. And you push back on them. And you tell them they're not welcome anymore, anywhere."
Sadly, many appear to have taken her advice. Reaching a new low in incivility, left-wing protesters have harassed Mitch McConnell, Ted Cruz, Sarah Huckabee Sanders and others as they dined with family members. In addition, two Republican candidates for state office in Minnesota were physically assaulted by left-wing activists in recent weeks.
The recent pipe bombs sent to notable Democrats, including Waters, by a pro-Trump loon, is clearly worse, and terrifying. The left-wing media was quick to blame the president's incendiary language for inciting such behavior. They are less quick to credit Democrats like Maxine Waters for also playing a role in the nation's escalating political violence.
Perhaps forgotten in all the political jousting is that our nation actually needs to fix some things that are broken.
Beyond her intemperate language, Waters is best known for having faced ethics charges in 2010 relating to her efforts to secure a bailout for a group of banks that included One United Bank, where her husband was a major shareholder. The intercession won her three charges of misconduct from the House Ethics Committee, which were later dropped. It also earned her the distinction of being named one of the country's "most corrupt" elected officials by the Citizens for Responsibility and Ethics in Washington.
Waters, who has passed exactly three bills during her 27 years in Congress (one of which renamed a post office), has been an aggressive opponent of President Trump. She refused to attend his inauguration and within two weeks of that event, called for his impeachment. She has doggedly pursued any and all Trump-Russia connections, demanding that Treasury Secretary Steven Mnuchin hand over financial records detailing the president's Moscow ties and asking Deutsche Bank for similar materials. As Committee Chair, she would likely subpoena Trump's bank records and tax filings as well as financial information about the Trump Organization, initiating endless partisan investigations.
Republicans should also brace themselves for Rep. Adam Schiff, D-Calif., taking over as head of the House Intelligence Committee. That's the same Adam Schiff who has been a steadfast supporter of the Trump-Russia narrative and who has refused to acknowledge what appears to be a wide-ranging effort by the Obama Justice Department to discredit Donald Trump and tilt the election in favor of Hillary Clinton.
As Mollie Hemmingway wrote at The Federalist of Schiff, "Nothing seems to have merited his attention in the slightest. He has not sought to follow-up on explosive texts about a Russia probe being an 'insurance policy' because agents couldn't take 'the risk' of a Trump presidency. He is not interested in reports of the wife of top Justice official Bruce Ohr literally being employed by Fusion GPS, or by his change in employment as a result of this revelation. He had no problem with Fusion GPS being funded by the Hillary Clinton campaign. He's opposed subpoenas to Fusion, to the Department of Justice, to the FBI."
Assuming, as we do, that Republicans will maintain control of the Senate, some think a Democratic House could benefit President Trump's reelection bid in 2020. The notion is that a divided Congress will cause a political stalemate, therefore providing the White House an excuse for not passing health care legislation, or immigration reform or an infrastructure program, for example.
Getting a leg up in the blame game will be poor compensation for inaction or for having to endure the hypocrisy and dishonesty of the Pelosi crowd. And, perhaps forgotten in all the political jousting: our nation actually needs to fix some things that are broken.
CLICK HERE TO READ MORE FROM LIZ PEEK