Hours before debate, Clinton makes appeal to Nevada's Latinos by slamming Trump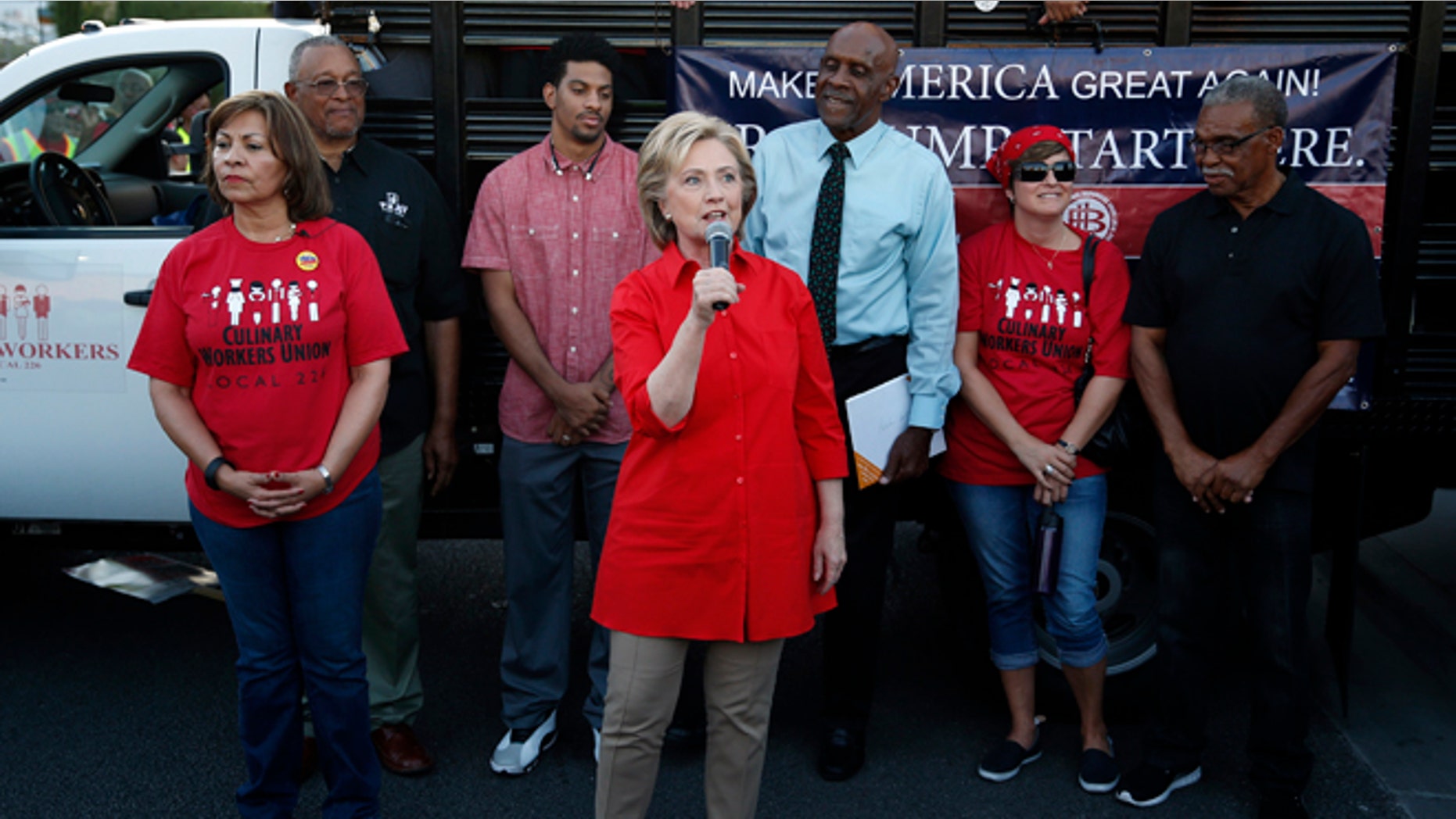 A day before she is set to make her first debate performance of the 2016 presidential campaign season, Democratic frontrunner Hillary Clinton sent a message of support to two vital voting blocs during a stop in Las Vegas.
Speaking under the shadow of a large "TRUMP" sign emblazoned on one of the GOP presidential candidate's hotels on the Las Vegas Strip, Clinton slammed her Republican rival for his views on immigration, women and his anti-union stance in front of a sea of largely Latino members of the city's Culinary Union Local 226.
"You have a right to safe working conditions, you have a right to a living wage, and you have to say yes to all of that and you have to say no to efforts to prevent you from organizing," Clinton said, according to the New York Times, "and that means saying no to Donald Trump."
The former secretary of state's appearance at the union rally was a big coup for Clinton – who has recently been struggling to deal with the fallout over her personal email account and a surging Democratic challenger in Vermont Sen. Bernie Sanders. Clinton was trying to appeal to  important union voters in this early caucus state – as well as Nevada's growing Latino population, all while taking aim at the Democratic party's favorite foil.
Clinton was the only presidential candidate who showed up at the rally and was clad in a red pantsuit that matched the crimson union shirts of the crowd. She urged the workers to "say 'No' to Donald Trump."
"Some people say Donald Trump is entertaining," Clinton said. "I don't think it's entertaining when someone insults immigrants, when someone insults women."
The union has been trying to organize the Trump hotel for more than a year, before the billionaire leapt to the front of the Republican field with tirades against undocumented immigrants. The union says it was approached by some of the 500 restaurant workers and maids at the hotel who wanted representation.
"Mr. Trump said, 'Make America great,'" Maria Jaramillo, a housekeeper who's worked at the hotel for six years, said at the rally. "The Trump workers say, 'Start it here!'"
Clinton's appearance is seen as a plea for support for what is arguably the most powerful labor group in the state. Throughout the Las Vegas area, some 55,000 cooks, housekeepers, cocktail waitresses and others workers are part of the union.
"I think we can play a determining role in the election season," Yvanna Cancela, the political director for Culinary 226, told Fox News Latino. "Our members are voters who are highly targeted by candidates and historically we've played a determining role in deciding who wins Nevada."
What Cancela means by "highly targeted" is that Local 226 members live in the crucial voting area of Clark County – home to Las Vegas and 2 million of the state's 2.8 million residents – and a majority of the members, about 52 percent, are Latino. Experts say winning Clark County all but guarantees a win in Nevada. Historically, candidates who win the area do it with the help of Culinary 226.
While Clinton is fighting for union support in the early caucus state – and with the Democratic debate hours away – the frontrunner refrained from any attacks on her fellow candidates and instead continued, as she has throughout this early primary season, to focus on calling out her Republican rivals. This time the main target was Trump.
"We also want to send a message to Mr. Trump that if you are going to run for president, then you should represent all the people of the United States, and that includes hard working people," she said. "You should not stand in the way of the right to organize because that's what built the middle class of America."
The Associated Press contributed to this report.