Coburn Did Not Wish 'Misfortune' on Colleagues With Prayer Remark, Aide Says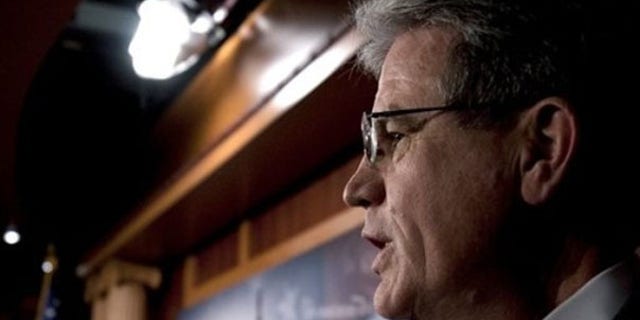 Republican Sen. Tom Coburn did not wish "misfortune" on anyone when he asked people to pray that lawmakers miss a key vote on health care reform, a spokesman said Monday, rejecting suggestions from Democrats that the Oklahoma doctor was wishing ill on his colleagues.
Rather, Coburn was hoping -- praying, even -- that sleep-deprived Democrats would hit the snooze button one too many times and miss the vote scheduled for 1 a.m. ET Monday morning.
"If senators are napping before the vote he would not be disappointed if alarm clocks don't go off," spokesman John Hart said in an e-mail.
The call to prayer didn't work. The vote to end health care debate and move to final passage was successful. But the Coburn comment touched off the latest war of words between Republicans and Democrats over health care.
"What the American people ought to pray is that somebody can't make the vote tonight," Coburn said Sunday ahead of the vote. "That's what they ought to pray, so that we can actually get ... the middle of America and the middle of the Senate a bill that can run through this country and actually do what we say we all want to do."
Democrats interpreted that as a threat.
Senate Majority Whip Dick Durbin, D-Ill., took to the floor shortly afterward to rebuke Coburn and call for a clarification.
"I don't think it's appropriate to be invoking prayer to wish misfortune on a colleague. I want him to clarify that," he said. "This statement goes too far. The simple reality is this -- we are becoming more coarse and more divided here."
Coarse and divisive, though, has become par for those most vocal in the health care debate.
Senate Majority Leader Harry Reid, just two weeks ago, compared those who oppose health care reform to those who supported slavery in the 19th century. Still, Reid spokesman Jim Manley piled on after Durbin, suggesting Coburn's comment Sunday was an appeal for senators' cars to go skidding off icy roads following the record snowfall in the Washington, D.C., region.
"Senator Coburn's comments today are beyond the pale. With the worst winter storm in years and icy roads, calling on people to pray that a senator does not make it back for tonight's vote, as Dr. Coburn did, is repulsive," Manley said in a written statement. "All that Republicans have to offer are offensive comments and fear mongering."
Coburn's spokesman invoked the slavery comments in defending his boss.
"If Senator Durbin is going to demand clarifications he should begin by asking Majority Leader Reid whether he meant to compare Republicans to slave owners," Hart said. "Dr. Coburn will, however, extend a courtesy denied to him and state the obvious that he does not wish misfortune on anyone, particularly as a physician."
He said the American people "deserve more time" to review the newest health care bill.