What teal Halloween pumpkins mean for certain trick-or-treaters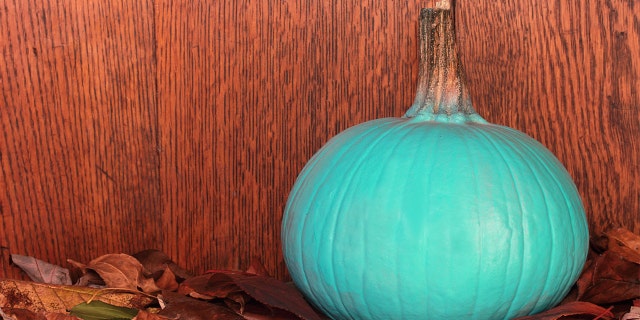 NEWYou can now listen to Fox News articles!
For millions of American kids, collecting candy on Halloween night is a thrilling event. Nevertheless, the festivities can be complicated, and disheartening, for trick-or-treaters with food allergies.
According to the Food Allergy Research & Education (FARE) organization, 5.9 million children under age 18, or 1 in 13 kids, suffer from food hypersensitivities. In response, FARE launched a campaign three years ago that lets homeowners easily signal the trick-or-treaters with food allergies, telling them it's safe to visit. Dubbed the "Teal Pumpkin Project" — as teal is the official color for food-allergy awareness — people are simply leaving teal-painted pumpkins on their porches to let youngsters know they've got non-food or allergy-friendly treats to offer.
MISSOURI COPS POST 'PUMPKIN LINEUP' TO SQUASH GOURD THEFT
"It's clear that food allergies are a serious public health issue that we all must take seriously. The Teal Pumpkin Project provides an opportunity for all of us to show empathy for kids who often feel excluded," FARE's chief advancement officer Lois Witkop said in a statement.
"It's a terrific way for communities to come together and we would love to see at least one teal pumpkin on every block," she added.
Since its inception, the Teal Pumpkin Project has rocketed in popularity, with over 18,000 households from all 50 states participating in 2016, FARE said. Further, kids with medical conditions that limit their food options also benefit from the inclusive holiday fun.
14 LAST-MINUTE HALLOWEEN COSTUMES YOU CAN PULL OFF WITH ONLY MAKEUP
For example, Tami Marks told KFSM 5 News of Fort Smith and Fayetville, Ark. that trick-or-treating for her four-year-old can be intimidating, given his food allergy.
"Our son's not old enough to say, 'Hey I have a peanut allergy can I have something else?' So we have to be right there beside him," Marks said, adding that she hopes that even more people get involved with the Teal Pumpkin Project this year.
"This is a chance for your child to be completely included on Halloween," she said.