Texas woman who gave away pre-paid wedding venue attends winner's ceremony as guest of honor: 'I'm so grateful she won'
Kolbie Sanders, the 24-year-old woman who called off her engagement and raffled off the unused wedding venue, says she couldn't be happier for the young bride who won the contest.
On Saturday, Sanders was welcomed as a guest of honor at the wedding of Halie Hipsher – the winner of Sanders' giveaway – to her now-husband Matthew Jones. But Sanders herself says she was especially honored to help give Hipsher a last-minute dream wedding, especially considering that Hipsher's dying grandfather, Truett Edwin Hipsher, was able to attend, SWNS reports.
"If she hadn't won the wedding, she would have had to wait another year, and the chances of Edwin being alive would be slim. I'm so grateful she won," Sanders said.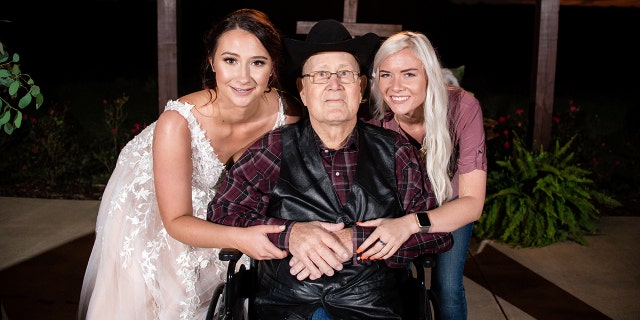 WEDDING PHOTOGRAPHER WINS PRAISE AFTER BUMPING BRIDE'S STEPMOM OUT OF THE WAY
Sanders, a student at the University of Texas in Tyler, originally hatched the idea to hold a giveaway for her wedding venue after calling it quits with her fiancé earlier this month. And just six days before her Oct. 21 wedding, she took to Facebook to announce she would be giving away her pre-paid venue (which cost $3,500 to reserve), along with decorations and any additional assistance she could provide.
"With my engagement ending, I've come to find tremendous peace in knowing that I did the right thing for the both of us," she wrote. "With that being said, now I want to do the right thing by others and let some good come out of this decision."
Sanders only asked that entrants send along information about their own love stories in order to be considered. She then held the contest on Monday via Facebook Live, where she drew Hipsher's name from a group of 45 others who made the penultimate cut. (WARNING: Some language is NSFW.)
Along with the wedding venue, Hipsher also earned several other complimentary services — such as makeup, photography and catering — which were included in the giveaway after a number of local businesses heard of Sanders' giveaway and decided to donate their own time.
"Our wedding was a dream come true and I'm so thankful that Kolbie was there," Hipsher told SWNS.
"She fit in so well with everyone," Hipsher added of Sanders. "She became a part of our family that night."
CANCER-STRICKEN BRIDE WHO REFUSED TO MOVE WEDDING DIES 7 MONTHS AFTER DREAM NUPTIALS
Hipsher was also thrilled to have her grandfather in attendance.
"My grandfather is the person who glues our family together and words cannot express how happy I was that he got to see me get married," she said.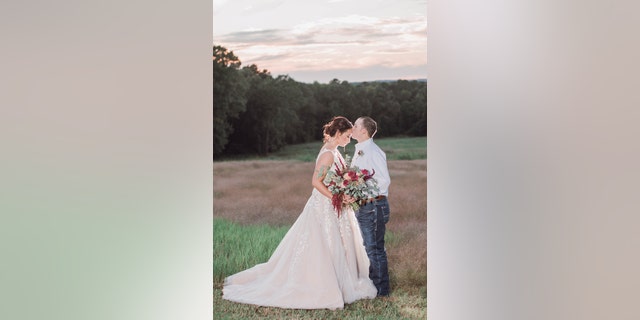 Sanders, meanwhile, said it was "strange" to see Hipsher in her place, but felt as if she "did the right thing," according to SWNS.
FOLLOW US ON FACEBOOK FOR MORE FOX LIFESTYLE NEWS
"I am so happy that I got to witness their wedding in person," she said of Hipsher and Jones' nuptials.

"I know that I will have the chance to get married eventually at the right time and to the right person."