Schools after the surge: Swamped by migrant kids, Miami-Dade district seeks more funding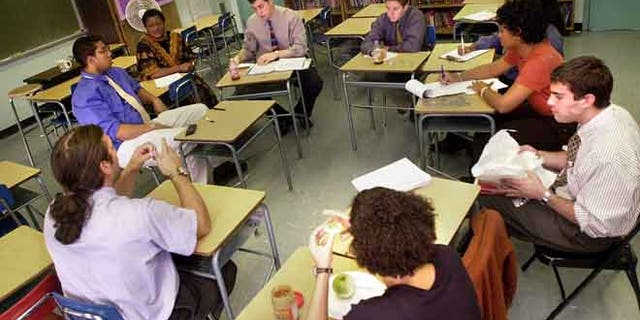 NEWYou can now listen to Fox News articles!
This is the second of a four-part series.
Early in the 2014-15 school year, when it was clear that a surprising number of immigrant children would enroll in U.S. schools due to the surge of unaccompanied minors who crossed the southern border over the summer, many were left wondering: Could our school districts handle the cost and the needs associated with this population segment?
The answer is not straightforward. The districts into which these students have enrolled differ demographically, politically and financially. Part 1 of this series looked at New York and North Carolina, now let's see what's been happening further south.
Florida received the fourth-largest number of unaccompanied minors that crossed the southern border during the summer of 2014. One-quarter (1,400) of them landed in Miami, according to the Office of Refugee Resettlement. The district's estimates of Central American students enrolled at the start of the school year are higher than the government's, but they aren't exclusively counting unaccompanied minors. This school year, the Miami-Dade district tallied 1,879 students from El Salvador, Guatemala and Honduras. The Honduran population (1,176) is significantly higher than last year's (657).
Miami-Dade Superintendent Alberto Carvalho repeatedly stated publicly and submitted a formal request to legislators demanding the federal government more funding to support the education of these students.
"We are in the business of teaching children regardless of where they are born, what language they speak or their socioeconomic status," said Carvalho in a June statement announcing his intent to seek federal funds.
"There is a significant shortcoming in addressing this issue, so we are seeking federal help to increase the tools and resources to carry out our mission."
According to district representatives, while there is federal money for English instruction for immigrants who speak another language, district officials say the students often present with additional health and social or psychological needs. The district reports spending an average of $1,959 on each new immigrant student for additional services rendered.
Using that estimate, the Miami-Dade district is looking at more than $3.5 million in increased expenses — roughly one-fourth of the $14 million recently awarded to the Department of Health and Human Services to help school districts across the country offset the cost of unaccompanied minors.
The district might openly worry about the cost, but Carlos Rios, principal of Miami Jackson High School in Miami, firmly believes that all of his students can have the resources they need to succeed.
Many of the unaccompanied minors in Miami are concentrated at Rios' school. Central Americans make up a sizeable 11 percent of the school's student body, approximately 1,480 students. The school had to hire four new teachers to help teach the students English.
But getting the students to learn a new language is only one challenge. Schools across the country are reporting a number of the recently arrived students have substantial gaps in their education that puts them below grade level standards in the U.S. Principal Rios has seen that problem among immigrants recently enrolled at Miami Jackson High School, where some of the students are nearing graduation age and have little time to make up the formidable gaps.
"Here's the biggest issue: a lot of students are coming over that had nothing more than second or third grade education," said Rios.
But the school is doing what it can to help their students earn high school degrees. In partnership with neighboring school Miami Springs, Jackson High students can access a special program aimed at helping at-risk students gain fluency in English and earn a diploma.
The school is gaining recognition for their success. While it had long been considered a drop-out factory, a term for a school that inspires students to quit rather than earn a diploma, Miami Jackson is now considered a success story. The students here, who live in low-income neighborhoods plagued by violence, have made great strides, Rios said. Last year, the school had a graduation rate of nearly 90 percent.
"For the most part, we are good," Rios said. "Space isn't an issue and hiring isn't an issue. The district is great at it. I am blessed that the district has always given us everything I need. I'm not saying there aren't challenges — getting [these] kids to read at grade levels is quite a challenge. But there are things along the way we are able to do for them."
In Wednesday's installment: Louisiana's schools had few resources to handle the Central American students that flooded their numbers.