Alabama School Refused To Enroll Teen Because He Was Born In Mexico, Group Claims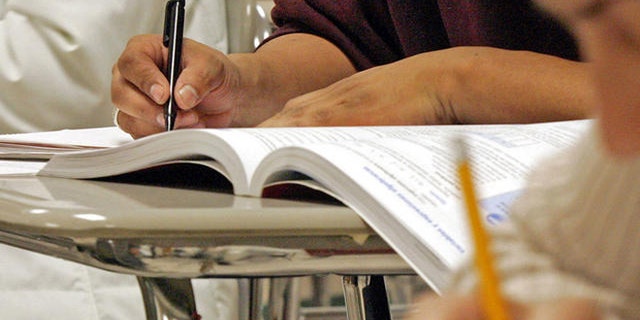 NEWYou can now listen to Fox News articles!
MONTGOMERY, Ala. (AP) – Lawyers with the Southern Poverty Law Center accused a north Alabama school system of wrongly turning away a Mexican-born teen for enrollment, causing him to miss almost a semester of school.
SPLC attorney Caren Short said the family had moved from Colorado to Alabama and in January tried to enroll their 17-year-old son at Fort Payne High School. School officials turned the family away twice even though they had a Social Security card, birth certificate, proof of residency and other required documents, she said.
Short said the teen, referred to as J.T. in a letter sent to the school system, was born in Mexico, but has lived in the United States since his was 1-year-old.
"J.T. was kept out because of his national origin, because his parents did not speak any English," Short said.
The SPLC sent a letter to the school system superintendent on Monday demanding that the system immediately enroll the teen.
Fort Payne Superintendent Jim Cunningham said privacy laws prohibit him from discussing the teen's case but he disputed the accusation and said the school system does not use national origin in enrollment decisions.
"The representative for the individual at issue has been specifically advised that he is more than welcome to immediately enroll into the system subject to the same enrollment criteria applicable to any individual such as himself that is over the age of mandatory school attendance," Cunningham said in a statement.
Cunnigham said, "The individual has been requested to meet with the system this week in order to facilitate the enrollment request."
Short said when the family first went to enroll their son in January they were turned away because they did not have an immunization form. They returned with the immunization form. The principal said he wouldn't enroll him after J.T. said he had to make up two failed classes from his prior school in Denver, according to Short. Short said the teen's grades had suffered after he got a part-time job to help support his family.
The family next went to see the superintendent, Jim Cunningham. Short said Cunningham told the family he would have to check the teen's records and would get back to them. After they left, the son explained what had happened to his parents. She said the family went back to the superintendent's office to beg him to enroll their son, but were not allowed to see the school official.
In a statement Tuesday to The Associated Press Cunningham said that confidentiality laws prohibited him from "disclosing personally identifiable student information or from issuing any public response to the enrollment concern that has been presented to me."
Short said the family then tried to enroll their son at other schools, but were turned away because they did not live in those school districts.
"He wants to complete his education. He wants to serve his country in the army," Short said.
Follow us on twitter.com/foxnewslatino
Like us at facebook.com/foxnewslatino