NY school overwhelmed with dozens of undocumented kids who flooded in after border surge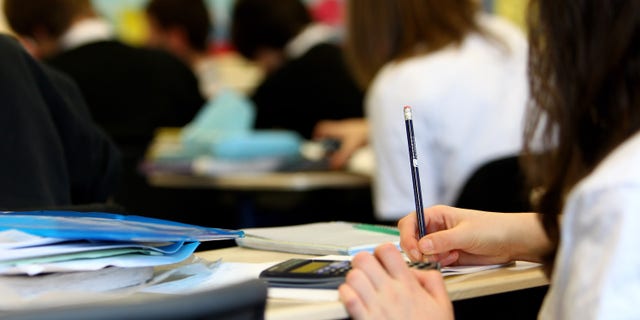 NEWYou can now listen to Fox News articles!
A New York school taxed by the arrival of Central American unaccompanied minors now finds itself at the center of a state investigation on its enrollment practices. The issue brought renewed negative attention to the long troubled school district of Hempstead, which has yet to accept its rapidly growing Latino population.
As of last week, advocates say, at least 35 of these students who had successfully enrolled in Hempstead High School had not received instruction one single day. Other sources say as many as 70 kids are waiting to be accommodated. The students show up every morning, they sign in, but then are sent home. They never received schedules and school officials say there is no space for them, activists close to the situation said.
"What I am seeing is that some people are using the immigration issue as a lightning rod to bring more division to our community."
On Wednesday, the high school students will start attending a satellite school on the second floor of a converted former bus terminal, which is across the street from the criminal courthouse.
"There's no plan [yet] for how they're going to make up the instruction time that every other kid in the nation has received and they haven't. They're still on summer vacation and it's October," said Lucas Sanchez, Long Island Coordinator of New York Communities for Change, which has been working with the families.
The district and its representing public relations firm have not returned repeated Fox News Latino requests for comment.
The school's enrollment procedures regarding the newly-arrived students will be brought to light on Oct. 23, when an investigation is concluded by the Nassau County Board of Cooperative Educational Services and sent to the New York State Education Commissioner, according to a brief statement released by the organization. The cooperative is designed to bring some centralization to the more than 120 different school districts in Long Island; there are around 50 in Nassau County.
"There is a tough relationship between the community and the leadership of the school," said Jason Starr, the Nassau County Director of the New York Civil Liberties Union (NYCLU). The situation with these students "doesn't make the community feel like they can trust leadership now, and the district is obviously going to feel targeted," he said.
Some of the space crunch can indeed be attributed to the wave of children who fled violence in Central America and reunited with family in the U.S. A source involved with the Boards of Cooperative Educational Services (BOCES) said the district is strained because "there was a record explosion of over 1,100 students," although some say the number may be closer to 700.
Estimates of the population of recent enrollees in Hempstead's school district swing wildly. A projection based on teacher reports is far lower, said Elias Mestizo, President of Hempstead Classroom Teachers Association.
While the increase in enrollment strained an already taxed system, administrative decisions haven't helped, he said. Late last school year, teachers began noticing an increase in the number of students and asked for a way to split classes, he recounted. The district changed the number of periods held in a school day, though, limiting the options for classroom usage and classes held, so more students were forced into fewer classrooms, he explained. At one point this year, some teachers reported classes of 50 students, he said.
"What I am seeing is that some people are using the immigration issue as a lightning rod to bring more division to our community," said Mestizo, who teaches in the district's middle school.
Long Island seems an unlikely home for so many Central Americans, especially given since parts of it are best known as a summertime celebrity stomping ground. But there are only three counties in the country where the percentage of Central Americans is higher than Long Island's Nassau or Suffolk counties: Los Angeles; Fairfax, Virginia; and Harris County, Texas, home to Houston.
Hempstead is an epicenter of the Long Island Central American population, where half of all Nassau county's immigrants live. The town is composed of smaller villages and hamlets that collect their own taxes for their own school districts. The Hempstead Union Free School District, in the village of Hempstead and home of Hempstead High School, has been negatively focused upon for years.
Reports that date back to 1990, well before Central Americans arrived, indicate the school had been low performing, with less than half of its seniors graduating. Today, the district still has one of the lowest graduation rates on Long Island. Less than 10 percent of the district's elementary and middle schoolers met proficiency standards in English and math in the last few years.
Nearly a decade ago, New York state turned a spotlight on the beleaguered district in a statewide move to audit schools authorized by former State Comptroller Alan Hevesi. The report resulted in the indictment of a Hempstead school board member for accepting bribes from a contractor, and a litany of examples of poorly spent public funds. The 2005 audit also included accounts of shortages of English instruction and a disregard to the fact that the once predominantly African-American student body was becoming largely Latino.
Latino advocates in the school district indicate little has progressed, though Latinos now make up 60 percent of Hempstead's population.
"Many of the students have difficulty even communicating with school personnel," said Starr from the NYCLU, which has spent a year working with families from the school who allege that their children have not had access to steady English language instruction.
"A lot of parents felt like there weren't sufficient teachers or staff members who could communicate with students who only spoke Spanish and parents who only spoke Spanish. The parents have a right to engage in the language they are comfortable with. They felt locked out, as though there was no one at the district or school level who could adequately communicate with them," he added.
The school board currently does not have a Latino representative, but that could change on Oct. 28 — a Latina is challenging a long-time school board member for a second time. Activists are hopeful the election will help the school district get beyond its current problems but they are cautious about its implications.
"What we don't want is a schism between two communities fighting for limited resources. We're all in this together," said George Siberon, executive director of the Hempstead Hispanic Civic Association.
And they especially hope that the plight of the students will bring the kind of attention that will finally turn the ailing district around.
"Now you know. This is the kind of thing they're doing to the children," said Diane Goins, New York Communities for Change Long Island Chapter President. "I don't care who these children are or where they come from. They're supposed to get an education. That's the law and now they've broken the law."