Catholic Leaders Are Hoping Latinos Can Save Struggling Parochial Schools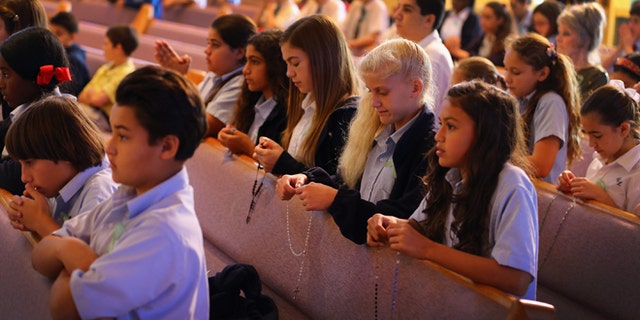 NEWYou can now listen to Fox News articles!
NEW YORK – For more than 130 years, sitting just off Times Square, the Holy Cross School opened its doors to students looking for a Catholic education near "The Crossroads of the World."
But as Times Square transformed from a gaudy and depraved hotspot of vice to one of the city's main tourist attractions, enrollment at the school began to wane and in 2013 the New York Roman Catholic Archdiocese announced the closing of Holy Cross along with 24 other schools across the state.
The shuttering of Holy Cross is just one of hundreds of closings of Catholic schools across the country in recent years due to sagging enrollment and rising costs to maintain the schools. Some Catholic leaders, however, are now looking to one key demographic in the U.S. to come to their schools, and possibly be the key to save the institutions.
Latinos – making up 17 percent of the U.S. population and a group that is 40 percent Catholic – have been identified by some Catholic leaders as both a population underserved educationally and one of the Church's best hopes for reviving schools on the brink of closure.
"At the heart of this opportunity is a simple and fundamental reality: our Catholic schools, which are the most effective instruments of catechetical and intellectual formation (and social transformation) this country has ever known, are uniquely poised to serve Latino families," Father Joe Corpora of the University of Notre Dame wrote in the preface to a study entitled "Renewing Our Greatest And Best Inheritance."
Over the past decade, 16 percent of U.S. Catholic schools have closed. They dropped from 8,114 to 6,841 and enrollment nationwide has declined 23 percent – thanks to various factors such as the growth of charter schools, fallout from the church's sex abuse scandals and changing demographics.
What Catholic schools hope to do with Latino students is very similar to the strategy the Church applied in its more halcyon days of the past.
For decades Catholic school enrollment was driven – especially in major cities like New York, Chicago, Boston and Philadelphia – by immigrants and their children from heavily Catholic countries like Ireland, Italy and Germany.
"The entire Catholic school system began by opening up schools for immigrant children," Corpora told Fox News Latino.
Greater integration into the U.S., moves away from traditional immigrant enclaves by second and third generation families, and a gradual decline in church membership, all aided the decline of Catholic school enrollment over the last few decades and by 2000 around 1,900 schools in the U.S. had closed their doors.
Catholic leaders have begun to say that Latino outreach is a critical factor in drawing in Hispanics to the Church's schools and since 2005 dioceses around the country — including in heavily Catholic towns like Boston, Cincinnati and Phoenix — have launched initiatives to appeal to Hispanic students.
By 2010, Latino enrollment in Catholic schools increased by 9 percent nationwide and schools in Peoria, Illinois saw a 34 percent rise in Hispanics. While that changed the number of Latino students from 621 to only 834 in the city's Catholic schools, Corpora said he and other observers are hopeful that the trend will continue across the country.
"It's happening at a slower pace than we want, but it is happening," he said. "It's moving in the right direction."
One problem that has hindered Catholic schools from attracting more Latino students is the prohibitive costs that accompany an education at many of these institutions. Catholic elementary school tuition can average between $6,000 to $8,000 a year, which can be a pricey venture for immigrant and low-income families with multiple children.
"Many in the immigrant population are just worried about the day-to-day," Sylvia Armas-Abad, the Los Angeles field correspondent for Notre Dame's Catholic School Advantage told the Religion News Wire. "We come in thinking that Catholic schools are elite and exclusive, because that's how they are in Latin America."
In an attempt to make schools more affordable for newly arrived Hispanic students, some states are offering vouchers for private education in areas where public institutions are struggling. And the Catholic School Advantage is advising some schools to offer income-based tuition to make it easier for low-income families to meet the expense of their children's education.
"This is like the Delta Airlines model where they sell certain seats for lower prices than others," Corpora said. "It doesn't make sense to fly a plane with empty seats and it doesn't make sense to run a school with 25 empty desks."
In some cities the vouchers and income-based tuition seem to be paying dividends with schools, not only keeping them afloat but helping them actually gain students. Chicago Catholic elementary schools saw enrollment increase 3 percent in 2012 and 1 percent the year before last year—the first two-year growth spurt since 1965. Boston-area elementary schools had a 2 percent bump in that time—the first in 20 years.
The outreach efforts – at least marginally--appear to be paying off but Church officials want to make clear that the push for more Latinos in their schools has less to do with saving educational institutions and more to do with helping a community in need.
"We're not in this to build up Catholic schools but to give Latinos a good education," Corpora said, adding that a higher enrollment in the schools was just a nice payoff. "It's a cause and effect."