This Pennsylvania university is getting a pet-friendly dorm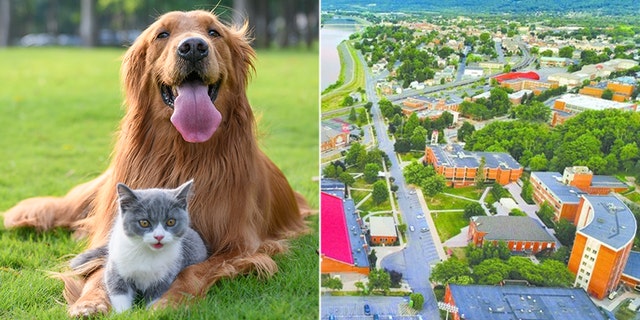 Students at a Pennsylvania university will soon be able to have a furry friend as a roommate.
Starting in the spring of 2019, Lock Haven University will introduce a pilot program that will allow students living in the school's North Hall to have certain pets live with them in their dorm room, the university announced on Tuesday.
Those living in the dormitory will be allowed to "bring their long-term pet, defined by LHU to have been under the primary care of the resident or their family for at least three months, to reside in their North Hall room," the university states.
'GRUMPY CAT 2.0' GOING VIRAL AFTER BEING RESCUED OFF STREET
Cats and "dogs under 40 pounds with breed restrictions," will be allowed in the dorm, though the university didn't elaborate on which breeds would be prohibited. They must be at least six months old and spayed or neutered. Rabbits, hamsters, guinea pigs and fish will also be allowed.
The pets will be restricted to North Hall; meaning they will not be allowed in any other on-campus buildings. Additionally, all dogs -- and cats -- must be kept on a leash while on campus and wear "current identification and rabies tags," the university said.
Lock Haven University, which says it "will be the first in the Pennsylvania's State System to introduce a pet-friendly residence hall," believes allowing students to have pets while living on campus will "make their college experience more enjoyable and more successful."
In fact, one study published in the journal Modern Psychological Studies concluded that bringing more animals onto college campuses could be "an effective, relatively inexpensive way to help students deal with psychological issues and may increase the chances that they will learn about, participate in, and continue with traditional college counseling services."
LHU North Hall Residence Hall Director, Emmy Borst, echoed this sentiment in a statement.
DOG ABANDONED ON BEACH FINDS FOREVER HOME WITH MASSACHUSETTS FAMILY
"Studies show that students who feel at home on campus are the students that thrive both socially and academically," Borst said, adding "students who are comfortable where they live have greater success and pets are a great source of comfort to many students."