Honduran teen detained by ICE says he will achieve his dreams: 'I'm not giving up'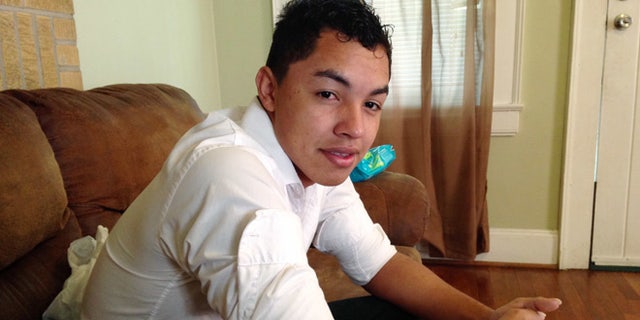 NEWYou can now listen to Fox News articles!
DURHAM, N.C. (AP) – Wildin Acosta had grabbed his book bag and left the house, and was just about to get in his car to drive to school in January when two men approached him.
They asked his name, then flashed their badges and informed the high school senior he was under arrest for being in the United States illegally. The native Honduran who had fled his country to escape a gang member's death threat ended up being confined for more than half a year in an immigration detention center 500 miles away from his North Carolina home.
"It's just hard to explain how you feel when you are in that situation," Acosta told The Associated Press on Monday in one of the first interviews he has given since his release on Aug. 13. His friend and advocate Ivan Almonte translated the interview from Spanish to English. "It hurts so much. ... There's no way to explain all the feelings and emotions."
Acosta, 19, is now back in the Durham home he shares with his parents, two sisters and two nephews while he awaits word on an asylum request that he submitted in April, a month after his deportation was temporarily halted. He fled Honduras in 2014 to escape a gang member who he says threatened his life. At his mother's suggestion, he made his way north to the U.S. by bus, car and on foot.
His detention in January was among many ordered by President Barack Obama's administration as it stepped up efforts to find and deport unaccompanied children and families who had arrived in a wave of illegal crossings in 2014. He became one of a group of immigrants known as the North Carolina 6, three of whom are still detained at the U.S. Customs and Immigration Enforcement's Stewart Detention Center in Lumpkin, Georgia.
By the time immigrant officers caught up to Acosta, he was deeply immersed in his life at Riverside High School and had made many friends among classmates and teachers. It was they who launched an online fundraising campaign that eventually raised the $10,000 Acosta needed to secure his release earlier this month.
Life in the detainment center wasn't easy, he said: The beds were narrow and small, and detainees could watch, but not listen, to television. And even though he was allowed such luxuries as soda, he said it just didn't taste as good in detention. He did make friends, however, and said he learned a lot from his experience.
"I experienced a lot," he said. "I believe things have to happen for you to realize you can become somebody in life."
While he awaits word on his asylum request — a process that could take years — Acosta plans to finish high school and go on to college, where he wants to study business or engineering. He originally was scheduled to graduate from Riverside in June.
He also wants to help the three still-detained members of the North Carolina 6: Pedro Salmeron of Charlotte and Santos Padilla-Guzman of Raleigh, both of who came to the U.S. from El Salvador; and Bilmer Pujoy Suarez of Greenville, a native of Guatemala.
"I just want to make a request that the way people support me I would ask you to support my friends who are still detained," Acosta said. He said they too want to stay in this country because "in the United States, everything is possible."
"You have opportunities."
Acosta is ready to prove what he says.
"I will achieve my dreams," he said. "I'm not going to give up. This is just the beginning."