Get Some Love: A Guy's Guide To Finding The Perfect Last Minute Valentine's Day Gift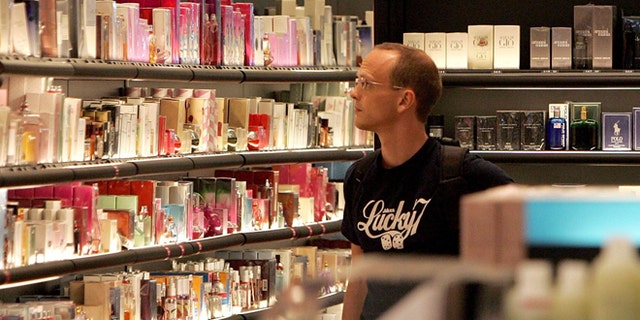 NEWYou can now listen to Fox News articles!
Valentine's Day means one thing to Ernesto Sanchez: Pressure.
"You don't know exactly what to get," the single 39-year-old Manhattan editor said. "You never know what's going to make them happy."
Sanchez was romantically traumatized a year ago over a pair of expensive shoes. His now ex-girlfriend had tried them on 10 times in the store but never bought them.
"I said, 'Well, this is what I'll get her for Valentine's.' She was upset because she thought shoes are unromantic. She was expecting dinner or flowers or a piece of jewelry. We had a fight over those shoes."
But for Dallas lawyer Rey de la Garza, 44, finding his girlfriend's favorite discontinued shoes on eBay turned out to be what she considered one of the most thoughtful gifts ever.
"I pay attention to what my girl's interested in and passionate about," he said, "and try to tailor the Valentine's gifts to her. You do want to make a good impression, but it depends where you are in the relationship. At first it's more monetary. But later on you want to show you've been listening the 364 days before."
Pam Goodfellow, the principal analyst for Prosper Insights & Analytics —a Worthington, Ohio-based consumer intelligence firm conducts research for the National Retail Federation— told Fox News Latino:"Valentine's Day is all about hearts, love, romance and unexpected fabulous surprises … Men spend a lot more than women. And younger folks between 25 and 34 spend the most."
Classics like candy, cards, flowers and, more recently, self-care products all do well, she said.
"Women are interested in makeup and taking care of ourselves," Goodfellow added. "A nice lip gloss and bubble bath always work."
Well, there's lip gloss and then there's lip gloss. Drew Barrymore's Flower Shine On Lip Gloss costs less than $7 at Walmart; a NARS lip gloss at Sephora is $25. Both are lovely.
But even within the beauty category, people are turning more toward premium goods. That's been the general trend for the last five years both in real stores and on e-commerce sites.
"The luxury goods market is doing well because that's what people want," said Hester Jeon, an industry research analyst for IBISWorld, an international retail research company. "People are shopping. Overall unemployment rates are going down, albeit slowly, so when people are making money they're gonna spend."
Jeon's estimate for this year's Valentine's Day sales is $21.6 billion, a growth of 3.7 percent from last year and a bigger jump than the year before. On average, men will spend $135.10, a slight increase from last year's $134.28.
"That's just for the gifts, it doesn't include dinner," says de la Garza. "Teddy bears, balloons, chocolates and flowers, of course. But I wouldn't do jewelry unless I'm ready to propose."
Jeon's research shows that singles and unmarried couples spend more on Valentine's gifts than married people do. Romantic pursuit and the need to impress equals big money.
"You're trying to wine and dine her and get the booty too, so there's more than one goal," de la Garza said. "My married friends, they'll just do a dinner, if that. We unmarried guys have to do some more planning."
Barbara Galán, 32, an executive assistant and a single mom of three teenagers in East Rutherford, N.J., said, "A candle-lit home-cooked meal followed by a warm bubble bath with rose petals in the water would delight me," though she wouldn't reject "big spoilers" like a Gucci purse or fancy lingerie.
For Galán, Valentine's Day is supposed to be truly special, in every sense of the word, not just another day.
"Gifts can be simple if you pay attention and you know what makes your girl happy," she noted. "Just be sincere and have it come from the heart. It's the little things that count. That's what I tell my sons: If the love is there, you're gonna be thrilled with whatever."
___________________
If you're a last-minute or clueless sort of guy, or you're a woman who'd like to give him a hint, these are a few of this year's top Valentine's must-haves:
For the glamourpuss: Show Beauty Decadence Hair Fragrance ($90.26). It has the scent of rose water, coconut milk, and caramel.
For the jewelry lover: Lisa Hoffman Beauty's Tunisian Neroli Bracelet ($65). Not just jewelry, this bracelet comes with "fragrance beads" that can be placed inside its gold-plated charm.
For chocoholics: Karin Herzog Chocolate Cleansing Cream ($55). Real Swiss chocolate is used, for fragrance and moisture.
For green gals: Drunk Elephant Virgin Marula Luxury Facial Oil ($72). A natural moisturizer without colorings or fragrances.
For bathtub bathers: L'Occitane's Cherry Blossom Bath & Shower Gel ($20). It smells like you're immersed in ripe red cherries.
For girlie girls: BSB Essence of Rose Silky Hand & Body Cream with Shea Butter and Olive Oil ($35). It looks like strawberry ice cream and has rose flower water.
When all else fails: Pinch Provisions Miniemergency Kit for Her ($15). Tiny enough to fit in her palm, this TSA-compliant 17-piece survival set covers all the feminine essentials, from earring backs to clear nail polish to hair spray.