From The Streets Of Union City To The Halls Of Oxford, Alexander Diaz Named Rhodes Scholar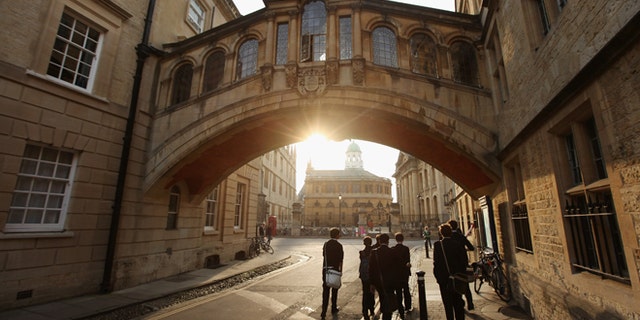 It's a long way from the northern New Jersey Latino stronghold of Union City to the vaulted ceilings and verdant lawns of the University of Oxford, but Alexander Diaz is used to improbable journeys.
The 21-year-old psychology student escaped what he calls the "pitfalls of the inner city" to make his way to Harvard University and ultimately to be named a member of the 2014 class of Rhodes scholars. Diaz is one of only 32 people throughout the United States to receive the award and is the only Latino on the list.
"To have won in such a deep competition…it's humbling," Diaz told The Record newspaper in New Jersey.
For winning what the Associated Press called "world's most prestigious scholarship," the young scholar will receive from the Rhodes Foundation funding for two to four years at Oxford University in England, where he can pursue either a second bachelor's degree or an advanced degree in his field of choice.
This year approximately 1,750 students sought their institution's endorsement; 857 were endorsed by 327 different colleges and universities.
The scholarships, which are named after British colonizer and philanthropist Cecil Rhodes and based on a criteria set in his will, judge students on their high academic achievement, integrity of character and their potential for leadership positions in various fields. Past recipients of the award include former President Bill Clinton, astronomer Edwin Hubble and filmmaker Terrence Malick.
While Diaz certainly has the brains to stand alongside his fellow scholars, his upbringing is far different from the other students that will join him at Oxford. Growing up in Union City, Diaz was surrounded by drugs, gangs, teenage pregnancy and discrimination, with the inequalities he saw on a day-to-day basis leading him to pursue the type of studies he has at Harvard.
Focusing on the cognitive mechanisms that underlie unconscious racial, ethnic and gender biases, Diaz is currently working with the U.S. Attorney's Office in to develop a test to make perspective jurors more aware of their prejudices.
"This honor gives me the chance to learn more about social policy and also provides a platform to help get the changes I want implemented, to help people learn more about themselves and others," Diaz said.
While Diaz has played down his achievements, his stepmother Gina gushed about her son and said the family is "still trying to wrap our brains around" the Rhodes scholarship.
His mother noted that besides being an overachiever, Diaz is a very civic-minded individual and wants to help the disenfranchised. He coached a youth basketball program in Union City, built homes in Ecuador and volunteered to mentor children in Brazil.
"He's always wanted to give back, to help other kids less fortunate than he was," his stepmother said.
Besides his academic and philanthropic work, Diaz has also been active in Harvard's Latino community. He is a member of the Harvard Kennedy School Latino Leadership Institute, where he befriended author Junot Diaz – not relation – who endorsed him for his Rhodes scholarship and gave him a personal shout out over Facebook.
"This is a win for all Latino communities, communities of color, gender/sexuality/ethnic and other minorities as well as one for the entire state of New Jersey!," Diaz wrote in an email over the weekend.
The Associated Press contributed to this report.
Follow us on twitter.com/foxnewslatino
Like us at facebook.com/foxnewslatino