'Fit mom' Maria Kang recreates infamous 'What's your excuse' photo five years later
"Fit mom" Maria Kang, who stirred up controversy for her "What's your excuse" photo on social media five years ago, recreated the infamous image with a slightly different message.
The original photo went viral in 2013 and featured a toned Kang in a crop top and shorts with her three young sons, one just eight months old. The caption, which read "What's your excuse?" angered many who accused Kang of body-shaming other women for not looking like her.
CANDACE CAMERON-BURE'S TIPS FOR GETTING FIT EVEN WHEN YOU THINK YOU'RE TOO BUSY
Since then, Kang's made a career out of promoting exercise and health as a priority, despite the challenges of being a busy mom, wife and business owner.
In the look-alike photo, which Kang posted on Facebook Wednesday alongside the 2013 version, Kang is looking equally fit and lean as before, surrounded by her now older children with the caption, "What's you reason?"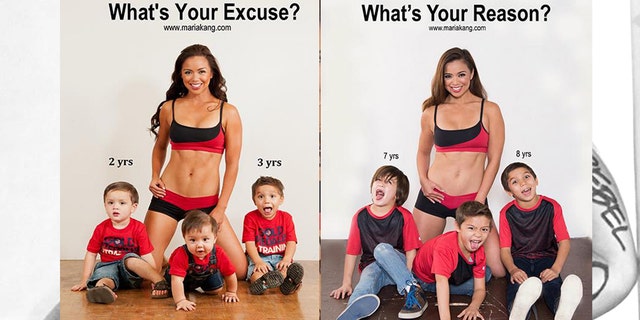 "After you address your Excuse, you need to find your Reason," Kang wrote along with the two photos. "5 years later I'm still seeking the hard route, after all, in a country where you are the Healthy minority you must #dodifferent. You need to find your reason, your WHY for prioritizing your health."
"You know what's right, just don't follow the habits and lifestyle of the majority of overweight/obese people who do it wrong. Many asked for a side-by-side so here you go!" she added.
US SOLDIER IN IRAQ HOPS 10 FLIGHTS HOME TO WITNESS DAUGHTER'S BIRTH
Kang told ABC after she posted the first photo that she was being fit-shamed by critics of the photo. "People really put me down for being healthy. I was seriously attacked," she said.
The mother maintained that her goal with the photo was to show others that it's possible to put your health first, even when you're juggling a lot of responsibility. "All I've tried to imply is that my body is representative of what health looks like," she told ABC. "Being fit isn't always my first priority, but it is a priority … I can overcome my challenges and so can you. I am showing them what's possible and creating a discussion."
Reaction to her new photo has been mostly positive thus far, with many comments on Facebook praising the way she looks, and some noting that she looks even more toned now than before. Others shared how Kang inspired them to start their own health and fitness journeys.
FOLLOW US ON FACEBOOK FOR MORE FOX LIFESTYLE NEWS
"You look even healthier now. Congrats on keeping to your goals," one user wrote.
"You are a great role model to your kids and your family that if you work hard and push further that you can succeed and you will get the results you want in anything you put your mind to. Keep at it :)" another commented.