Day of the Dead: Now that it's Mainstream, Is it too Commercialized?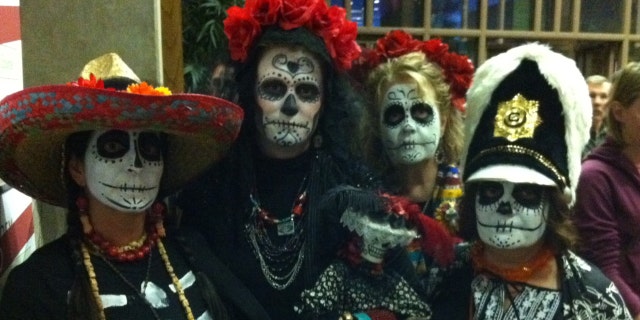 Not long ago in San Francisco, a few hundred people – predominantly Latinos – painted skulls on their faces and paraded down the street on Nov. 2 in the Mission District to honor dead loved ones. In recent years, the popularity of San Francisco's procession, much as Día de los Muertos has in the United States itself, exploded.
And not just among Latinos.
What we've seen is that people are coming because it's a healthier of way of confronting life and death and remembering people who have died.
"We're expecting about 4,000 people from all over the Bay Area," said Maica Folch, one of the volunteer organizers of San Francisco's procession. "Day of the Dead has become more mainstream."
For better or worse, Día de los Muertos has become a marketable holiday deeply rooted in Latino culture. And many cities across the United States have seen observances swell as people of other cultures get on board with the celebration.
The Botanic Gardens in Denver held its first Día de los Muertos celebration as a way for the center to reach out to the Hispanic community. Expecting 500 people to attend, the inaugural event on Saturday was overrun by 1,300 people – many who were noticeably non-Latino, and some who were celebrating the event for their first time.
"We've met a lot of people who were under the misconception that it's Mexico's Halloween," said Inez Sánchez, a vendor selling her handmade Día de los Muertos dolls at the event. "We do try to help them understand that it's a deeply religious holiday and something we should all be respectful of."
Tanya Nortnik, a 42-year-old Denver resident, watched with her two children a story about Día de los Muertos acted out on stage that was intended to educate as much as it was to entertain.
"We actually learned about this holiday much earlier than most other non-Latinos," Nortnik said. "My daughter met a friend from Mexico City years ago who introduced us to it. For the past few years, we've done the sugar skulls.
"I understand why it's attracting others, though," she added. "In a lot of non-Latino cultures we grow up fearing death and trying to avoid even thinking about it."
Shawn Roseman, a co-organizer of a major Día de los Muertos event in Seattle, said it drew about 4,000 attendees over the weekend. And, unlike other cultural events held at the Seattle Center, this one attracts a mix of people, he said.
"A lot of the people that put pictures on the altars were not Latino, probably 80 percent if not more," Roseman said. "It gives people such a different way of looking at death and seeing life and death as a continuum. You're bringing people back in memory and celebrating life, your own life and just life. What we've seen is that people are coming because it's a healthier of way of confronting life and death and remembering people who have died."
Because of the growing popularity, organizers of Día de los Muertos events have struggled to keep their events true to the holiday's roots. Some have eliminated merchandise sales at their events all together and included educational elements for first-time celebrators.
"It's very easy to be commercial with this holiday," Roseman said. "The images are attractive and since it's close to Halloween, we have to work hard to make sure it does not get consumed by merchandising."
Tina Kulias, a 48-year-old artist from Lakewood, Colo., joined four friends in donning elaborate Día de los Muertos garb and painting their faces for the holiday. Growing up in a Greek- American household, she knew little about Día de los Muertos growing up, but has in recent years grown to understand the holiday and be respectful of it.
"If you look around you, it's easy to see that it's become more mainstream and that there's still confusion out there among the newbies about what it's really all about," Kulias said. "It's important that people be respectful of the traditions, but it's also good that others are seeing the value of honoring the dead because it teaches us how to honor life as well."
Manny Gonzales is a freelance writer based in Denver, Colo.
Follow us on twitter.com/foxnewslatino
Like us at facebook.com/foxnewslatino