2nd-largest meteorite in world, weighing nearly 68K pounds, found in Argentina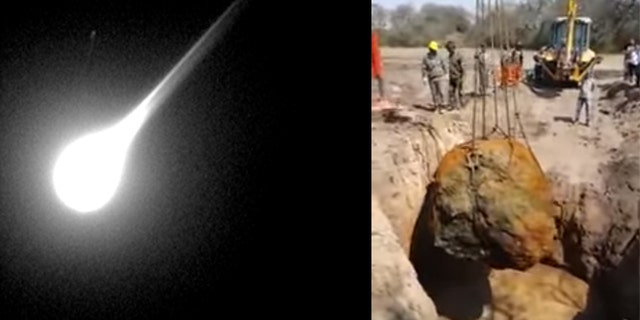 NEWYou can now listen to Fox News articles!
One of the world's largest meteorites ever found, weighing more than 30 tons, was unearthed in northern Argentina on Saturday by a team of researchers from the Astronomical Association of El Chaco province.
The space rock, which was found near the town of Gancedo, about 650 miles north of Buenos Aires, provisionally tipped the scale at 67,900 pounds, making it the second-heaviest meteorite ever discovered in one piece.
The largest is Namibia's Hoba meteor, which tips the scale at more than 66 tons.
"Although we knew what we were after, the meteorite's size and weight completely surprised us," said Mario Vesconi, the president of the Astronomical Association, to the Argentinian government's news service, Télam.
Researchers used heavy machinery to lift the massive rock out of the ground.
The area around Gancedo is know as "Campo del Cielo" – or "Field of the Sky" – and scientists believe that a rain of large, metallic meteors fell in the region some 4,000 years ago.
Vesconi told Télam that the team took the opportunity of having the large machinery at hand to weigh another meteor found nearby, called the El Chaco meteor. It weighed in at 28.8 metric tons, making it the third largest meteorite in the world.
"We could compare the weight with the other large meteorite found in the province," Vesconi told the news agency. "Although we expected it to be heavier, we did not expect it to exceed 30 tons."
Of course, the final weight for the metallic rock could still change.
"We will weigh it again," Vesconi said. "Apart from wanting the added confidence of a double-check of the initial readings we took, the fact that its weight is such a surprise to us makes us want to recalibrate."
The president of the Association noted that researchers realized that the excavation would be a difficult one.
"The work area is shaped like a bowl, and we knew we were going to have surface water because the water table is very close to the surface," Vesconi said.
At one point during the dig, water began to leak into the work area.
"The municipality of Gancedo provided equipment that allowed us to continue the excavation," he said, explaining the reason why the researchers had decided to identify the meteorite by the town's name.