Cinematographer nicknamed 'Chivo' hoping to become three-peat Oscar winner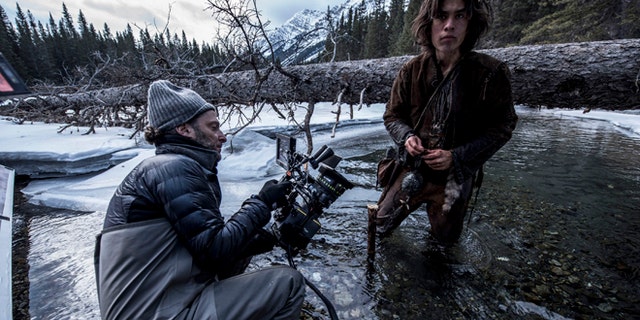 NEW YORK (AP) – No name resonates in Hollywood right now quite as much as "Chivo."
That's Spanish for "goat," and it's the nickname of the famed cinematographer Emmanuel Lubezki, whose acrobatic long-takes and luminous images of natural light have made him revered like few others — and may make him a three-peat Oscar winner.
Lubezki is behind some of the most dazzling film photography in recent years: the asteroid storm hurtling through the vast 3-D space of "Gravity," the seemingly continuous backstage sweep of "Birdman," the elemental beauty of Terrence Malick's films. His audacious, real-time sequences have made him synonymous with a seamless magic not before seen in cinema.
"I think it was John Huston who said, 'When I shoot a whale, I shoot the face and then I cut and I shoot the tail. And everybody understands there's a whale,'" says Lubezki. "But sometimes when you show the entire whale and when you show the parts that seem not as important, there's a deeper connection."
After winning Academy Awards the last two years for Alfonso Cuarón's "Gravity" and Alejandro González Iñárritu's "Birdman," Lubezki is up this year for Iñárritu's frontier epic "The Revenant," and he's expected to win. Much of the film's acclaim (it leads with 12 nominations), is owed to its lush immersion in a raw, 19th century wilderness (it was shot largely in the Canadian Rockies) and its balletic single-take sequences, most famously the single-take bear attack.
Yet Lubezki is as modest as the cinematography of "The Revenant" is grand.
"I don't know if I'm an incredible cinematographer but I'm definitely a craftsman that is trying to find a language for each project and that's what's really exciting for me," he says. "When you feel that it's working, it's a very powerful feeling. Sometimes you cannot even sleep at night because you're so excited."
Lubezki has worked with the Coen brothers ("Burn After Reading"), Michael Mann ("Ali") and Tim Burton ("Sleepy Hollow"). But the two directors he's most steadfastly collaborated with are Malick ("He has affected me more than almost anybody," says Lubezki) and Cuarón.
Lubezki and Cuarón met as teenage film students in Mexico City. Together, they frequented a local art house theater watching films by Kurosawa, Tarkovsky and Coppola that were sometimes accidentally projected in full-screen prints that showed the apparatus of moviemaking, like boom mics and lights.
Lubezki, who first wanted to be a still photographer, was converted to movies a week into film school. Cuarón recalls it as an organic marriage: "He was one with the media."
"He would be fascinated by light," says Cuarón. "What makes him among the great cinematographers is he understands film as a language. The conventional way of seeing cinematography is just a set of tools."
In films like 2001's "Y Tu Mamá También" and 2006's "Children of Men," Cuarón and Lubezki have pushed the bounds of long, fluid takes by utilizing smaller digital cameras and the flexibility of Steadicams.
"I remember in 'Y Tu Mamá También,' we started talking about just letting the shot last until the natural consequence," says Cuarón. "From then on, I guess, it was very difficult to go back."
Lubezki has been at the forefront of a trend in movies that favors the visceral realism of long takes over montage. Filmmakers like Steve McQueen ("12 Years a Slave") and Cary Fukunaga ("True Detective") have also pushed further than the fabled long takes of Orson Welles' "Touch of Evil" or Alfred Hitchcock's "Rope."
Such feats risk showiness, but in Lubezki's hands, they can be jarringly immersive, presented through a crisp digital window. Scenes like the Arikara ambush of the company of trappers early in "The Revenant" play out in real time, smack in the middle of a 360-degree storm of action. The tense silence beforehand, the mayhem of battle and the fleeing retreat down a river all unfold without a single blink.
Lubezki cautions "this wonderful trick" must always come out of the material, (in "The Godfather," he notes, it would be disastrous). And it depends on a director who knows how to block the scene. But he does sense a shift in the language of film.
"When you create these long shots, it feels to me as if I was transported there. It feels more dangerous and more mysterious," says Lubezki. "Cutting and shooting with multiple cameras and so on was so effective 10 years ago but is maybe not as effective anymore as a trick. Probably this trick of the long take will become old in a few years, too, and we'll need to come up with another trick."
But Lubezki is by no means a one-trick pony. His films with Malick (including "Tree of Life" and the upcoming "Knight of Cups") are impressionistic and fragmented. Drawn to real environments and eschewing artificial light, he's ushered in a more naturalistic kind of moviemaking that can verge on the sublime.
"Maybe," he says, "there's something that suddenly trickles into the movie that feels spiritual, that feels connected to something larger."